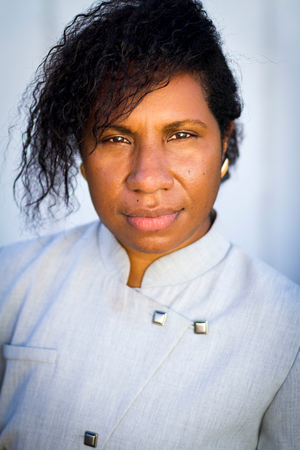 Throughout June and July, STC Virtual released a series of special performances focussing on the work of our resident writers. For this series, Wendy Mocke, a member of our Emerging Writers' Group, wrote Tiger scare a hilarious and heartfelt reflection on womanhood and feeling a part of a community. You can watch the amazing Miranda Tapsell perform the specially commissioned monologue below.
Wendy is a Papua New Guinean interdisciplinary storyteller. She is a NIDA Acting graduate and Creative Director of Melanin Haus, a creative arts company based in Cairns, Far North QLD. She works across live performance and film as an actor, writer and visual artist. Some of her acting credits include; Season 2 of ABC TV's The Code, Home Invasion at the Old 505 and Moby Dick at the Seymour Centre, for which she was nominated for a Sydney Theatre Award for Best Female Actor in a Supporting Role in an Independent Production. Wendy performed in 2018's Festival Fatale at Darlinghurst Theatre in a play she co-wrote called Jelbu Meri. Wendy has also undertaken a residency through the University of Sydney at Rex Cramphorn Studio for a verbatim theatre piece she devised called Voices of West Papua. In 2019, her visual arts project entitled m e r i was part of an exhibition at the Centre of Contemporary Arts in Cairns. One of Wendy's quests as a writer and artist is to make alive what is quiet and asleep in Melanesian stories and unpack the myriad of layers that is black Pacific Islander identity.
Now entering her second year as part of the Emerging Writers' Group, Wendy reflects on what the experience has brought her thus far and where she's planning to take it.
---
Wendy Mocke (Image: Zelman Cressey-Gladwin)
---
How have you found the Emerging Writers' Group thus far, and what are you looking forward to in this second year?
I've found the Emerging Writer's Group to be really quite useful for my growth as a writer. The biggest takeaway I've gotten from it so far is access. Being able to connect with industry professionals, learning about artistic processes, whether it's from an acting, directing, or production perspective - it's definitely given me more of a broader understanding of theatre.

Doing workshops with Tommy Murphy, Nakkiah Lui, Jess Arthur - all the creatives - it's allowed me to really explore what my process is as a writer, and ascertain what is useful for me and what isn't. Because, as an emerging writer, we're still learning our own processes and what works and what doesn't. Being able to have access to those people in the industry has been really useful for us, while we're developing our voices and our writing.

Also, being able to watch STC shows is a great bonus, because I'm also an actor myself. So, I still have that sort of dorky admiration for actors exercising their craft on stage. That really excites me.

In my second year, I'm looking forward to connecting with more creatives and creating more relationships that will hopefully lead to future collaborations.

Why do you write plays? What draws you to writing theatre, specifically?
As an actor living within a black female exterior, I was tired of the disconnection or the lack of visibility I felt when reading plays. I've always loved the theatre. Aside from when I'm on my ancestral land in Papua New Guinea, stepping onto the stage at the age of six felt like a new world had opened up to me, but also, a strange sense of feeling home. The stage felt like a place where I could find myself and answer questions that I had about the world around me.

I'm a middle child from a family of nine. So there's obviously a lot of issues to unpack there (laughs). But, using theatre as a way to find my own voice and be able to express myself was really fundamental in my development.


How would you describe your writing style?
My stories start off as little seedlings which are often based on experiences that I've had and want to explore further. And those experiences are not often explored on stage or on screen because I feel that white mainstream audiences are more interested in black trauma. And while there is a place for all that, there are also many more layers and shades of grey that black people exist in.

Being able to explore black people falling in love, black people climbing the corporate ladder, going on terrible Tinder dates, getting sunburnt because they've been out on the beach for too long. You name it. Those are all things that I want to explore and be able to acknowledge, those nuanced layers.

Mentorship and support is a big part of the program at the Emerging Writers' Group. What environment do you think emerging writers need to best develop their writing?

I think emerging writers need to be encouraged to write without any sense of fear, and without being labeled or being placed into a category that could stifle their creativity or their voice. I think often people are afraid or uncomfortable in what is different or what is outside of their idea of theatre is. So, [mentors] should encourage the curiosity and desire to question those structures and encourage young or emerging playwrights to feel free to explore different forms, and dismantle structures if need be.

I've had situations [in the past] where someone has told me that my style of writing doesn't fit the Western construct of theatre practice. Saying something like that to an emerging, Black playwright can be damaging. So I think that's the type of approach or language we need to steer away from. And we need to encourage emerging writers, particularly if they identify as First Nations or a Person of Colour, or a Black Settler. We need to nurture those things about them, rather than discourage them.

I think what I look for in a mentor is someone that is unafraid and willing to think outside of themselves and their cultural context.

What about young writers who are working at the moment who inspire you? Have you seen any shows or work recently that's really exciting you?
I spoke to Anchuli Felicia King today, and she is a playwright that excites me, in terms of her process and what she represents. Strangely enough, we share a lot of similarities, and she's such a dynamic, generous, and incredibly hard-working artist. So I think her presence in the industry, here in Australia, is incredibly important.

Another writer that excites me at the moment is Meyne Wyatt. His work excites me, particularly because he's also an actor as well. So it's a similar situation to myself; an actor who is now sort of spreading his writing wings. I think his unapologetic and staunch approach in wanting to explore racism through his writing is particularly electrifying. So, I'm excited to see what he does next.

What do you think the role of the playwright is in Sydney today?
I feel like theatre gives us the permission to put our cards on the table. In saying that, I mean that it's an opportunity to put a mirror up and ask Australia "Do you like what you see?" And I think, particularly if you're someone like myself, a Black Pasifika woman, it can be the first time you truly feel seen by the wider community - and that's important. Theatre can be that opportunity for us.
STC acknowledges the Copyright Agency's Cultural Fund for supporting this project.