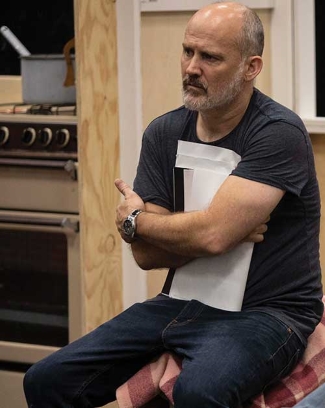 Actor Glenn Hazeldine explains why performing in No Pay? No Way!, his 20th show with the company, is so special…
In moments of serendipitous opportunity, my dear friend, the late playwright Nick Enright, would often remark, 'You see, everything's a circle'.
It was August, 1986. I was 15 years old. I was completing my year 10 work experience placement, I spent two weeks with the Hunter Valley Theatre Company in my home town of Newcastle. While the experience was a far cry from the excellent program offered to students by STC these days, it was nonetheless a profound and life-changing engagement. The play being rehearsed was Can't Pay, Won't Pay! By Dario Fo (another name for No Pay? No Way!), and stavrred Geoff Morrell and Genevieve Lemon. Both were brilliant.
So here I am, nearly 34 years later, working with sensational team on Marieke Hardy's adaption of Fo's classic comedy. I know exactly what Nick would say.
I'm reflecting too on another vital aspect of life at STC: the donor circle. I am profoundly grateful for the generous financial assistance and advocacy that this group of passionate supporters offers the artistic life of this city. I'm certain that without them, the opportunities afforded to artists would be far fewer, so I want to pay tribute all the people who have given so much to STC. Everything's a circle. And the donor circle is so much more.
This is an excerpt from the No Pay? No Way! program, which also features:
Notes from Artistic Director Kip Williams, Adapter Marieke Hardy and Director Sarah Giles
An article on Dario Fo's wife, Franca Rame
biographies and photos of the Cast and Crew
Photos from the rehearsal room
Pick one up at the theatre for only $12.00
No Pay? No Way!
10 Feb – 20 Mar 2020, Drama Theatre, Sydney Opera House
1 Apr – 4 Apr 2020, Riverside Theatres, Parramatta
Seeing the show? Let us know your thoughts. Tag @sydneytheatreco and #sydneytheatreco