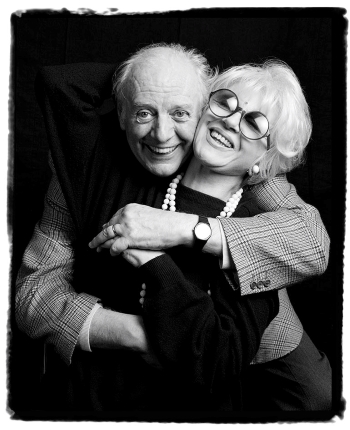 One of the twentieth century's greatest theatrical figures, Dario Fo was a playwright, comedian, designer and actor whose impact on modern theatre is renowned and widespread. His works, the best known of which include Morte accidentale di un anarchico (Accidental Death of an Anarchist) and Sotto Paga! Non Si Paga! (Can't Pay? Won't Pay!), challenge the government and empower the working people. Though he is recognised worldwide as an individual creative, Fo himself acknowledged (during his Nobel Prize acceptance speech, no less) that his work was born of a lifelong collaboration with his wife, Franca Rame. Despite her comparative anonymity Rame was, in fact, the co-runner of his theatres, the co-writer of his plays, and the rightful co-recipient of his Nobel.
From government censorship, public backlash and violence, to international success and a string of hits that would cement their place in the theatrical cannon, together Fo and Rame navigated life in the public eye. Here, we take a look back at their history, both shared and individual.
1926: Dario Fo is born in northwest Italy, in Lombardy's Province of Varese.
1929: Franca Rame is born in Lombardy's Province of Parabiago.
1951: Fo and Rame meet on the set of Sette giorni a Milano (Seven days in Milan). At this time Fo also co-ran a popular revue company called I Dritti.
1954: Fo and Rame marry.
1955: Rame gives birth to their son, Jacopo Fo.
1956: I Dritti breaks down due to financial struggles and Fo and Rame move to Rome. They work together on Lo svitato (The screwball), a farce co-written by Fo. Rame begins involvement with Teatro Stabile di Bolzano, a postwar institution dedicated to enlivening South Tyrol's (a province in north-east Italy) theatrical scene.
1958: Fo and Rame return to Milan and form the Dario Fo–Franca Rame Theatre Company.
1959: They write and perform their first international hit with Gli arcangeli non giocano al flipper (Archangels Don't Play Pinball), which toured to Sweden, Spain, Poland and Yugoslavia.
1962: Fo moves to television, writing and directing his own popular sketch show Canzonissima. The show attracts millions of viewers until a dispute over the censorship of one particularly union-critical sketch leads Fo and Rame to quit.
1968: Italy's growing economic slump results in the so-called 'hot autumn', where workers take to the streets to protest poor pay and working conditions. Fo and Rame work closely with the Communist Party to produce plays highlighting this plight. In August, after the Soviet Union invades Czechoslovakia, Fo and Rame break ties with the party.
1970: Fo and Rame form their third theatre group, Collettivo Teatrale 'La Comune'. In December, they open Morte accidentale di un anarchico (Accidental Death of an Anarchist) which would become one of Fo's most celebrated and performed plays.
1973: Rame is attacked, raped and beaten at gunpoint by five right-wing extremists, rumoured to be carrying out orders by officials of the Carabinieri (Milan's principle law enforcement). Less than two months later, Rame returns to the stage, but refuses to speak of the attack to anyone.
1974: Following the success of Anarchico, Fo stages a series of successes, including Non Si Paga! Non Si Paga! (Can't Pay? Won't Pay!).
1977: Rame writes a series of monologues on equality and feminism, including her famed one women show Tutta casa, letto e chiesa (It's All House, Bed and Church).
1978: Rame finally recounts the details of her attack in the monologue La stupro (The rape). Members of the audience reportedly faint at the vivid, detailed prose.
1980: The United States authorities bar Fo and Rame from entering the country to perform at the Festival of Italian Theatre. In May, An Evening Without Dario Fo and Franca Rame is held in New York in protest, attended by some of then-contemporary culture's most distinguished artists: Arthur Miller, Bernard Malamud, and Martin Scorsese.

1983: The Italian government restricts Fo and Rame's new play Coppia aperta, quasi spalancata (The Open Couple), in which Rame includes her monologue La stupro, to people over eighteen.
1984: Fo and Rame are prevented once again from entering the U.S., on the grounds of terrorist affiliation. They launch a law suit against the U.S. State Department.
1989: Following the devastating Tiananmen Square Massacre, Fo writes two monologues Lettera dalla Cina (Letter from China) and The Story of Qu.
1995: Fo suffers a stoke but recovers quickly.
1997: The Nobel Prize for Literature is awarded to Fo. In his speech, he dedicates the award to Rame.
2006: Fo runs for Mayor of Milan, but comes in second to former police chief Bruno Ferrante. At this same time, Rame runs for President of Italy, but is also ultimately unsuccessful.
2010: Fo and Rame become independent members of the Partito della Rifondazione Comunista (Communist Refoundation Party).
2013: Franca Rame dies, age eighty-three, and is buried in Milan in the Monumental Cemetery.
2016: Dario Fo dies, age ninety, in Milan, and is buried alongside his wife.