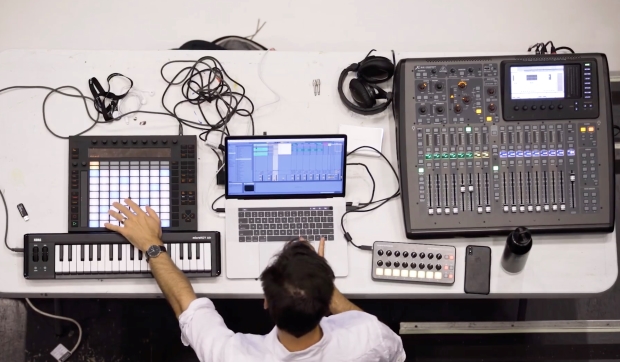 Composer James Brown at work.
In the theatre, as in so much of life, the most breathtaking, hilarious and ecstatic moments are elevated by music. For Sydney-based composer James Brown, this effect is achieved through collaboration with other creatives, developing synchronicity between material and sound.
A visual artist with a Masters in Acoustic Physics, Brown has worked extensively across multi-artform projects for artists and companies including: Bethesda, Victoria Hunt, Jane Campion, Adult Swim, The Australian Ballet, Sydney Dance Company, William Yang, George Khut, Matthew Day, Hans Van Den Broeck (SOIT), POST, Urban Theatre Projects, and, of course, Sydney Theatre Company.
His work with STC has underscored some of our most exciting productions, including the pounding rhythms of Lord of the Flies and the pensive strains littered throughout Mosquitoes.
At the turn of the decade, Brown turns his attention to love, loss, longing and one of the most iconic female characters ever written for the stage, Hester Collyer, in The Deep Blue Sea. Here, he takes us through three of of his favourite compositions for the play, tracing Hester's heartache, her strength and her magnificent evolution.
The score for the Deep Blue Sea follows Hester's psychology throughout the play, and is intended to help the audience follow her inner emotional world through the story. I wanted to reference musical tropes from the 50s (when the play was written) without being too time-specific. So, there is a slight leaning towards film noir style scoring, which marked a big shift in scoring exploring the more dark elements of human psychology. We landed on this motif of a "wave" - a metaphor for her sweeping emotional states, and often the music comes in this form, chords washing over the space. These musical waves will creep in subtly while she is talking, or reminiscing, or is alone in her apartment.
01- Hester
This is Hester's theme or leitmotif, which features in various forms throughout the piece. This one is a more introspective version of the theme, when Hester is left alone for the first time after a non-stop flurry of visitors to her apartment. Later on this piece comes back in a very different almost nightmarish form, with flutes and woodwinds intentionally played too hard and off key, which gives the theme a jarring and dissonant quality.
02 - Freddie
While still following Hester's psychology, this piece is mapped to when she is swept up in her feelings for Freddie, or is reminiscing about him. Here is where this "wave" motif is used – the strings begin very quietly, slowly build and wash over her, increasing in volume as if we are following her deeper with each wave. There is always a bittersweet quality to the music where Freddie is concerned, and the strings never really musically resolve.
03 - Spark
This piece comes at a moment of acceptance for Hester. There is a simultaneous joy and sadness I hoped to amplify with this with this piece of music. Dr Miller says this line – "To live without hope can mean to live without despair" in the play – I was inspired by this concept, to find a place which can sit somewhere in between these two states, in a kind of sublime melancholy.
The Deep Blue Sea, 4 Feb – 7 Mar 2020, Roslyn Packer Theatre
Seeing the show? Let us know your thoughts. Tag @sydneytheatreco and #sydneytheatreco