The west headland of Sydney Cove has long been the subject of various sketches and paintings, both before and since the Walsh Bay wharves were built in the early 20th century.
Probably the earliest local artworks were Aboriginal rock carvings of fish and people, reportedly seen by some British settlers near the shore of Dawes Point. But there is no pictorial evidence of these carvings – and they would have been destroyed by the Sydney Harbour Trust's reclamation of the Walsh Bay shoreline, or by excavations to build the southern approach to the Sydney Harbour Bridge.
Colonial sketches 1788-1800
Many First Fleet artists depicted Eora people canoeing, fishing, relaxing and cooking over campfires around the neighbourhood of Sydney Cove. It is possible that some scenes depicted are of Millers Point, Dawes Point and the later-named Walsh Bay. Notable British watercolourists of this side of Sydney Cove included Philip Gidley King (third Governor of the colony), Thomas Watling and Philip Brennan. In 1960, art historian Bernard Smith invented the term 'Port Jackson Painter' to generically attribute some significant unsigned paintings created during the first five years of British settlement.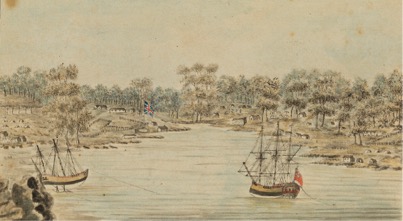 Watercolour by Lieutenant William Bradley shows Sydney Cove soon after the arrival of the First Fleet in 1788. (Mitchell Library, State Library of New South Wales- Safe 1/14)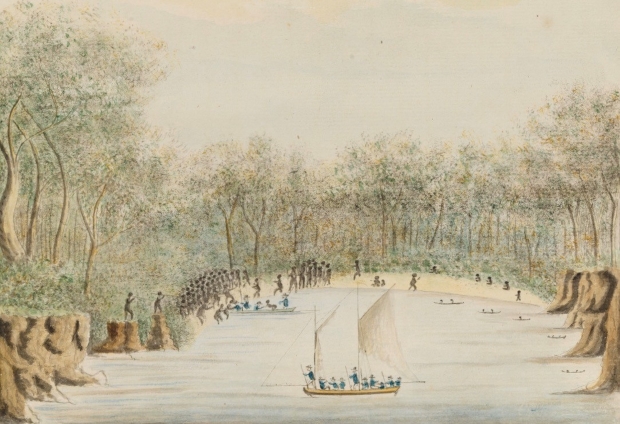 This watercolour by Lieutenant William Bradley is entitled First interview with the Native Women at Port Jackson in New South Wales and was painted soon after the arrival of the First Fleet in 1788. (Mitchell Library, State Library of NSW – Safe 1/14)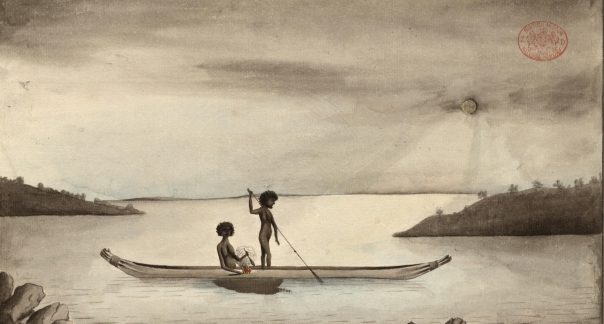 A NSW native striking fish by moonlight, by Port Jackson Painter 1788-1797. Image courtesy of British Natural History Museum.


Vue de la ville de Sydney, sketched by Charles-Alexandre Lesueur who was on the Nicolas Baudin expedition to spy out the British colony in Australia for Napoleon Bonaparte, they camped in Sydney between April-November 1802. Image courtesy of Musée d'histoire naturelle, Le Havre
Landscape paintings and prints 1801-1850
As the British settlement of Sydney expanded in the early 19th century, these next generations of artists painted the harbour and landscape with new roads and buildings; more often introducing British citizens to lend human scale to sprawling scenes.
Printers in London and Sydney often commissioned expert engravers to copy original watercolour paintings by Sydney artists for reproduction as lithographs, which were issued as supplements to journals or bound into art books. One example was Views of Australia, a book of aquatints by convict artist Joseph Lycett, published in London in 1825 (after earlier publication of each image as part of a series).
During the second quarter of the 19th century, Sydney's outstanding artists included Lycett, Conrad Martens, John Skinner Prout, John Rae, John Eyre, James Taylor and James Wallis. Leading 'sculptors' of engravings were Walter Preston and Philip Slaeger (Sligo). Lycett, Martens and Prout remain well-known for their paintings of Sydney Cove and its western headland, seen from the lower north shore.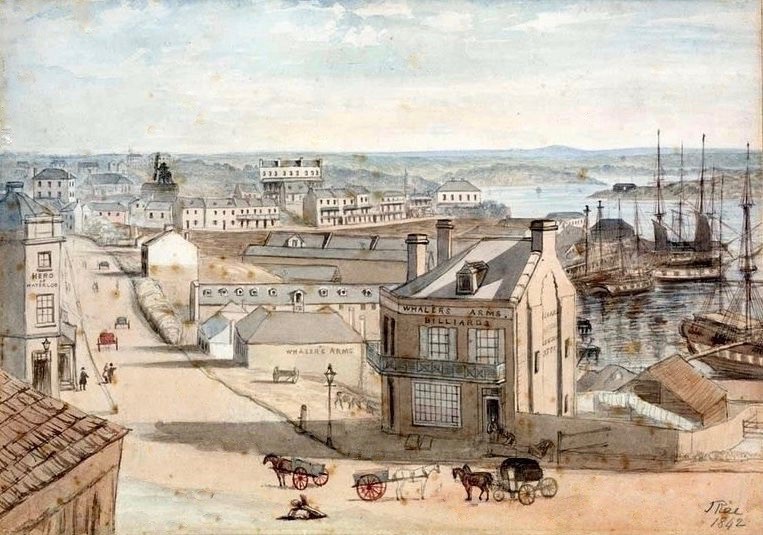 Miller's Point from Flagstaff Hill, 1842, John Rae. Image courtesy of Dixson Galleries, State Library of New South Wales.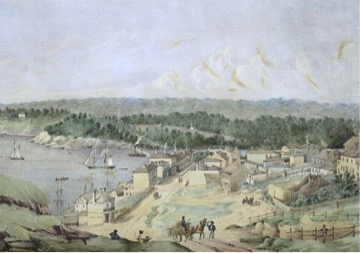 Miller's point from Fort Street to Dawes Point, Joseph Fowles, 1840s. Courtesy of State Library New South Wales.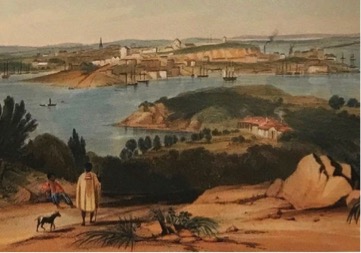 Sydney from the North Shore (detail) by Conrad Martens with Thomas Shorter Boys, 1842.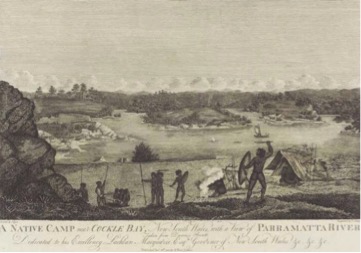 A native camp near Cockle Bay, by artist John Eyre and engraver Philip Slaeger, 1812. Image Courtesy of National Library of Australia.
Late-Victorian art 1851-1900
After 1840, when the British Government decided to stop transporting convicts to Australia, Sydney's culture became more diversified and sophisticated. In London and Sydney, this evolution was accelerated by artists, engravers and printers of various kinds of illustrations, and by publishers of newspapers, gazettes, books and pictorial magazines.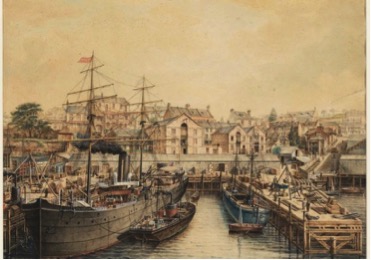 Miller's Point by Alfred Tischbauer, 1890, State Library of New South Wales.
Illustrating transitions 1901-1945
Since the new wharves were developed at Walsh Bay in the early 20th century, many Sydney artists have sketched and painted the major building and infrastructure projects which changed the area's original character.
While the Sydney Harbour Trust was developing new Wharves and warehouses at its newly named Walsh Bay, artist Lionel Lindsay produced a series of nostalgic sketches of the recently demolished structures at Dawes and Millers Points- notably the barrel-roofed public baths and old military buildings around today's Pier One Hotel. Dated from 1906 to 1925, these were retrospective scenes, so presumably Lindsay drew them from the late 19th century photographs and engravings.
Construction of the Sydney Harbour Bridge also inspired some of Sydney's leading artists to record the project's progress from 1927 to the mid-1930s. Some of the most dramatic depictions were by Robert Emerson Curtis. Herbert Gallop painted a memorable record of the project in 1927, with the southern ramp and pylons nearly completed before construction of the arch.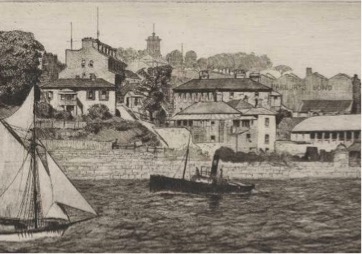 Old Dawes Point and Baths, by Lionel Lindsay, 1918 National Library of Australia.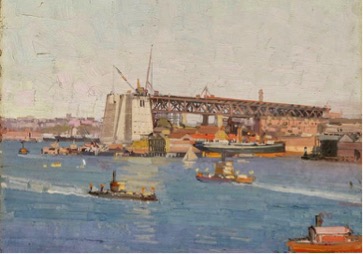 View east to Pier One during building of the bridge, by Herbert Gallop, 1927. Image courtesy of State Library of New South Wales.
Views from Lavender Bay 1946-2015
In the late 20th century, some artists living at Lavender Bay – notably Peter Kingston and Brett Whiteley – painted harbour scenes that sometimes included the Walsh Bay wharves. Kingston was among the mid-1990s coterie that opposed redevelopment of Walsh Bay; especially demolition and rebuilding of Pier 6-7. His paintings of that timem – and later – expressed nostalgia for the old wharves and concerns about destroying local wildlife habitats.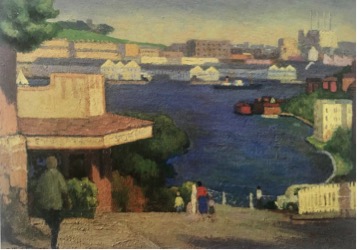 Walsh Bay wharves painted from Lavender Bay by Roland Wakelin, c1948.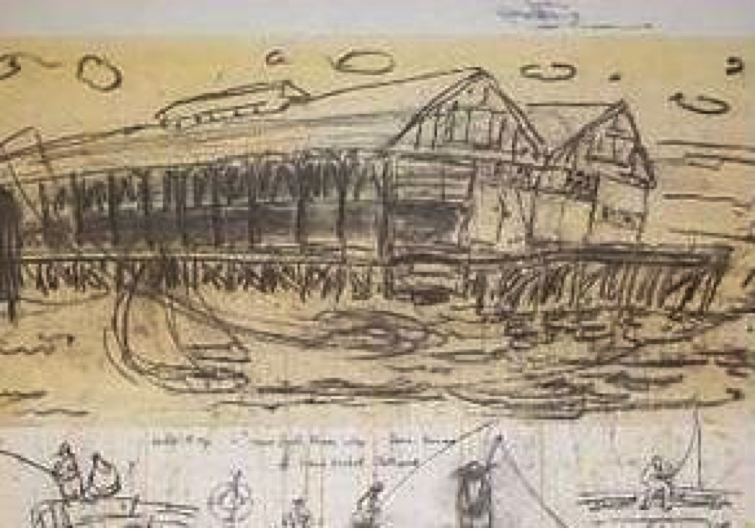 More fools than wise - John Donne by Peter Kingston, 1996. Australian Galleries.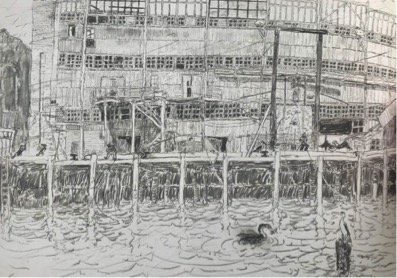 Shag Shed resumption 1, Walsh Bay by Peter Kingston, 1998. Australian Galleries.

Sydney Harbour pen and ink drawing by Brett Whiteley, 1980 (Wendy Whiteley).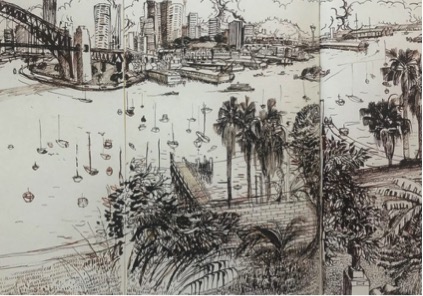 Preliminary sketch of Harbour (triptych), Brett Whiteley, 1981 (Wendy Whiteley).
STC acknowledges the Gadigal and Bidjigal people of the Eora nation who are the traditional custodians of the land on which the company gathers. We pay our respects to Elders past, present and emerging, and we extend that respect to all Aboriginal and Torres Strait Islander peoples with whom we work and with whom we share stories.
This article was adapted from walshbayhistory.net with permission by the author, historian and Walsh Bay resident Dr Davina Jackson.
Want to find out more about the history of the Walsh Bay precinct? Download the free walking guide here and discover the area and all its hidden gems for yourself.