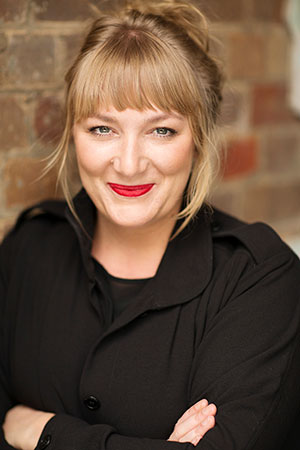 Our Associate Director Paige Rattray takes on Terence Rattigan's exquisite drama The Deep Blue Sea in February 2020, with a cast including Marta Dusseldorp. Here she discusses her first ideas about the play and her new production.
What can audiences expect from the production?
Incredible performances, existential thoughts, laughter, tears and a gorgeous set.
Terence Rattigan is one of the greatest playwrights of the 20th century, and The Deep Blue Sea is considered his masterwork. What made this play stand out to you?
The Deep Blue Sea made me feel differently about how to live in the world. It's a very rare play that can do that. There is a rich history attached to this play, especially when it comes to Rattigan and his inspiration for it. My feeling is that he used this play to heal himself in some way, but that's just that, a feeling. I can only assume what he was really thinking while writing it. But we do know the result and the play is extraordinarily beautiful in its structure, humour, and honesty.
The play's central character — Hester — is an incredible, complex role, especially considering the period in which this play is set. What do you think of Hester and what do you think Marta Dusseldorp will bring to the role?
Hester is definitely a risk taker, she's bucking against what society has told her she needs to be. She knows life is more than what she is living, she just isn't that great at making the best decisions for herself (like most of us). Life is trial and error, and Hester has definitely put herself on trial. Before we meet Hester (in the play), she's led a very privileged life but has given it up in the effort to find meaning with another man. Of course, this new life doesn't live up to her expectations and when it all comes crumbling down, she needs to find meaning elsewhere. This meaning comes from an unlikely friend who teaches her what I can only describe as 'the meaning of life' or maybe 'the reasons for living'. It's a powerful journey and one that can only be portrayed by a fearless actor who is willing to reach into the depths of their soul. In our case, that fearless actor is Marta! Her willingness to take risks and search the very depths of a character make her the perfect person to collaborate with on this play.
The play takes place in London in the early 1950s. Are you planning to keep the production in this world?
The play's content and circumstances mean that it needs to be set in the 50s. But it definitely won't be a museum piece of theatre, we're filtering it through a contemporary lens.
---
The Deep Blue Sea, 4 Feb – 7 Mar, Roslyn Packer Theatre.