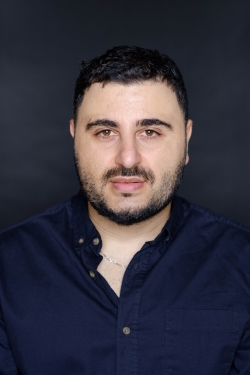 Last week on STC Virtual we released Lebanese BBQ by James Elazzi, a monologue specially commissioned for our mini-series showcasing the work of our resident writers. You can view the brilliant performance by actor Priscilla Doueihy below.
James Elazzi is an Australian writer who grew up in Western Sydney and a member of our Emerging Writers Group. His writing seeks to find a balance between both cultures of Australian and his Lebanese heritage. His works have been performed by a number of companies including Omar and Dawn at King's Cross Theatre, supported by Apocalypse Theatre and Green Door Theatre, and Lady Tabouli at Griffin Theatre's Batch Festival and in a co-production between The National Theatre of Parramatta and Sydney Festival earlier this year.
Now entering his second year as a member of the Emerging Writers Group, James spoke to us about the program, his practice and his feelings about theatre's role in Australian culture
---
James Elazzi (Image: Supplied)
---
You're heading into your second year as a member of the Emerging Writers group - what have you enjoyed about the experience thus far and what are you looking forward to?
I've loved how different we all are as writers and as people, to be honest. Even though we may have similar views on the country and the storytelling of the country, I think that our perspectives are so different. Each one of us comes from a different community. I think we want to delve into those communities and give them a voice. For example, my community is the Lebanese community, and I like to bring up topics and issues relating to that community that have never really been told on stage before.
I'm looking forward to further developing a practical working relationship with STC, in terms of understanding how the directors work, and how to create an ongoing working relationship with the company. I would love to be able to have that kind of connection with the company looking forward into the future.
Tell us about your practice - what drew you to theatre in the first place?
As a little boy I used to always go to the theatre with my mum. And even though I loved it, there was always that barrier between the plays and me because I'd never see anyone from my community or anyone that spoke to me in the performances. I've always loved telling stories, and so I just set out to write stories that I would love to see on stage.
I think a lot of my writing comes from lived experience. A lot of the stories are either people that are dear to me, or personal experiences, or things that I've personally had to deal with in my life. I think the best writing comes from writing what you know and experiences that you've been through, otherwise it's a pretty hard slog trying to get down someone else's experiences.
Mentorship and support is a big part of the program at the Emerging Writers Group. What environment do you think emerging writers need to best develop their writing?
I think an open-minded mentor who's completely grounded is essential. Because, if you're not grounded, you don't know another person's experience. I'm surrounded by people that have studied for years and then other people who haven't and have worked their way up - we all have different backgrounds. And I think being mentored by someone that understands those different backgrounds is essential, because then that's how you can connect. Because it's all a collaborative effort. I think theatre is one of the most collaborative structures in the country.
Does that need for open mindedness extend to an organisational level as well?
Absolutely. And I actually need to see them being proactive in that regard for me to trust them. I think trust is so important. And I think it's also a thing of loyalty. I think STC has a really beautiful family feel going on, and it plays out in their work.
I had this little independent show at KXT, Omar and Dawn, and there were a lot of people that had never been to the theatre that bought a ticket and came. If you put those stories out, it may take a little warming up, it may take some marketing or word of mouth, but I guarantee you that community and the fans of that community, they'll be filling up a theatre – even if they haven't been before
What about young writers who are working at the moment who inspire you? Have you seen any shows or work recently that's really exciting you?
Well I did love White Pearl by Anchuli Felicia King. And Single Asian Female by Michelle Law. Both those shows were the first time I saw strong Asian voices in theatre, and I was so excited by it. Also, in the Emerging Writers' Group, Wendy and Jordyn have really strong voices, and I'm excited to see how they continue to use them. And Shakthi Sivanathan, who wrote Counting and Cracking. He is an amazing storyteller.
As a playwright, what role do you see theatre having in contemporary Australia? What can theatre, as an artform, do for us as a community?
Theatre plays an essential role that we need in our lives, but I think it's done a disservice to a lot of people. Historically, it has spoken mainly to one sector of the community, which is a shame, because like I said, I've gone to the theatre all my life. And even though my mother never understood a word of theatre, she showed me the importance of going and having that human connection. So it's so vital that we foster new stories and we keep the momentum going forever, because it's the voice of the people.
►Explore the STC Virtual video series
STC acknowledges the Copyright Agency's Cultural Fund for supporting this project.