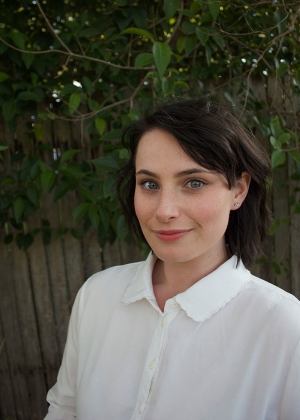 Earlier this month on STC Virtual we released Ex Utero by Jordyn Fulcher, a monologue specially commissioned for our mini-series showcasing the work of our resident writers. You can view the brilliant performance by Stephanie Somerville below.
Jordyn is an actor and current member of our Emerging Writers' Group from Sydney. Jordyn began writing in her childhood and has always had a natural affinity for storytelling. Recently, after graduating from her Advanced Diploma in Acting at AFTT (The Academy of Film, Theatre, and Television) in 2017, she has turned her focus to developing her skills and creative potential through writing.
Her notable acting credits include Caryl Churchill's ensemble piece Love and Information (2017) directed by Luke Rogers at Belvoir Downstairs and a number of university productions: Shakespeare's Romeo and Juliet (2016) directed by Sean O'Riordan at AFTT Audi, David Mamet's Speed the Plow (2016) directed by Winston Cooper at AFTT Audi, and Anton Chekhov's Three Sisters (2015) directed by Kate Hankin at AFTT Audi. In 2019, Jordyn was cast in Amy Sole's Doing, the debut show by Puddle or Pond, in association with KXT bAKEHOUSE.
Now entering her second year with the Emerging Writers' Group, Jordyn spoke to us about what she writes, her experiences in the EWG and why Australia needs more widespread support for emerging writers.
---
Jordyn Fulcher (Image: Marty McLean)
---
You're heading into your second year as a member of the Emerging Writers' Group - what have you enjoyed about the experience thus far and what are you looking forward to?
When I first became a part of the Emerging Writers' Group I'd just started writing – I had a lot of big ideas and no direction. And my only understanding of craft was from an actor's point of view.
So, the impact that the program had on me in those first couple of months was so profound, because I was coming from a background of nothing. Having people all of a sudden believing in you and taking you seriously as an artist, at first, was very confronting. But then it was super empowering. And having that experience helps me find a direction for all my energy.
I feel like I have reached a point where writing isn't just something that I'm good at, it's what I am. I'm a writer. So now I have this agency to want to get to the nitty gritty part of things; get into the foundations, into the bones of why I'm writing and what I'm writing about. I'm approaching my weaknesses with a lot of love instead of trying to gloss them over and hide them. I have this big love of learning and I want to take it a step further and apply what I'm learning to figure out what my voice is and be empowered by it.

How would you describe your writing style? What are you interested in writing about?
I'm really interested in writing about background information. I have foundational trauma and so I'm fascinated by the complexities of human behavior. I like understanding the 'hows' and 'whys' of people's actions, no matter how extreme they are.
I'm still figuring out what my voice is, and how I write and a lot of that is still very much in the experimental phase. But I definitely write from a space of wanting to understand people and who they are deeply. And a lot of that is dictated by deep foundational lessons that they've learned from the people around them. And how that then is constantly applied throughout their life, whether they're aware of it or not.

Mentorship and support is a big part of the program at the Emerging Writers' Group. What environment do you think emerging writers need to best develop their writing?
The biggest thing that comes to mind when I think about that question is: nourishment. I think people take for granted how hard writing is, and how hard it is to make a career of it. I say this at the first step of my writing career, and already it's hard. [Everyone] is so used to seeing a final draft, and this glossed-over idea of what it means to be a writer.
So, I don't think emerging writers need to be mollycoddled or hand-held, but they do need a lot of patience. If we have this open, nourishing energy, or room, for new writers to go into and to be trusted and to be given their own agency and to be able to make mistakes. It's important that writers see the backside of things – not only the final draft, but see the first draft (which generally sucks) and all the drafts afterward – they will feel empowered to take those necessary steps to find their own voices.
Also, I definitely think there needs to be more programs like the Emerging Writers' Group. There especially needs to be more outreach programs for lower socioeconomic and working class people who generally don't have access to a lot of theatre. I grew up not very wealthy and the first time I ever saw theatre was when I was in college. If I hadn't had that experience, if I hadn't said, 'hey, I want to be an actor', and didn't go out and chase it myself, then I probably would have never found a love for writing for theatre.
And it's one thing to get [young artists] through an opened door – and for some people getting into the door is a lot harder than it is for others – but most of the time you get into this room and there's expectations and preconceived notions of what an emerging writer should be. You also have to give space for people to be themselves once they're inside, you need to give space for human beings, not just talent.

What about young writers who are working at the moment who inspire you? Have you seen any shows or work recently that's really exciting you?
The people in the Emerging Writers' Group with me: Wendy Mocke, Enoch Mailangi and James Elazzi ... I am so blown away at how talented and hardworking they are as writers.
Sometimes to the point where I think, 'do I belong in this group?' Because these people are bloody impressive.
People like Amy Sole, Kirsty Marillier and Jordan Shea. There are so many people, there's this whole generation of writers that are starting to crop up in Sydney. Their work is fast-paced and exciting - I know why people love doing classics, but I think nothing compares to a work that is completely relevant to now, that's spoken straight from the mouthpiece of now.

What do you think the role of the playwright is in Sydney today?
First off, playwriting, whether you want to see the politics in it or not, is political. Because a writer will always carry with them on the journey of writing a play, what they believe, what they see, their experiences. That'll always be a small part or even a big part, but it will be in there.
So, I think that our role as writers in this landscape is to be aware [of that]. We need to cut that ignorance cord and face things head on and be very aware about the implications of everything that we're writing. We take for granted just how much the stories we are told impact our daily lives and how much we have learned from the plays, movies, television, and everything else we've seen.
Also, it's important to give space to things. I love that we can celebrate international art. But I think European and Western-centric art has taken a preference over the Australian story. Because the Australian story is shame, it is pain, it is confusion. We're living on stolen land and we don't know what to do about it.
And it's very simple what we need to do about it, we need to listen, we need to give space. The more people engage with that Australian story, the more people are going to realise what their role is in this part of history, what their job is. They're going to be able to engage and empathise better. Because if you're not engaging with a story, you're less likely to believe that it's true or that it's valid.
►Explore the STC Virtual video series
STC acknowledges the Copyright Agency's Cultural Fund for supporting this project.