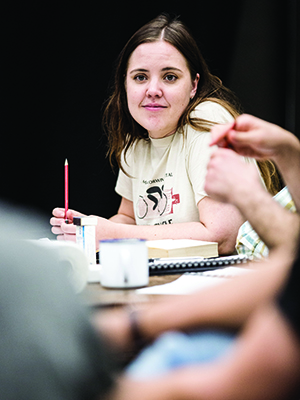 Contessa Treffone (The Deep Blue Sea, Harp in the South, Part One and Part Two, Top Girls, Lord of the Flies) is one of hundreds of artists and workers at STC whose work was impacted by the closing of theatres due to COVID-19. Contessa had performed only two preview performances of Triple X, before the shut-down occurred. She shared with us what that experience has been like and how she's stayed connected by making thank you calls to STC donors alongside actors Helen Thomson, Heather Mitchell, Andrea Demetriades, Glenn Hazeldine, and Catherine Văn-Davies.
We only got to perform two incredible previews of Triple X, and even from the first to the second performance there was a big difference in the size of our audience. It was surreal. When you're creating a new production, particularly a brand new Australian work, you're revving up to the climax - which is that performance. It was exciting, it was creative, and the culmination of years of work at both QT and STC was about to come alive before an audience… and then it just stopped. Those performances were an opening and a closing all at once.
---
Contessa in rehearsals for The Deep Blue Sea.
Image: Brett Boardman
---
I'd gone from performing in The Deep Blue Sea, with a four week overlap of rehearsing Triple X during the day, and performing at night. Anyone who knows me, knows that I'm a workaholic but it's also when I thrive. So after the season stopped and I came back to Sydney, it was really discombobulating because my adrenaline was still in my body, and still had this feeling that I could do a show at any point. I had a lot of energy but nowhere to disperse it. On top of that I never thought I'd exist in a world where I couldn't see theatre, let alone be in a piece of theatre. I felt like an addict and all of a sudden my source was taken away from me. An extreme kind of theatrical cold turkey.
The experience felt very personal, but I also knew no one was immune to the oddity of this time, so I found unity in that, particularly with the cast.
I had to be honest with the fact that I was feeling the come down and disappointment of not being able to share that show, which was created with so much passion, and was such a special story, with people. I went into overload working out how I could continue to create and be creative, but as an actor I realised that I really do rely on collaboration and contact with people for my art. So I bought a lot of plants instead, which I've decided need my constant attention. I read lots of plays. I gave up on trying to bake bread (I tried, I sucked – how does everyone else seem to be able to do this?). I just tried to be patient with myself.
Over the space of a year an actor might have a show or two locked in, and then as you go on, it fills up with opportunities, and there's a bit of a knock-on effect. So I was coming to terms with the fact that I might not do any acting for the rest of the year. But I also lost my teaching work, where I teach little kids acting on the weekend, which I love and have done for the last five years. I lost a lot of typical structure to my days.
It's been such a blessing in this very peculiar time to be able to spend a couple of hours a day calling donors to STC to thank them for their support. I've spoken with people who have donated small amounts to insanely generous amounts, and it's really lovely to see that we're all just people who are just missing something. Sometimes I can think I'm part of a bubble and that the importance of what we do is my own construction. But then I speak to someone who makes a two hour train journey to Sydney with some friends a few times a year to see theatre, and it's such an important part of their life and their connection. We've shared in the pain and the desire to get live performance back, and stories of why theatre is important, and why it changes lives – which can sound really dramatic, but I've heard so many stories to know that it's really true. It's brightened up my day and been a really positive influence on my outlook through this time.
Contessa amongst the cast and creatives of Triple X. Image: Prudence Upton.
I think it's going to be such an extraordinary moment when, for example, we're back in the Ros Packer Theatre, and it's full of bodies, and more than ever before we're going to be so conscious of what a shared experience it is. It's hard not to be hyper-aware of other people in the room at the moment, but to have that in a theatre, it could be incredibly powerful. It's what makes theatre so special in the first place, and it will be even more heightened.
I miss the sound of laughter when hundreds of people share a moment. Or that beautiful tiny beat when a production finishes, before the applause and we're absorbing that final moment. I want it so much. I might not get to perform this year, but I might get to sit in an auditorium and that get that magic.
Please help support STC continue to be one of the largest employers of theatre workers and artists in Australia as we emerge from this crisis. With the significant loss of box office income that we are so reliant on, it will be your donations that will directly shape the kind of theatre and the kind of opportunities we can offer now in the future.
Your support will keep our community of artists, theatre makers and audiences intact. Please consider donating to Sydney Theatre Company here.