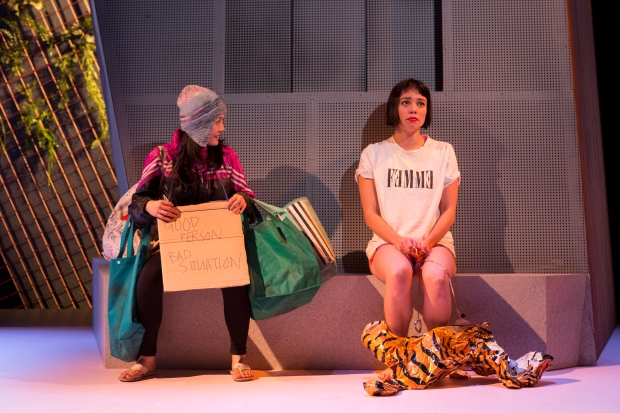 Jenny Wu and Catherine Văn-Davies in Going Down. Photo: Brett Boardman

Over the last few years, Catherine Văn-Davies has been shaking up the stage with her portrayals of powerful women; women who reflect the diversity of the female experience. These roles are no coincidence; they are the choices of an actor determined to make our stages and our screens more diverse and inclusive.
'There is just something when you see your likeness. It doesn't have to be your exact likeness, but just something that deviates from what people say is the neutral idea of something – like what a 'leading lady' looks like,' Catherine says, sitting outside the Sydney Opera House before tonight's performance. She is currently playing the role of Margherita in STC's hit comedy No Pay? No Way!, alongside the iconic Helen Thomson.
For Catherine, the idea of seeing your likeness on stage is not just restricted to looks and physicality.
'I think it's to do with race, sexuality, gender identity, whether or not you're able-bodied. [Seeing your likeness] gives you a sense of self in the world. It validates your experience.'
From the get go, Catherine has always been attracted to strong, unexpected female characters. In 2012, she began her career as Annabelle Lee, a fictional amalgam of Singaporean pornstar Annabelle Chong and ex-Singaporean Prime Minister Lee Kuan Yew, in the independent production sex.violence.blood.gore by playwright Alfian bin Sa'at.
'I came in at the end of the play, after a series of vignettes, and did a twenty minute monologue. I'd never seen a character like her in the Western canon, and it was so exciting that it came from a culture that was highly conservative.'
In 2016, Catherine shone as the sharp-tongued maid Visi in The Turquoise Elephant at Griffin. A climate change refugee, Visi uses her acerbic wit to put her uninformed employers in their place.
Two years later, she made her STC debut as Natalie Yang, the unapologetic, explicit, not-quite-bestselling author at the centre of Michele Lee's Going Down.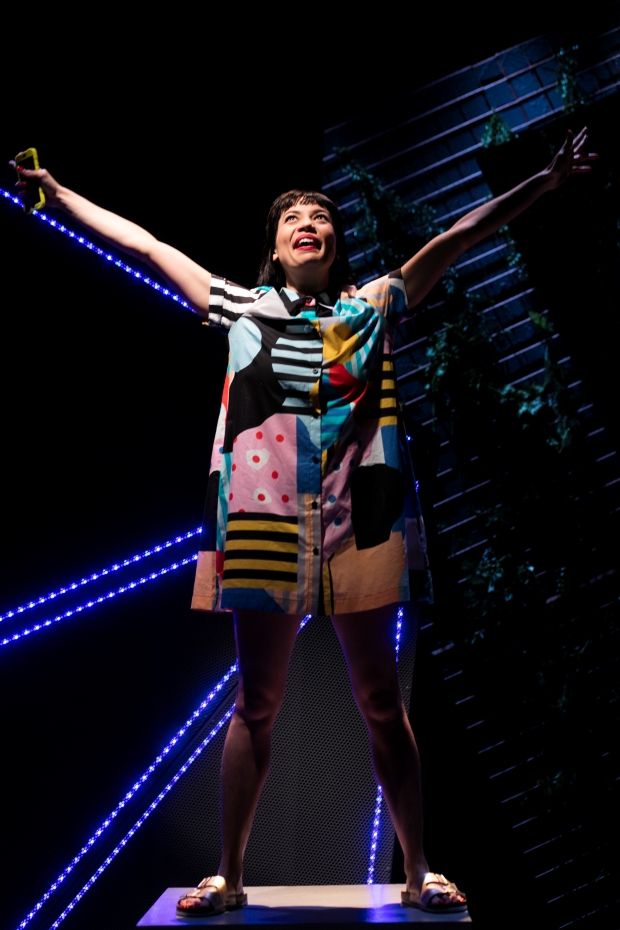 Catherine Văn-Davies in Going Down. Photo: Brett Boardman
'Natalie was a revelation to me, I had never come across a character like her. She is someone who is uncomfortably relatable,' Catherine says. For Going Down, playwright Michelle Lee drew from her own life, particularly the public reaction to her memoir Banana Girl (a title that she also gave to Natalie's fictional memoir).
'Michelle and I talked about Natalie as the fictitious dream of a reaction to what we've experienced most of our lives…, being censored. What it's like to be outwardly told how you should behave and what you should be based on your race and gender. The fact that Natalie just did and said everything that our social selves tell us not to do.
'To have been given licence to just really go there, to be completely grotesque, to not make her polite, or not to focus on her likability – because I think that's part of the point, to see an Asian woman lead a story, who isn't doing all the things that have made us polite and acceptable and model migrants, or being the embodiment of our trauma porn history. That comes with us, but it doesn't define us.'
Last year, Catherine was back at STC as the wild, brash Thai-American heiress Built in Anchuli Felicia King's White Pearl. A biting satire on the beauty industry and intra-Asian discrimination, the production featured six actors, five of them young Asian-Australian women – a startlingly rare occurrence.
'We joked in the room that the only time we see each other as actors is in the waiting room, because we're all going for the same role,' Catherine says, 'It breeds this idea that there is only room for one, when in fact there's room for many, many more.'
She notes that in White Pearl, it is Built, in particular, who subverts the way Asian women are typically represented in media.
'They're often subservient, hyper-sexualized but given very little sexual agency. Then you've got Built, who knows her sexual power, who is bargaining with her sexual power.'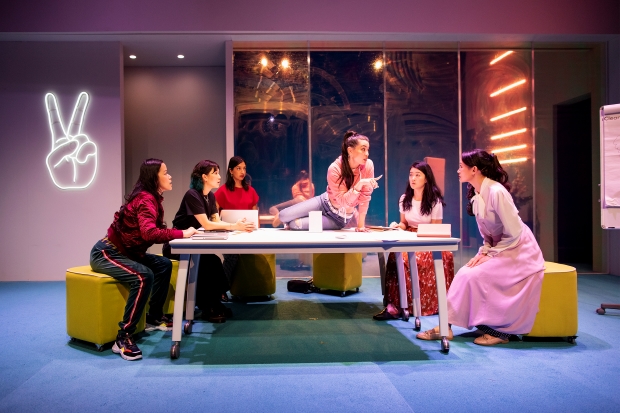 Merlynn Tong, Deborah An, Vaishnavi Suryaprakash, Catherine Văn-Davies, Shirong Wu and Mayu Iwasaki in White Pearl. Photo: Philip Erbacher
In the same year, we also saw Catherine on stage at the Apocalypse Theatre Company as the passionate, progressive, Valium-addicted Harper in Angels in America, Tony Kushner's searing and seminal look at the AIDS crisis in 1980s America. Catherine's performance was widely praised and earned her a Sydney Theatre Award for Best Actor in a Supporting Role in an Independent Production.
'She's one of the strongest characters I've ever played, because of her vulnerability. What she demonstrated to me was the capacity to cope, and to maintain integrity and truth amongst chaos, and be the voice of queer resilience.
'I would read so much about her being this sort of pill-popping, highly anxious, crazy, dotty woman, and I see the total opposite in her. I think people sometimes measure strength on a very masculine scale, that strength has to be Alpha and dominating. But the beauty of a queer lens or a feminist lens – not that they're mutually exclusive either – is that strength is an all encompassing acceptance of human nature.'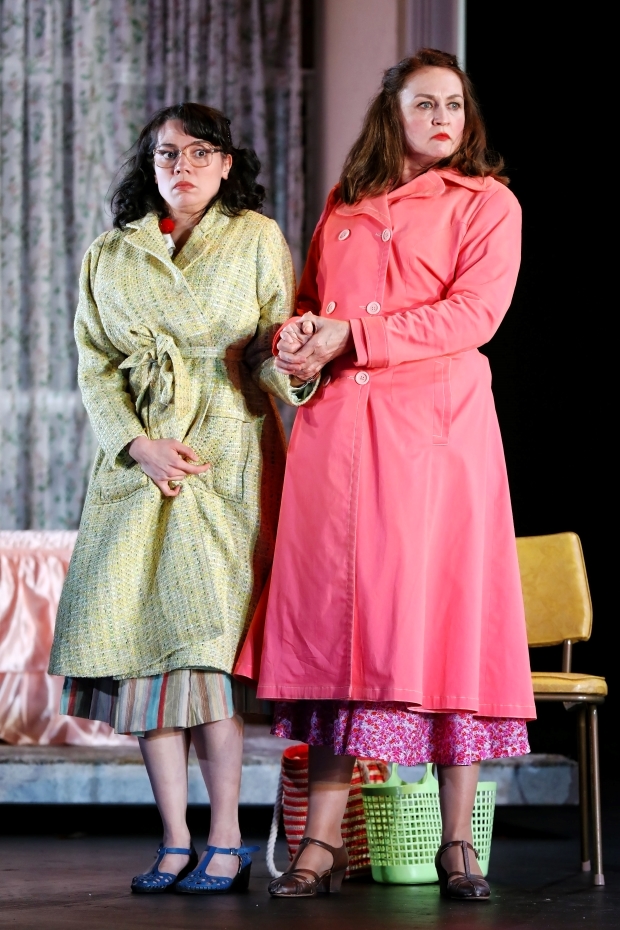 Helen Thomson and Catherine Văn-Davies in No Pay? No Way! 2020.
Photo: Prudence Upton
In 2020, Catherine kicked things off as the looting, rioting Margherita in the rollicking comedy No Pay? No Way! Marieke Hardy, who adapted this new production from the classic Dario Fo farce, has focused on the relationship between Antonia and Margherita, bringing to the stage two women whose gleeful and effortless repartee is reminiscent of famous male comedy duos like Laurel and Hardy.
'It's a cliche to say it's great to see "women working together", but [in No Pay? No Way!] you see it in a way that doesn't feel cliched, and it doesn't feel twee or an idealised notion of female camaraderie, it's genuine.'
While her best friend Antonia is the riot-starting anarchist, Margherita is her less rowdy accomplice.
'Margherita doesn't judge Antonia for pursuing the things that she does, she just doesn't believe she has the capacity to also pursue those things. She's tried to get by, under the radar, to not cause waves, but is ideologically on side.
'I feel that duality in my own life, in the sense that there is a part of me that is incredibly anarchic, and there is a part of me that absolutely abides by structure and rules, because I'm so conscious of other people and disrupting that. I understand where she's coming from. But then it is also exhilarating when she finds her capacity to challenge the system.'
And as for the next fierce woman Catherine is dying to play?
'Let's just say, I'm not rushing out to play Ophelia.'