Q&A: Appropriate Director Wesley Enoch
Date posted: 01 Nov 2020 Author: STC Production: Appropriate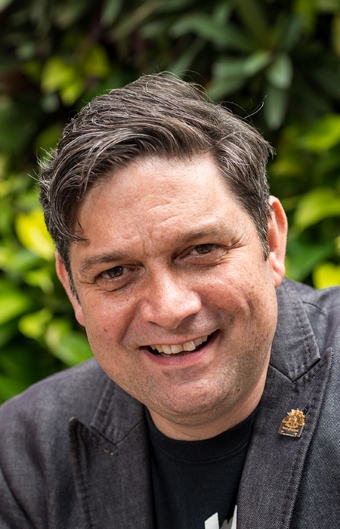 Wesley Enoch is a legend of Australian theatre. Currently the Artistic Director of Sydney Festival, Wesley worked as the Artistic Director of Queensland Theatre and was once the STC's Associate Director.
In 2021, Wesley will be directing the Australian premiere of Appropriate by Branden Jacobs-Jenkins – one of America's most exciting playwrights and a two time finalist for the Pulitzer Prize.
Wesley sat down with us to discuss his admiration for the play, what his plans are for directing it and what relevance this new classic of American drama has for an Australian audience.
Branden Jacobs-Jenkins is one of the US's most respected contemporary playwrights but he's still relatively unknown here – what do you think makes his work so special?
I think that he goes to the heart of some very key issues, especially in national identity in the U.S. This sense that national identity is a very complex issue – and he loves to dive right in the middle of it and open it all out. And what he's done with this particular work is to look at all the tropes of successful American theatre making and he's built them into the piece. So, there's [references to] Tennessee Williams, Tracy Lett's August: Osage County, Arthur Miller: it's all in there, these big American family dramas. And that's why Appropriate is a great crossover work for an Australian theatre audience. Because, if you know that classic American genre, 'the American Songbook' if you like, then you can understand very clearly what this play is commenting on.
Why do you think Jacobs-Jenkins chose such a familiar setting and genre for this story?
He's pointing at the gaps and absences that are present in those classic works: the history of slavery, Black history, the things that have literally and figuratively been buried in the backyard. The wonderful thing about this play is that, without making a capital 'P' political work, Jacobs-Jenkins is saying, "Look at the absences because I'm going to shine a light on them." The Gone with the Wind-style house at the centre of the play, which in some ways represents America itself, is undermined because it's true history hasn't been acknowledged or dealt with. And in many ways, that's why I'm attracted to the work because it has these universal themes like how do you excavate history to make sure that you have a future?' How do you look back over all the things unsaid, the things that have been suppressed, and bring them up? And how do you have a future together and a national identity, a canon, that reconciles all these forgotten things.
Appropriate is very rooted in the geography of the American South and the history of American theatre – what relevance do you think it has for an Australian audience in 2021?
I feel like in Australia, we've been very busy looking at our black stories, our black national identity issue rather than importing stories. But I think this play is an appropriate (pardon the pun) addition to that conversation because I think we have a lot of playwrights here, particularly black ones, who are doing similar things to Jacobs-Jenkins. I'm thinking particularly of people like Nakkiah Lui, who did an adaptation/translation of Jacobs-Jenkins' play An Octoroon for Queensland Theatre in 2017.
Particularly with shows like Black is the New White I feel like Nakkiah and Branden are aligned, in the ways they adapt and skewer those national tropes.
And there are parallels between the two national stories, "the Deep South" of that country could translate to the "Deep North" of this country.
Are there particular aspects of the play you're hoping to draw out in your production that might be a little different from previous productions?
I'm interested in magnifying the family drama and comedic elements of the play, rather than hitting the audience over the head with the politics. And there are many points in the play in which you're note sure whether you should be laughing or not – I want that ambiguity to be there.
Those dramatic and comedic elements – how we relate to one another, the recognisable dynamics of family life – are an invitation to the audience, something to draw them in. And then they start to ask "Oh, where are we? What is this?", then they question, "what is it we're laughing at"" That's when they realize they're tipping into the political layers of the work. Hopefully they'll see that the questions this piece asks are much bigger than they seem at first.
Jacobs-Jenkins stipulates that Appropriate must be performed by an all white cast - a clearly provocative statement given that he is African American - why do you think he made this decision and what does it offer the play thematically?
As always, characters are an extension of an artistic investigation for a writer and what this play investigates is whiteness. It's not about placing the responsibility on Black actors (or actors of colour) to unpack the ideas of whiteness for any audience.
If one's intention is to investigate ideas of whiteness and connection, then of course you'll be attracted to writing characters that will do that.
Often it's Black people that have to unpack racism for everyone else or unpack the politics of things for others because, we're more articulate about it, it's our lived experience, all that kind of stuff. To actually place that responsibility into white characters is fascinating.
Appropriate, 15 Mar – 10 Apr, Roslyn Packer Theatre