Q&A: Playing Beatie Bow Playwright Kate Mulvany
Date posted: 01 Nov 2020 Author: STC Production: Playing Beatie Bow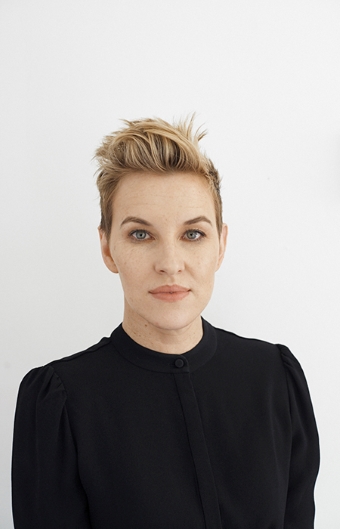 Kate Mulvany is a beloved actor, screenwriter and one of Australia's most respected playwrights. In 2021, Kate will be reuniting with our Artistic Director Kip Williams (with whom she created the wonderful The Harp in the South: Part One and Part Two in 2018) to premiere a new adaptation of Ruth Park's classic novel Playing Beatie Bow. Reflecting on this iconic story of friendship, history and Sydney, Kate takes us through why and how Playing Beatie Bow came to be.
With Playing Beatie Bow you've returned to the work of Ruth Park, who you adapted for The Harp in the South: Part One and Part Two. What is Park's enduring attraction for you?
The appeal for me is her amazing foresight and insight and past-sight and… all-around-sight: her understanding of Australia and Australian communities. She dives so deep into those communities that we know so well, that have been around since the First Fleet arrived on Aboriginal land. She takes all of that perspective and turns it into the most incredible and recognisable narratives and characters and storylines. And there's something quite beautiful in her writing in that no matter where she's coming from, no matter what age she was writing from, she had a very political mind, a very feminist mind, but she also knew exactly how to entertain the reader. And for all of those reasons, it just works so beautifully on a stage. It ticks all the boxes for production design. It ticks all the boxes for the actors to get their teeth into something delicious and it absolutely ticks the boxes for audiences to have a really, really fabulous time in the theatre.
Like The Harp in the South: Part One and Part Two, Playing Beatie Bow is a real Sydney story. How do you go about translating the energy of the city onto the stage?
With Playing Beatie Bow I have the absolute privilege of writing for a space that is set exactly where the story's happening. In and around The Wharf is exactly where the Bow family and the Tallisker family (the central families in the story) live, that's where they work, that's where they walk past every day. And to have that in my mind, to know that when they look out their window, they see the exact spot that our audience will be sitting, that is a massive gift to have as a writer. Because it means that the surrounding area of the theatre tells half the story for you. The audience has walked into The Wharf, having seen a lot of those sites that are mentioned in the play, and hopefully it means that I can encourage them to walk out and feel the energy and the history and the potential of that same area when they walk out together as a community.
It must be exciting to be the first playwright programmed in The Wharf since the hiatus?
I'm so completely honoured. I remember many years ago at the Roslyn Packer Theatre, when the theatre was opening, Katherine Thomson's play, Harbour was the first play programmed there. And I remember sitting in the audience as a really, really young artist who had just arrived in Sydney and thinking how incredible it was that this woman was opening this theatre, and that all these people were there to celebrate the opening of a beautiful building that was going to be telling so many stories. And to have that happen to me now, in a space where I first performed in Sydney, when I first moved here ... to have the honour of opening the theatre with this story, hand-in-hand with Ruth Park, is unbelievable for me. I get goosebumps every time I think about it.
You must have done a lot of historical research in writing this adaptation?
Oh I have, so much.
Most people think of Playing Beatie Bow as a look at The Rocks through a contemporary viewpoint, but also set in the year of 1873. And the fabulous thing about The Rocks, then and now, is that it is made up of this multitude of cultures. And I can't write for any character without knowing exactly where they came from, especially those from 1873. If you're a Chinese person, what was happening in 1873? If you were an Irish person, what was happening in 1873 in your country, in your place? If you're a Gadigal person, what was happening, where were you in 1873? That's really, really important. And so I get onto these offshoots of history, very important pathways, that all sort of conjoin together in The Rocks.
So, I've read everything from the history of the Norn language, which was a very specific language that was spoken on the Orkney Islands (where the Bows and Talliskers are from), to the Maleficium (a dictionary of witches), right through to A Walk in Old Sydney by Michael Tatlow, which is this incredible look at the colonial era. But I don't just do the books, of course. I've worn out a couple of pairs of shoes wandering through The Rocks, both pre COVID and post COVID and just taking in the history of that place and looking up while I do it. That is my main point of research, instead of looking out or looking down at the cobblestones. To look up, and I encourage everyone to do this when they see the play, at the cornices and the cornerstones of The Rocks and see the names that are written along those incredible walls and the detail that still exists from so long ago. It is pretty spectacular. And they're all hints. They all left me hints as to where to go next in the play.
You've decided to update the "present" setting of Playing Beatie Bow to today's world, rather than the 1980s when the book was originally written. Why?
I think it's important to remember that while this play is opening in a new space, it should also be inviting everyone into that space. Theatre should be accessible to absolutely everyone. And so I really wanted to capture the now, the energy of the now, in order to really make for an entertaining and relatable story. This theatre is for teenagers, it's for university students, it's for grandparents, it's for everyone who wants to come in and onwards. By bringing it into the present, it's allowing an accessibility that perhaps isn't necessarily there if it's just for a crowd that remembers 1980.
Why do you think the story of Beatie and Abigail is relevant and important to us in 2021?
What I love about Beatie and Abigail as characters, is they are encouraging each other along the path of womanhood and the many varied and distinct aspects of being a woman or a femme. I love that when we go back to the past, we find this young girl, Beatie, who is about as Germaine Greer as you can get (laughs) in this little 11-year-old body. But at the same time, we can move forward into 2021 and find Abigail who's really unsure where she fits in the world as a woman and as a school girl, and is a little confused by the politics around her. And it takes going back in time for her to realise how wonderful it is to be a woman in this world. And also how tough it is too.
But it's not just a feminist novel, of course. It's a coming of age story. It deals with all of the awkwardness of being a teenager who's on the cusp of setting off into their adult life. And that comes with a lot of heartache and a lot of humor. Heartache and humour that's pretty much universal.
Playing Beatie Bow, 22 Feb – 1 May, Wharf 1 Theatre