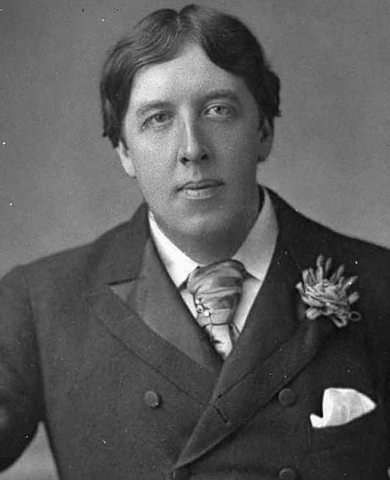 Oscar Wilde's writing and intellectual career spans a wide range of forms, from children's books, to magazine editing, plays, essays, letters, short stories and, of course, a novel. But despite his remarkable output, and the canonical status he firmly occupies in contemporary times, Wilde's career (and life) was extremely tumultuous. Here are a few key moments:
1854
Oscar Fingal O'Flahertie Wilde was born at 21 Westland Row, Dublin. Wilde was the middle child of Jane Francesca Agnes, Lady Wilde – a poet who published under the pen name 'Sepranza' – and Sir William Wilde – an ophthalmologist who was knighted for his services to medicine. Sir Wilde was also an author and avid student of archeology, anthropology and Irish folklore.
1864
Wilde attended boarding school at Portora Royal School at Enniskillen, County Fermanagh, in the south of what is now Northern Ireland. According to Wilde, he was admired by his peers for his speed-reading skills and his storytelling prowess.
1871
Wilde returned to Dublin and began his undergraduate studies at Trinity College. He read Classics and was mentored by renowned Irish classicist and renaissance man J. P. Mahaffy, who Wilde often referred to as his 'first and greatest teacher'. Wilde accompanied Mahaffy on tours of Italy and Greece in the mid-1870s and it's reported that the two bonded over their interest in homosexuality in Classical culture.
1874
Wilde graduated with a First from Trinity and went up to Magdalen College, Oxford – where his academic success easily earned him a scholarship. At Oxford he studied Literae humaniores. The course, nicknamed 'Greats', comprised advanced Classics studies, as well as the history of Ancient Rome, Ancient Greece and Western Philosophy.
While at Oxford, Wilde became familiar with some of the most influential art and philosophical movements of the late-19th Century in Europe, including the work of the poet Algernon Swinburne and the painter Dante Gabriel Rossetti. He was also taught by literary critic and writer Walter Pater, whose novel Marius the Epicurean and collection of experimental short stories Imaginary Portraits are clear influences on The Picture of Dorian Gray.
1878 – 1879
Wilde graduated from Oxford with a First and moved to London, where he became a fixture in artistic and social circles. Wilde became associated with Aestheticism, a philosophical movement that sought to privilege the beauty, style and form of art over its relative social and moral import. The movement is often (over)simplified as 'Art for Art's Sake'.
1880
Wilde composed and published his first play Vera, which opened to lukewarm reviews the following year.
1881
Funded by a London theatre company, Wilde commenced a 140 venue lecture tour of the United States. The tour was ostensibly a publicity stunt to promote the company's upcoming tour of Gilbert and Sullivan's operetta Patience – Patience is a satire of the Aesthetic movement and the main character is said to be a parodic version of Wilde himself. Wilde's charisma and wit, however, won over audiences and began his rise to public fame. In the same year, Wilde was introduced to socialite and writer Constance Lloyd.
1884
By chance, Lloyd was in Dublin at the same time Wilde was delivering a lecture there and Wilde proposed. They were married soon after at St James's Church, Paddington, in London. The couple's new domestic costs and their notably lavish lifestyle necessitated Wilde taking up a career as a journalist and editor. He worked for a variety of publications including Pall Mall Gazette and the Dramatic Review. In 1887 he became the editor of a magazine called The Lady's World (later re-launched as The Woman's World). Lloyd and Wilde had two children, Cyril (1885) and Vyvyan (1886).
1886
Wilde began a relationship with Canadian-British journalist Robert Ross. Though Ross was only the first in a series of younger lovers that Wilde would take in his later life, the two remained close until Wilde's death and Ross would go on to become Wilde's literary executor.
1888
Wilde began writing fairy tales and fables and published his first collection The Happy Prince and Other Tales.
1890
An initial version of The Picture of Dorian Gray was published in the American journal Lippincott's Monthly Magazine. The novel caused a scandal in American literary circles which led Wilde to include what he hoped was a diffusing Preface to the work before it was published in England. The bid was unsuccessful and the novel sparked further scandal and speculation.
1891 – 1894
Wilde is introduced to Lord Alfred "Bosie" Douglas, with whom he would go on to have a difficult and intense relationship. Douglas' father was the then Marquess of Queenbury who's brusque, rough and direct manner led him to become the namesake of the Queensbury Boxing rules (which he openly endorsed).
In the same year Wilde composed, in French, the first version of his now famous play Salome. It was due to premiere on the London stage the next year, starring Sarah Bernhardt (considered by many to be the greatest actor of her age), but the performance was halted by the British Lord Chamberlain who invoked an outdated law that meant it was illegal to portray Biblical characters on stage.
Over the next four years Wilde would go on to have great success with his social comedy plays Lady Windermere's Fan, A Woman of No Importance, and An Ideal Husband.
Throughout this period Wilde and Douglas' relationship became somewhat of an open secret. This, along with Douglas' ongoing estrangement from his father, led Wilde and the Marquess to have a number of confrontations, including one in which the Marquess threatened to "thrash" Wilde if he caught the lovers out in public.
It was during 1894 that Wilde wrote what is now considered as his dramatic masterwork The Importance of Being Earnest.
1895 – 1897
The Importance of Being Earnest made it's triumphant premiere in London. Four days later the Marquess left a missive for Wilde at the gentleman's club he belonged to that read "To Oscar Wilde posing Somdomite".
In spite of sound legal advice and the discouragement of his wife and friends, Wilde insisted on suing the Marquess for libel. The case was a disaster for Wilde, who had masses of evidence stacked against rather than for him. At one point during the proceedings the defence quoted passages from The Picture of Dorian Gray as evidence of the supposed deleterious effects that the Aesthetic lifestyle has on the morals of its practitioners.
Eventually Wilde dropped the case and was thus compelled to pay the Marquess' legal fees, which left him bankrupt.
As soon as the court proceedings were over, a warrant for Wilde's arrest was issued and, after a failed attempt by Ross to get Wilde to leave the country, he was arrested and charged with sodomy and gross indecency.
After a short trial Wilde was convicted of his charges and sentenced to two years hard labour.
Throughout his imprisonment, first at Pentonville Prison, then Wandsworth and then finally at Reading Gaol, Wilde suffered from a number of serious health issues as a result of the inhumane conditions of Victorian-era gaols.
In the final year of his incarceration, Wilde wrote a 50,000-word letter to Douglas, which is now published as another of his greatest works: De Profundis, which translates as From the Depths.
1897 – 1900
As soon as Wilde was released he fled Britain, never to return.
He lived in impoverished exile in various locations around France and wrote very little – although he did produce The Ballad of Reading Gaol – he is quoted as saying that he had "lost the joy of writing".
His health continued to decline and, not long after sending an urgent call to Ross to join him in France, Wilde developed meningitis.
He died as a result of the disease on 30 November 1900 and, after a brief stay at Cimetière de Bagneux outside of Paris, his body was interred at Père Lachaise Cemetery, inside the city.