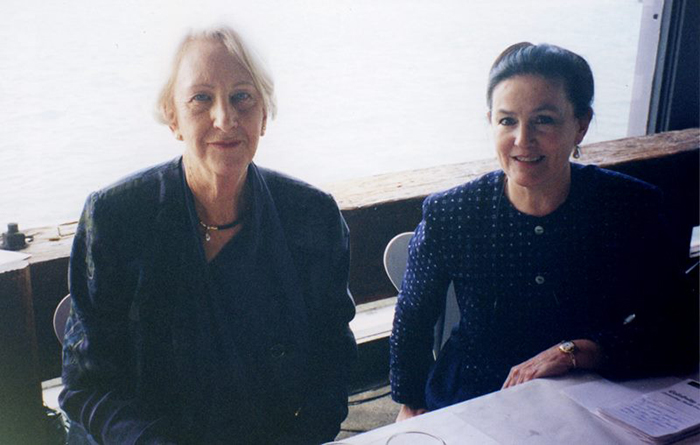 Anne Schofield AM is a lifelong friend of Sydney Theatre Company and is absolutely passionate about theatre. In addition to being a committed audience member and donor, she serves as an STC Foundation Director. For over 30 years, Anne has Chaired STC's Pier Group, a group of volunteer fundraisers dedicated to supporting the Company and growing our community. Each year the Pier Group hosts a series of fun events for theatre lovers and friends, with the aim of engaging people with STC plays and raising much-needed funds.
Well-known to many as an antique jewellery expert and owner of Anne Schofield Antiques in Woollahra ­– and never one to miss an opportunity to support STC – Anne has generously donated an exquisite antique brooch to the 'Light's Up' Auction.
Anne spoke to us about the history of fundraising at STC, and why the cumulative power of giving is more important than ever.
Firstly, could you tell us about the history of the Pier Group, and how you become involved?
I became the Convener of the Pier Group in 1988. Donald McDonald (STC's General Manager at the time) asked me to be part of a support committee for STC, charged with the task of raising funds for specific purposes, such as the establishment of the STC Archives, or the installation of the lift at The Wharf. We had enormous fun doing so, through organizing ticketed events such as lectures, tours and 'lunches with the stars'.
Wayne Harrison became Artistic Director in 1990 and suggested we take the name 'Pier Group'. We had gained many loyal devotees by that point, and began hosting larger, more theatrical events, such as Trivia in 1992 (long before all the local pubs began doing so!) and the 'All Star Cabaret' in 1993 – where 20 acts performed to a sold out crowd in the STC rehearsal room. From memory, guests brought their own picnic supper and drinks, but we provided the tablecloths and streamers!
From there we just kept going. Until the Covid-19 heath restrictions prevented us from doing so, we were hosting three Pier Group 'Lunch with the Artists' each year, plus The Wharf Revue Pier Group Gala.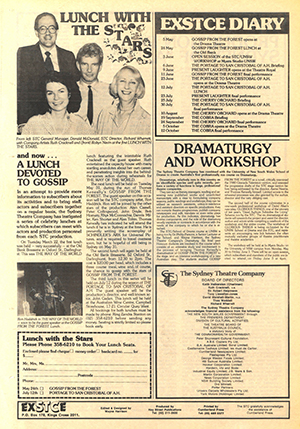 Advertisement for a fundraising "Lunch with the Stars" at STC.
Over the years, Pier Group events have come in many shapes and sizes. For those who haven't been lucky enough to attend, how would you describe a Pier Group event?
I would say a welcoming place to meet likeminded theatre lovers where you can gain a deeper insight into theatre making, and STC plays in particular. We chose not to go down the 'membership' route, as we wanted to keep our events open to absolutely everyone.
We aim to create a fun atmosphere, where people of different ages and walks of life can feel comfortable and have the opportunity to interact with actors, creatives, STC staff and fellow subscribers. The lunches are fairly relaxed affairs where you can listen to a panel discussion, whereas the gala events are livelier. We are not shy about the importance of fundraising to a company like STC – in addition to ticket prices we always hold a raffle and encourage guests to lend their support in any way they can.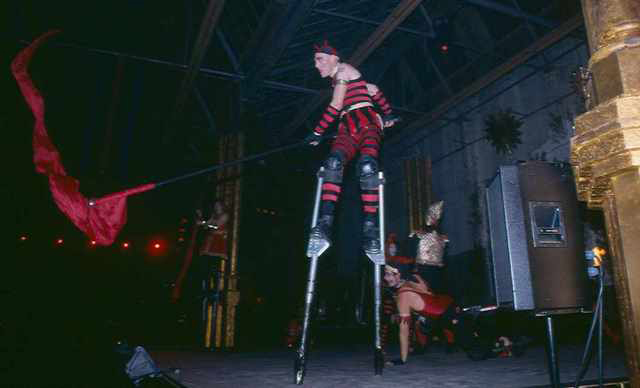 A photo taken from a 'A (K)night of Medieval Mayhem' fundraising gala, 1995.
Can you think of a particularly memorable moment at a Pier Group event?
There have been so many, but our gala event 'A (K)night of Medieval Mayhem' in October 1995 was an unforgettable evening. Rachel Ward (former STC Board member) and I worked on the event with Wayne Harrison and Camilla Rowntree, and hundreds of patrons attended. It was a fundraising dinner-extravaganza, complete with dancing, jousting, fire eating and other arcane theatrical wizardry! We had a feast (to keep things authentic, no cutlery was provided) and Andrew Denton made a grand entrance arriving on an elephant! The evening needed to be spectacular, as it was the event at which the STC Foundation was launched. To this day, the Foundation continues to go from strength-to-strength in galvanizing philanthropic support for STC – an increasingly vital contributor to keeping the Company running.
Why do you think that Pier Group events have endured all these years?
I have always believed in the importance of people coming together to contribute modest sums of money, as cumulatively, this becomes very powerful. I'm sure that my current Pier Group Committee members - Peggy Carter, Eve Heath, Graham Jennings, Richard Lyle and Virginia Pearce - would share this view.
And, there has always been demand for Pier Group events! STC ticket holders love having the option of an extra level of involvement, and appreciate receiving invitations to events which are affordable and allow them to learn more about the plays. It's important to get the STC community together, and I feel Pier Group continues to fulfil this need. In addition to those who have been regularly attending for more than 20 years, at each Pier Group event there are new faces, which we love because spreading the word is important for the future of community fundraising at STC.
You continue to support STC as a Foundation Director, and have donated an auction prize to our inaugural online Auction. Why do you feel it's so important to support STC with volunteering and community events?
Aside from my family and my professional work, theatre is my major interest in life. I have been involved with theatre since my university days, and while I didn't have a desire to become a professional actor, my enthusiasm for theatre has never dimmed. I believe it is important to support the things you love, and after all this time, I suppose I feel I belong to Sydney Theatre Company!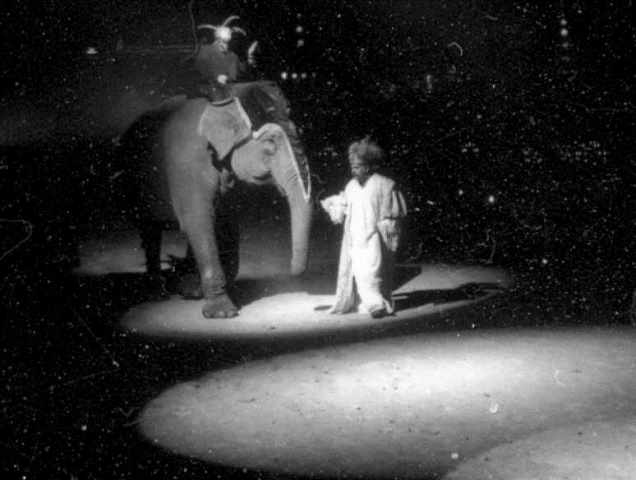 A photo taken from a 'A (K)night of Medieval Mayhem' fundraising gala, 1995.
The arts have had an extremely difficult time of late, and it is wonderful that the STC Foundation and Event Committee have organized the Company's first online Auction. The theatre loving community want STC to persevere, and this is a great way for people to get involved and make a personal contribution to allow the Company to continue its wide-ranging work. STC has only made it this far due to the time, talent, commitment and generosity of many wonderful people, and I encourage everyone who can to consider placing a bid on the Auction and do their bit to support STC.
Lights Up is STC's first ever online fundraisng auction, to support STC as we emerge from the longest dark period in our history. You can bid on one of 60 incredible prizes on offer, including a beautiful 19th century brooch from Anne Schofield Antiques, here.