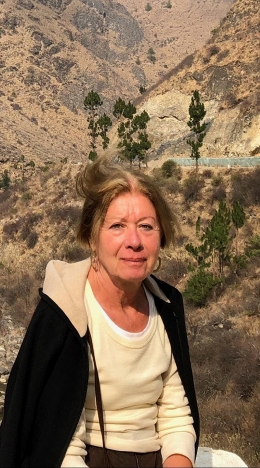 Emine Sermet was born in America but grew up in Turkey. Theatre is her great love, which she inherited from her parents. As a child, her family took trips together to see plays in London and New York, which made a lasting impression on Emine. She now lives in Sydney with her husband, and over the years has valued the opportunity to develop a closer connection with STC. In addition to being a subscriber, Emine is a donor. She enjoys bringing friends along to STC plays and events, as she believes it's important to encourage others to support the arts. Three years ago, Emine made the decision to include a legacy gift to STC in her Will, as she wished to commemorate her relationship with the company, and celebrate the important role theatre has played in her life.
---
How would your friends and loved ones describe you?
I found this quite thought-provoking as I've never previously considered it! But I did ask, and the descriptions were interesting; my husband's response was calm and docile (I would question the docile part, however!) But they more or less all agreed that I am opinionated and speak my mind, interested in supporting causes, caring and helpful, friendly, and an animal lover.
What is one thing that people might be surprised to learn about you?
I'm not sure if it would be a surprise but I collect programs of all the plays, ballets, operas concerts I have attended, as well as the critiques in the Sydney Morning Herald, and also my tickets.
This collecting habit goes back to the 1960s, so I have programs from Turkey, London and New York.
What's the most memorable on-stage moment you've seen in our theatres?
There are of course a few, but one that stands out was in May 2001 during Chekhov's Three Sisters. There was an interesting character – a bit of a scene stealer – and towards the end of the play, she started to sing in Turkish what is called an ağıt, meaning a lament. I couldn't believe my ears, I tried to look around and behind me to see any kind of reaction from other audience members. But most probably, I was the only person there who was aware that it was Turkish.
Has there been a particular set or design concept which has made a lasting impression on you?
The Secret River was so well done. I saw both the original run and the encore season, and the second time I brought my friend from Turkey. Needless to say, I cried both times. Feeling the sense of place is vital to this story, and the designer did this well. The tall, light filled set conjured the fierce beauty and scale of the Hawkesbury which was home to the Indigenous families. This place cast a spell on the play's settler family, and I can imagine transfixed the audience night after night. I was pleased that STC toured this play to Edinburgh and London last year and that international audiences experienced this very Australian work.
Why did you first get involved with supporting STC?
I enjoyed the plays at STC so much, and as I was spending more time in Sydney decided to become a Season Ticket Holder and subscribe instead of getting a ticket when I could. The company values its subscribers and its great having a wide variety of plays to look forward to.
What other organisations do you choose to support?
I have quite a broad range of interests and like to lend my support where I can. In addition to STC, I enjoy supporting the Ensemble Theatre, Guide Dogs, the Homeless and Sir Roden and Lady Cutler Foundation. All do excellent work and rely on philanthropic support.
How have you managed to stay connected to STC during the theatre closures?
The monthly enewsletter is great as it highlights initiatives beyond what we see on the stage. I also stay in touch with the Philanthropy Team. I have watched what is being offered online as part of STC Virtual, and in particular was impressed by the play reading of No Pay? No Way!, which had its run at the Opera House cancelled in March as part of the Covid theatre shutdowns. Glenn Hazeldine is one of my favourite actors, so I was grateful I didn't miss out on this play.
What do you hope for STC in the long term?
The Wharf is undergoing renovation and I am looking forward to seeing plays there again. Perhaps the RPT could be next for a revamp!
In terms of productions, I think there should be a balance between old plays, foreign adaptations and of course new Australian plays. I have always wanted and wished plays were recorded for broadcast, so audiences could see them later on screen, as London's National Theatre does. Hopefully one day it will happen.
What would you say to a fellow theatre lover who is considering making a gift to STC now, or donating through their Will?
I would highly recommend for anyone who loves theatre to donate and/or include STC in their Will; it is greatly satisfying to know that in some way you are personally supporting the arts – that in the best of times are not funded enough – and helping to create some security for the future. And now with the theatre closures due to Covid it is even more important. It's not only the actors we see on stage but everyone involved behind the scenes who are affected – from the box office and management to the caterers, designers, musicians, not to mention all the skilled artisans who build the sets and make the props. The shows can't happen without them all.
Please help support STC continue to be one of the largest employers of theatre workers and artists in Australia as we emerge from this crisis. With the significant loss of box office income that we are so reliant on, it will be your donations that will directly shape the kind of theatre and the kind of opportunities we can offer now in the future.
Your support will keep our community of artists, theatre makers and audiences intact. Please consider donating to Sydney Theatre Company here.