In the bustling, vibrant classrooms of Redfern Jarjum College, STC Teaching Artist Felix Jozeps has witnessed firsthand some of the incredible outcomes that our School Drama™ program can have for students, teachers and school communities at large.
In a recent session at Jarjum, one of Felix's primary school students took on the role of a fox and – while embodying the character – fearlessly expressed his feelings about bullying to his classmates.
"Uncle Warrick, who helps me in the classroom, was crying watching it unfold," Jozeps said.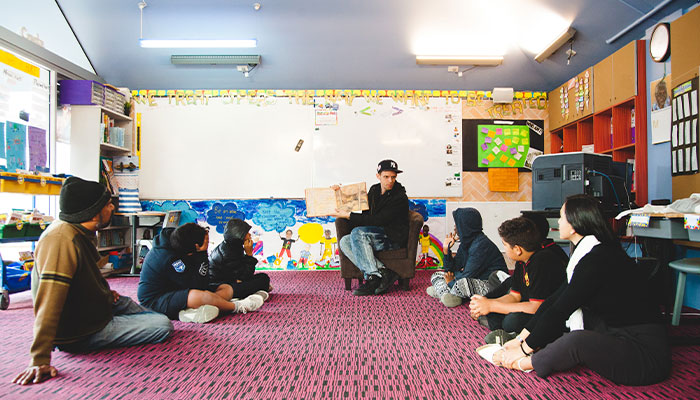 Felix Jozeps leads a School Drama session at Redfern Jarjum College. Photo: Hon Boey
"Uncle Warrick told me, 'That wasn't acting, that [activity] just gave him a safe space to explore his emotions in front of his friends.' That's the power of the program, that through play students can break down barriers and express themselves in ways that can be groundbreaking and incredibly healing."
---
What is School Drama?
STC's School Drama program, established in collaboration with The University of Sydney in 2009, is a professional development program that pairs Teaching Artists with primary school teachers, using drama-based strategies with literature to improve English and literacy skills and to increase teacher's confidence in using arts-based educational strategies.
Over the course of seven weeks, an STC-trained Teaching Artist – who, typically, has an acting or applied-theatre background – heads into a primary school classroom with a piece of quality children's literature and works together with the teacher to integrate drama strategies into their teaching practice. The program benefits the teachers and students, with improvements noted not only in literacy but in collaboration and confidence.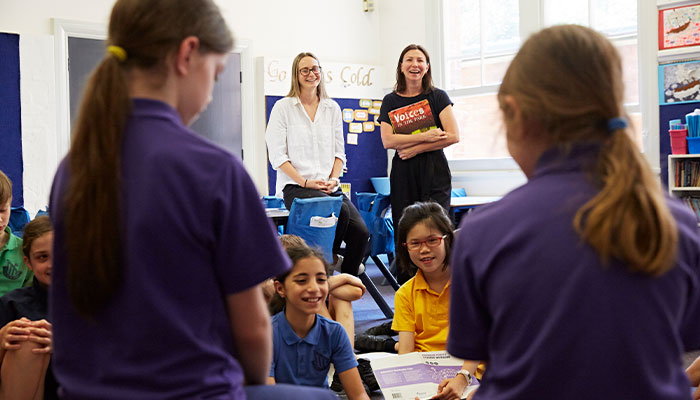 Anita Hegh leads a School Drama session at Woollahra Public School. Photo: Grant Sparkes-Caroll
Each year, the Teaching Artists come together for a week of training, led by the University of Sydney and STC, to share what they've learned and to bounce new ideas off one another in the presence of guest experts. Many STC audience favourites, including Anita Hegh (The Harp in the South: Part One and Two), Anthony Taufa (Home, I'm Darling), Georgia Adamson (The Secret River) and Courtney Stewart (STC's current Richard Wherrett Fellow), have worked as Teaching Artists over the years.
School Drama has grown exponentially in the 12 years since its inception. Over 35,000 students and teachers have participated in the program and it has been delivered across NSW, Victoria, Queensland, Northern Territory, Western Australia, South Australia, the ACT, and even as far as New Zealand.
---
Benefits for the teacher
Aoife Ward, a primary teacher at Granville East Public School in western Sydney, has participated in the School Drama program for many years now. She's become a big advocate for bringing drama strategies into her classroom, and believes her teaching methodology has benefited.
"I do remember learning drama in my Bachelor of Education degree, but it was never through the lens of literacy," Ward said.
"The School Drama program teaches you how the two can work together and be combined as one. When we talk about analysing text and understanding characters and motives, the best way to do that is to have a hands-on approach, and I think that's where all the drama strategies really come into play."
Aoife said she has been empowered through the program to recognise what aspects of a text can be better explored through drama and play.
"I have definitely grown more confident in my text selection and where I can use the specific strategies and get the students up and actively involved in the text," Ward said.
"There was some hesitation at the start, about how I was going to implement the strategies when the Teaching Artist wasn't there anymore. But it's given me the confidence to think – 'oh here I can use this drama game or strategy to investigate particular outcomes'. Sitting down and listening to a text is beautiful but having the students get up and actively engage in the text brings a whole other element to it."
For the first time this year she is hoping to use the teaching approaches in both Year 3 and 4. She is keen to see whether students who have been exposed to the drama strategies before have retained that knowledge, and how they have grown from it.
"I know it's given the students a lot more confidence, especially in speaking and being up in front of everyone else," she said. "I think that encouragement to be more involved and having more of a voice has been nothing but positive for everyone involved."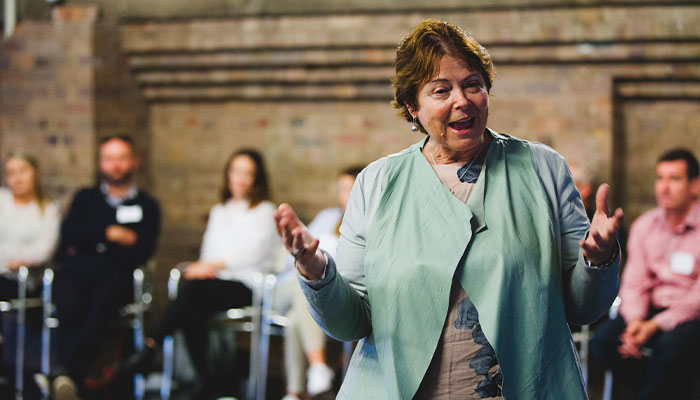 University of Sydney Professor of Teacher Education, Robyn Ewing
---
History of the program
STC's outgoing Executive Director Patrick McIntyre said the idea for the program came at a time of public debate about a standardised national curriculum, and the need to ensure that drama had a place in that curriculum – not only as a subject in its own right, but as an area that facilitates other aspects of learning.
"We were aware at the time that a lot of teachers felt that they were under prepared in their pre-professional training to teach the arts, and certainly to use arts-based activities in broader curriculum learning," McIntyre said.

"When former STC Artistic Director Cate Blanchett met University of Sydney Professor of Teacher Education Robyn Ewing, they immediately hatched a plan to collaborate on a program. That conversation has led to an enduring partnership between the institutions and a program that has now been put into practice around the country."
He said the School Drama program, which was piloted for four years from 2009, has a dual focus: the professional development of the teachers, and the stimulating and enriching classroom experience of the students.
"By spending so much time in the classroom, the actor shares their skills and methodologies with the teacher so that when the program is over, the impacts are ongoing and the teacher is empowered to carry those methods forward."
Pivotal to the program's development was STC's School Drama Program Associate Dr. John Nicholas Saunders, who co-authored a comprehensive book about the program with Professor Emerita Robyn Ewing AM. The School Drama Book: Drama, Literature and Literacy in the Creative Classroom explains the School Drama approach, outlines outcomes achieved so far and includes 22 comprehensive plans for classroom dramas.
The program has also been adapted and developed for delivery to young people in the juvenile justice system, for young people learning English as an additional language, and for adults in refugee and migrant communities through Connected, an adult language learning program.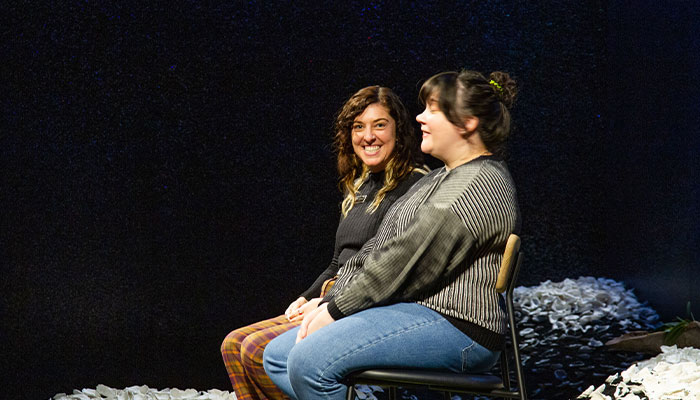 STC Education Coordinator and Teaching Artist, Kaylee Hazell
---
Bespoke programs for each school
STC's Education Coordinator Kaylee Hazell, a Teaching Artist herself, said a highlight of School Drama is the malleability of the program; that it is custom-built for each school.
"We have two planning meetings with the classroom teacher beforehand to work out which outcomes they want to focus on, whether that be confidence in oracy, imaginative writing, inferential comprehension or vocabulary development," Hazell said.
"Together, the STC Teaching Artist and classroom teacher choose a suitable piece of quality children's literature, such as picture books, and plan a series of lessons exploring the text through drama and arts-rich approaches. Each lesson is tailored to the needs and strengths of students in that particular classroom."
Hazell said the Teaching Artists also learn so much from the classroom teachers, and that it was eye-opening and humbling to witness teachers who may not initially feel equipped to use drama in the classroom come out of their shells alongside their students.
"The aim is not just for the students, it's to empower the teacher to feel comfortable using drama as a teaching approach to improve literacy," Hazell said.
"It's about embodying the learning, not just sitting and listening to the text but using our bodies to get up and be part of the story. Getting the teacher up to move outside of their comfort zone, to do some silly things in front of the students and have that bonding time with them. A lot of the time we find teachers are not confident with using drama strategies and so we ease into it and slowly, by the end of the seven weeks, the teacher is running it themselves. It's about the teacher learning to do these strategies on their own."
Another Teaching Artist, Alyson Evans, splits her time between Darwin and Albury-Wodonga and has taught with STC's School Drama program for over seven years now. She was also involved in the initial pilot of adapting the program for juvenile justice centres. Evans said her passion for the program stemmed from its sustainability and legacy.
"This is definitely the longest I've ever stuck with a teaching program and that's a testament to how well built and well researched it is, it's such a solid program and the support from STC is incredible," she said.
"I also love how accessible the program is for students of all ages and all different settings and all different levels of ability, it doesn't discriminate."
---
The legacy of School Drama
McIntyre said he was "incredibly proud" of the wide-reaching impact the program has had: not only in terms of improvements in teacher confidence, but growth in student engagement.
"I've always observed the phenomenon where arts-rich processes in the education system can stimulate learning in all kinds of different topic areas for students that might otherwise not be so engaged," he said.
"There have been so many reports from teachers across the years of children who were totally disengaged, or struggled with classroom learning, really coming alive during School Drama to the total surprise of the teacher. Because it uses the imagination and physical engagement, it can light up students who are otherwise at risk of being left behind."
He said the evaluation of the program and its outcomes, led by Professor Emerita Ewing AM, would ensure its longevity into the future.
"The body of research, now at over 10 years old, has become an asset in itself for other Arts educators around the world," McIntyre said. "A longitudinal study of this kind is extremely rare and we hope that it will help to support ongoing uses of theatre and the Arts within the education system."
School Drama is made possible by the support of STC's Education and Community donors, and funding from a City of Sydney Cultural and Creative Grant.