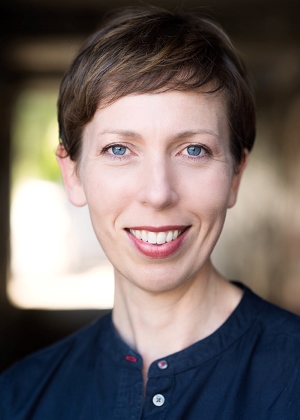 One of the things that makes theatre so magical is the fact that a singular, complete work of art – a production – is the work of many talented individuals coming together to share their creativity with one another and the audience. Every element: lighting, set design, direction, stage management, the acting itself, etc., comes together with its counterparts to play an equally important role in creating a whole world of ideas, emotions and beauty. As such, the arrival of a new dancer to the dance is always cause for excitement and enthusiastic speculation. This month STC is thrilled to announce that the eminently talented Leith McPherson is joining the team as the Company's tenured Voice and Text Coach.
"One of the things that really was so attractive about this position at STC and really made me leap at the opportunity to join the team was the collaborative, creative process," said McPherson. "That is something that I find deeply satisfying, wonderfully challenging, and always stimulating."
McPherson, who entered drama school as soon as she finished high school, discovered early that she was "happier offstage than I was on".
"I had this passion for theatre that connected with a passion for music and the intersection of those two things was voice… So, I worked for a couple of years to save the money to move to London, to do the voice studies course at the Royal Central School of Speech and Drama."
At the time, the RCSSD voice studies course was the "only one of its kind in the world" and McPherson counts it as "to date, the best year of my life."
"It was brilliant. It just felt like screwing the top off of your skull and having the best people in the business pour in their passion and their knowledge. And then at night you would get out and go and see some of these actors that you admired doing this thing that we do and we love. And then the next day you would go and learn more about it. And then you go and see another show."
After that whirlwind five years of living and working in the UK, McPherson returned to Australia. "My intention had always been to bring those skills and that knowledge with me back to Australia" she said. "I never had any sense that this was a lesser place to be creative or to work in the theatre industry."
So began an illustrious career that's seen McPherson work across film, television and theatre as well as teaching, including positions at WAAPA and, most recently, a stint as Head of Voice and Movement at the VCA. As of this year, she's worked as a voice and dialect coach on more than 50 plays and musicals, for some of the country's finest companies including Melbourne Theatre Company, Malthouse Theatre and Opera Australia.
A huge career highlight arrived a decade ago when, as McPherson puts it, "Middle-earth stole me away." For four years (though, she points out her original contract was only projected to last 18 months), McPherson worked in Aotearoa (New Zealand) as Dialect Coach on Peter Jackson's enormously successful Hobbit trilogy.
Due to current public health orders, McPherson hasn't yet been able to clock in at The Wharf, but she's well and truly ready to dive into this exciting new opportunity. Asked to describe what an average day as a Voice and Text Coach might look like, McPherson said that the job is a real mixture.
"There's looking after the actors' vocal health, their character development, their dialect development (particular accents if required) and their text work. For example, you might develop a particular warm up for an actor who has a particular vocal challenge, like they might have a character who needs to do a scream in a show, and you're trying to improve their vocal fitness over the course of the rehearsal period, so that they are really match-fit by the time they're doing run after run."
"You might then go into the rehearsal room and watch a run of a show and assist by giving notes to the actors (in conjunction with the director of course, and often the assistant director as well). You're giving notes that are helping to support the director's vision."
A Voice and Text Coach will also attend performances throughout the season of a production to give notes because "it's really important that the actors know that they are still supported once all the bunting of opening night is taken down."
Voice and dialect coaches are perhaps most well-known to members of the public for their role in helping actors produce particular accents and dialects in performance. This is a particularly sophisticated process and requires a great deal of research and knowledge on the part of a coach.
"You might incorporate an accent into a show which is deliberately designed to be a balance between authenticity and intelligibility, you have modified the accent to make it accessible," McPherson said. "For example, if you did a proper Glaswegian accent on [an Australian] stage, you'd lose three quarters of the audience."
"You might be kept warm at night knowing that the accent was authentic, but that isn't the job – the job is to serve the story."
When asked what it is that attracts her to voice, text and dialect coaching, McPherson laughs and concedes her interest is somewhat "indescribable".
"I get an indescribable thrill from watching people achieve what they're wanting to achieve and helping people achieve what they're wanting to achieve" she said. "To have a group of artists in a room who are attempting to serve the text of a writer who often isn't in the room, and to make it an act of shared experience with an audience who are ever-changing and evolving night to night: I love that challenge. I love that process."
McPherson sees voice and text work as an opportunity to add a level of refinement and complexity to a production. "I think the voice coach, especially when you have a great collaborative relationship with the director, can serve, support and contribute to the process of putting a production together in a way that helps facilitate the ease and the level of detail in a period that's often condensed down to four or five weeks. It's the benefit of having an extra set of [highly-trained] ears in the room."
Sadly, rehearsals and productions aren't able to proceed at the moment. But that hasn't stopped McPherson from starting her role with gusto and ingenuity. She's already begun the process of setting up a series of Zoom tutorials that will be available to STC's artistic community during lockdown with the view of keeping them connected to the Company and at the top of their game while they're unable to perform.
Of the project, McPherson said, "One of the things I can do before lockdown ends is linking up with the STC community".
"I am new [here] and there are so many people to meet and connect with and so many artists who are having the toughest time of their career right now. And for me to have the privilege of working, and to be working in a company that really cares about the welfare of its community just makes me want to reach out and get moving immediately, to try and help and bring my skills in whatever way I can."
"So, if I can bring a touch of that work to people wherever they are at the moment by taking them through a bit of vocal work, a bit of physical work, a bit of text work, that feels like it's the least I can do and comes from a desire to help and a desire to connect."
Reflecting on the fact that she's joining the STC community, McPherson is joyful. "In the Māori language, there's this word that I love – whānau – it's this wonderful, encompassing word that means not just your family, but your loved ones, your community, the people that you care for."
"The idea of joining the STC whānau, the idea of catching the ferry to the Quay and walking around under that bridge to that Wharf, looking out at that Harbour and then turning inward into the fantastical or imagined or reflective world of the theatre and actually examine the world outside in a way that we otherwise wouldn't have the opportunity to do. That is a singular constellation of possibilities and delights. Who could turn away from that? It's so wonderful, I'm so excited."