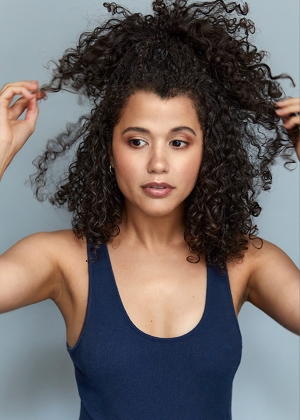 In May this year, STC announced the 2021/22 cohort of its long running Emerging Writers Group. Four exciting, up-and-coming Australian playwrights will meet regularly over the course of two years under the guidance and mentorship of STC Artistic Director Kip Williams, Literary Manager Polly Rowe, Patrick White Playwrights Fellow Angus Cerini and our Resident Directors. They will also attend performances of STC shows, observe rehearsals, read plays together and have a hot desk at STC's offices at Walsh Bay.
Over the next few weeks, we'll introduce you to these amazing new talents and get an insight into them, their craft and what their year has in store.
Kirsty Marillier is a South African actor and award-winning playwright. She has two original works in development. Orange Thrower, which will have its 2022 stage premiere with Griffin Theatre Company and National Theatre of Parramatta. Orange Thrower was the winner of the 2019 Rodney Seaborn Playwrights Award.
Kirsty is currently in development with Belvoir with her second play – The Zap, winner of the 2020 Max Afford Playwrights Award, and was developed with Playwriting Australia and Darlinghurst Theatre Company's Next In Line program.
She has been a part of multiple creative programs including Griffin Theatre Companys Studio Artist Program (2020), Sydney Theatre Companys Rough Draft Program (2019) and Malthouse Theatres Besen Writers Group (2018).
Kirsty is an accomplished performer having starred in the Australian Premiere of Harry Potter and the Cursed Child, The Cherry Orchard with Belvoir, Home, I'm Darling with Sydney Theatre Company, and Coma Land with Black Swan State Theatre Company.
Tell us what attracted you to STC's Emerging Writers Group program and what are you looking forward to in the year ahead?
It seemed really natural for me to apply for the Emerging Writers Group this year. I'm at a point where mentorship has felt really necessary, I often find myself desperate for counsel on certain facets of my practice and career. Sometimes, in the playwriting world, things can feel a little scattered and frameless, so it's nice to be a part of a program that is structured and constant.
Over the last few years, STC has done a wonderful job of cultivating and nurturing young, female talent. Creatives like Courtney Stewart, Shari Sebbens and Jess Arthur are only a few examples that I admire. I intuitively felt like being in proximity to this space would be thrilling and a program like this would be a perfect fit for me.
In the future, once we (hopefully) get out of the throws of COVID, I look forward to seeing more STC shows. I look forward to peeping in on their rehearsal processes and learning about their development frameworks for getting up new work.
Also, I just love hearing Polly Rowe speak about craft. Her brain is FIRE, so I'm looking forward to more of that.
How would you describe your writing style in three words?
Rhythmic, rude, jungle-gym.
What's your first memory of theatre?
The Sound of Music at the Burswood Theatre, Perth, 2000.
What inspires your writing?
Depending on my mood, inspiration can spring from anywhere. Sometimes ambient music, sometimes Black literature. Sometimes dreams or the internet or an idea I've been harbouring for years.
Right now, I'm inspired by Branden Jacobs-Jenkins, French TV and recipes for milk tart.
Are there any other emerging Australian theatre makers whose work you admire?
David Finnigan, Jean Tong and Lou Wall, Rachel Perks.
What about their work excites and resonates with you?
I love writers who are daring.
I read David Finnigans' 44 Sex Acts in One Week last year and was really taken by the way he formats his scripts; they're basically scrapbooks for a creative team. It's so exciting to see a writer take hold of their craft, especially within a medium which can sometimes be a little under energized.
Jean Tong and Lou Wall are two powerhouse creatives who have this musical about Flat Earthers, and it is low key genius. Their stuff is queer, subversive and absolutely hilar.
Rachel Perks is a deeply talented playwriting friend who writes these amazing, speculative-future plays. Rachel's writing is form-breaking and I love how they tilt our perception of reality. Rachel currently has a work called HYDRA on in Melbourne/Naarm at Northcote Town Hall.
Tell us about your writing process
My writing process has shifted a lot over the years. I used to be a big believer in morning pages – I still am, actually – I just haven't integrated the process into my 2021. These days, I write in bursts, whenever I'm not performing in a show. I tend to write during the day, to music – I'll always start each project with a playlist.
Sometimes I'll write for 6–8 hours at a time, but I often need to remind myself to get up and have a stretch/go for a walk/gasp for air. I'm also a tragic insomniac so, occasionally, I'll brainstorm at night. It's not ideal but these ideas can be wild and unruly, so I try to get them down on paper immediately. I keep a journal and pen nearby in case this happens.
What's it been like so far working with the other Emerging Writers and Resident Artists?
Coming from an acting background, I loveee working in groups and it's been amazing getting to know the gang over the last few months, even though most of our time has been spent on Zoomz.
In the first week, Polly threw us into the deep end by making us share our work with each other. That was terrifying. I'd say we've become pretty comfy in each other's company ever since. I'm a big fan of all of their work – the stuff I've read is a testament to their skill. It's particularly rewarding when we share experiences around the messy-ness of making our own work. Playwriting can sometimes feel a little lonely, so it's nice to become aware of how universal the plights are. There's no denying that being around fellow, emerging writers will be beneficial for my practice. Honestly, I'm just trying to indulge in it as much as I can.
How have you been passing the time in lockdown? Any recommendations (books, movies, recipes, etc)?
Jogging through Prince Alfred Park.
Charlotte Day Wilsons' new album: Alpha.
Call My Agent! on Netflix.
Learn more about STC's Resident Artists here.
The Emerging Writers Group is made possible by the support of the Copyright Agency Cultural Fund.