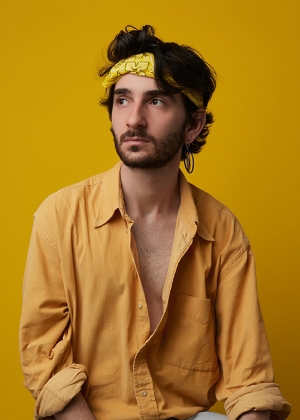 In May this year, STC announced the 2021/22 cohort of its long running Emerging Writers Group. Four exciting, up-and-coming Australian playwrights will meet regularly over the course of two years under the guidance and mentorship of STC Artistic Director Kip Williams, Literary Manager Polly Rowe, Patrick White Playwrights Fellow Angus Cerini and our Resident Directors. They will also attend performances of STC shows, observe rehearsals, read plays together and have a hot desk at STC's offices at Walsh Bay.
Over the next few weeks, we'll introduce you to these amazing new talents and get an insight into them, their craft and what their year has in store.
Michael Louis Kennedy is a playwright and writer based in Sydney. He has previously worked for the Sydney Fringe, Summerhall (Edinburgh Fringe) and Belvoir Street Theatre. His work has been featured in Overland, Voiceworks, Brag, Going Down Swinging, Transportation Press, Baby Teeth, Sydney Morning Herald and more. As a playwright he has had readings and productions on the Sydney Fringe Festival, at the Old 505, Sydney Mardi Gras's Playlist playreading festival, and Queer Theory in Glasgow, Scotland. In 2019 he was a member of ATYP's Fresh Ink program for emerging theatre voices, and is currently undertaking a mentorship through Kill Your Darlings to develop a new Australian novel.
Tell us what attracted you to STC's Emerging Writers Group program and what are you looking forward to in the year ahead?
When it comes to applying for writing opportunities I typically take the approach of throwing as much spaghetti at the wall as possible in the hope that eventually something will stick. However when I saw the applications open I think I had been through a series of rejections and was feeling a bit dejected and decided to save myself the disappointment and not apply, and then after some stern words of encouragement for a friend I got my act together and sat down to fill out the form because I realised it would be very unwise to throw the opportunity away. The prestige and oversight of the company, coupled with the mentorships and the chance to build relationships with the other writers is very significant. It can be very difficult getting your work seen and read in Australia, so it is a huge privilege to be given the opportunity to learn from industry professionals and have access to a mainstage company in this way.
With regards to what I'm looking forward to, it's a combination of getting to know the other writers, meeting the professional artists with whom STC works, and (COVID pending) getting to see more professional theatre.
How would you describe your writing style in three words?
Frenetic. Bittersweet. Queer.
What's your first memory of theatre?
To be honest I don't actually know. I suspect it may have been a quasi-play, quasi-comedy show put on by Lano and Woodley that my parents took me to when I was in primary school. I am a big fan of physical theatre, and unapologetically ridiculous comedy so it really appealed to my sensibilities. I don't have any really vivid recollections of seeing a stage show until much later though, as I didn't start seeing theatre regularly until I was at university. That being said I did see a production of Rosencrantz and Guildenstern are Dead while I was in high school and I remember the costumes being spectacular. Also, Healthy Harold is a form of immersive Brechtian Theatre in a way. That giraffe haunts me to this day.
What inspires your writing?
I find I tend to take inspiration from things that I find ridiculous or absurd. I like trawling the news or listening to people's conversations on the street and reflecting on the myriad ways we engage in bizarre or self-defeating behaviour. Not that long ago I was walking up a hill in Paddington beside a mother and her small child and she said to the child without a shred of irony "See darling, this is why we love skiing, you can just take the lift and you never have to walk uphill". Stunning. I also occasionally draw inspiration from my own life and my family and experiences as a queer person.
Otherwise, I take a lot of inspiration from music, both classical and contemporary. I'm also a big fan of the sort of highly referential school of queer arts making and theatre, so I am often trawling pop culture for bonkers things I can mash together as the basis of a story. For example, the magazine stand at my local Woolworths is always full of gems like "local con artist murdered by parrot" or "killer grandma steals grandson's identity online". These are obviously horrendous, but they're also packaged in a way that is so absurd and so sensational that it's hard not to see the dramatic potential.
Also, in a very abstract way I'm intrigued by the concept of ethics. What is ethical? What isn't? How do we define it? How can those boundaries be shifted? How do our emotions and impulses muddy our personal ethics in times of crisis? These sorts of questions often inform the direction of the things that I write.
Are there any other emerging Australian theatre makers whose work you admire? What about their work excites and resonates with you?
Honestly this list could be very long. Yve Blake is a phenomenal and hilarious writer and lyricist. Her passion and understanding of the full machine that is theatre-making is incredibly inspiring and Fangirls is a work of genius. I also think seeing someone approach their subject with that level of compassion and understanding is something all writers should strive for. Christopher Bryant's writing is so fun, playful and frenzied. His play Home Invasion is one of the most profound experiences I've had in the theatre. I think his writing is queer on a cellular level and I love that about it. I'm slightly stretching the word emerging but Anchuli Felicia King is an excellent writer with a staggering range. To write something as politically and ethically complex and fraught as The Golden Shield, and then as formally playful, grotesque and hilarious as Slaughterhouse says to me that she has a clarity of vision that is pretty remarkable. Jules Orcullo is a friend and peer and her writing is generous, hilarious and intimate. I remember watching a read of her play Lockout and being floored by how charming and familiar it felt. Beyond this, as a writer and facilitator I think Jules embodies a sort of holistic, inclusive and deeply ethical arts practice that the industry would benefit hugely from adopting as common practice. Vidya Rajan is another fantastic playwright, weaving quickly between absolutely bonkers digital works and expertly crafted text-based theatre. She's been working on a very exciting adaptation of a classic Australian novel but I'm not sure whether I'm technically allowed to talk about it. Liam Maguire also writes astonishingly frenetic and feverish comedies like Wrath and Shepherd and I really admire how much playfulness and absurdity is baked into the structure of the work.
There are so so many more, and probably loads I've forgotten, but just as a starting point, I also feel privileged to work alongside: Ang Collins, Tabitha Woo, Jay Emmanuel, Julia Robertson, Charlie Garber, Sam Wang, Chika Ikogwe, Raelee Lancaster, Isobel Marmion, Mitch Whelan, Sally Alrich-Smythe, Jasper-Lee Lindsay, Iley Jones, Oliver Twist, Nikita Waldron, Caitlin Kearney, Oliver Cameron and Grace Chapple, and of course Monikka, Kirsty and Dylan from the EWG, who are all exceedingly gifted and generous.
Tell us about your writing process.
I tend to think about projects for a very long time and then write the first draft over a relatively short time (usually writing over the course of 2 or 3 months). Depending on the project I really like interviewing people for research purposes and I try to read books on relevant subject matter. Once the first draft is done I tend to stare at it ad infinitum until I work up the courage to start making edits. I'm a better writer than an editor. It's something I'm trying to work on.
What's it been like so far working with the other Emerging Writers and Resident Artists?
It's been wonderful. Everyone is a delight and it's been a joy getting to know them. We all write about slightly different things and in slightly different ways and that difference in perspectives I think has been really great for the discussions we have in the meetings. Also everyone is very generous and kind and that has made the whole process run very smoothly. I'm very much looking forward to the point at which we all start developing new bits of writing and can see each other's work take shape.
How have you been passing the time in lockdown? Any recommendations (books, movies, recipes, etc)?
In truth I have been oscillating wildly between feeling totally fine and crawling across the ceiling like Regan from The Exorcist. I find turning my phone off helps (after the 90 minutes or so that it normally takes me to get over the debilitating anxiety of having disconnected from the grid.) Also, I'm very lucky to have both a day job, and a second job as one of the co-directors of the National Young Writers' Festival. That keeps me very busy and so I don't have a lot of time to stew.
As far as recommendations go I've recently read some cracking books; Leave the World Behind by Rumaan Alam, In the Dream House by Carmen Maria Machado, The Animals in That Country by Laura Jean McKay and Song Of Achilles by Madeline Miller. Movies I've recently watched and loved include Luca and Barb and Star go to Vista Del Mar. And I recently cooked a hectic french onion soup off a website called Cafe Delites which gave me a morale boost to get through at least another two weeks of lockdown. What will I do when that two weeks lapses is anyone's guess.
Learn more about STC's Resident Artists here.
The Emerging Writers Group is made possible by the support of the Copyright Agency Cultural Fund.