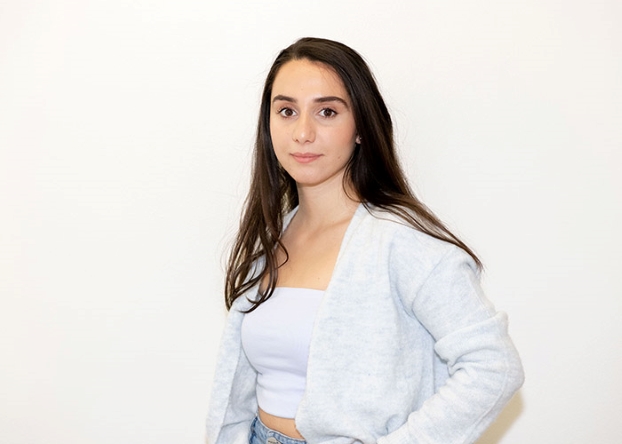 In May this year, STC announced the 2021/22 cohort of its long running Emerging Writers Group. Four exciting, up-and-coming Australian playwrights will meet regularly over the course of two years under the guidance and mentorship of STC Artistic Director Kip Williams, Literary Manager Polly Rowe, Patrick White Playwrights Fellow Angus Cerini and our Resident Directors. They will also attend performances of STC shows, observe rehearsals, read plays together and have a hot desk at STC's offices at Walsh Bay.
Over the next few weeks, we'll introduce you to these amazing new talents and get an insight into them, their craft and what their year has in store.
Monikka Eliah is an Assyrian-Australian writer from Fairfield. She has participated in National Theatre of Parramatta's Page to Stage program, Playwrights of Parramatta, CuriousWorks Breakthrough Screen Writing Program and STC's Rough Draft. Her work has been published in The Big Black Thing, SBS Voices, Sweatshop Women, Runway Journal, Southerly, Kill Your Darlings, The Lifted Brow and The Saturday Paper. She received Southlands Breakthrough Award 2018 and Wheeler Centre Playwright Hot Desk Fellowship 2020. She has presented work at the NSW Writers Centre, Studio Stories, Wollongong Writers Festival, Sydney Writers Festival, NYW Festival, National Play Festival, WITS Festival Fatale and Sydney Festival.
Tell us what attracted you to STC's Emerging Writers Group program and what are you looking forward to in the year ahead?
This program was a chance to build a relationship with Sydney Theatre Company, it was a chance to build on my skills as a playwright, connect with others in the industry and get access to valuable resources otherwise out of reach for me.
I'm excited to collaborate with the other members of the group and incorporate everything I'm learning into my own theatrical work.
How would you describe your writing style in three words?
Playful, Energetic, a word that means when people know each other so well they know exactly what buttons to push.
What's your first memory of theatre?
My first memory of theatre was in Jordan watching scratchy VHS recordings of stage plays starring Egyptian actor Adel Emam. They were always high-energy comedies. One character working themselves up to the point of breaking. Always an element of disguise.
My first experience of live theatre was in year 4. Where I played Cinderella in a performance of Roald Dahl's Revolting Rhymes. I remember there was a dance scene and I decided to wiggle my butt and all the kids laughed and that collective buzz was so exciting.
What inspires your writing?
My Assyrian community greatly inspires my writing. Assyrians are natural storytellers. Whenever we gather we take turns telling stories. It feels very natural to keep that going.
Second to that , I'm inspired by almost anything. A meeting, a mole on someone's neck, a TV show, something I heard in passing.
Are there any other emerging Australian theatre makers whose work you admire?
Plenty!
Miranda Aguilar, Shy Magsalin, Tasnim Hossain, Bernadette Fam, Wendy Mocke, Randa Sayed, Moreblessing Maturure, Emele Ugavule, Nisrine Amine. How many names am I allowed to have?
The word 'emerging' is tricky.
What about their work excites and resonates with you?
What they all have in common is a skill and passion for storytelling, but their style, tone, and subject matter are entirely varied. Collectively, they, along with many other skilled emerging writers, directors, producers continue to challenge and test the boundaries of Australian Theatre.
Tell us about your writing process.
Most of my stories are focused on family and relationships but they start with small, specific personal details that I notice or imagine and then I want to create a whole character around that and then I want to give that character a friend and so on.
Like a lady who steals sugar packets from restaurants. Maybe she has a friend who steals miniature milks. The friend's been having a hard time finding milk now that more people have decided they're lactose intolerant.
I could get stuck on two characters chatting for hours just enjoying the back and forth before I'm reminded there's a whole structure I'm trying to build.
What's it been like so far working with the other Emerging Writers and Resident Artists?
Kirsty, Dylan and Michael are fantastic!
I'm so excited to continue working with them.
Lots of great ideas and enjoyable conversations are circulating.
It's been nice to get to know the design team and I look forward to meeting everyone else. Everyone's so generous.
How have you been passing the time in lockdown? Any recommendations (books, movies, recipes, etc)?
Learning to take care of the Graptoveria succulent that's been giving me a hard time, farming with friends on Stardew Valley, lots of streaming.
I recently found a cartoon called Centaurworld.
If you like cute, singing centaurs going on a magical adventure, you'll enjoy it. It has some darker tones that help to ground it.
Learn more about STC's Resident Artists here.
The Emerging Writers Group is made possible by the support of the Copyright Agency Cultural Fund.