"I love a play that sucks you in so you forget the time… these are the ones to cherish."
By the end of 2021, if not for COVID, STC supporter Phil Breaden would have seen 46 musicals, 62 concerts and 381 plays over the years. Before the lockdown Phil sat down with STC's Glenn Hazeldine to share a little about his life, love of theatre, and connection to STC.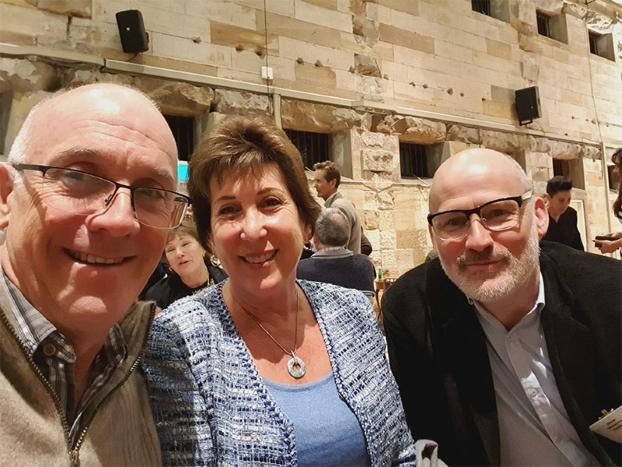 L-R Phil Breaden, Denise McOnie and Glenn Hazeldine at the Toast auction in 2019
---
I met longtime patron and donor Phil Breaden at an STC donor event a few years ago, where he showed me a spreadsheet kept on his phone that details every musical, play or concert he has ever attended. I was immediately intrigued and had to know more – here's what I learned about this theatre devotee.
Attending Fort Street High School, Phil's only experience of working on a play was a student production of Rinse the Blood Off My Toga, based on a comedy sketch by Canadian comedians, Wayne and Shuster. Phil was one of the stage-hands, but that didn't stop it from being a memorable experience. He still has the script somewhere. Despite this formative occasion, his university studies and subsequent career steered him a long way from the Arts.
Phil: "I started in engineering but moved into finance for the resources and infrastructure sectors in the early 1980s after achieving an MBA. I have been an independent consultant for the past 25 or so years, though am now semi-retired."
It was in the late 1990s that Phil's spark for the theatre was truly ignited. His first trip to STC was Patrick Marber's Closer in 1998, and it seems the only thing that can keep him away these days is a mandated COVID lockdown. I asked Phil what it was about theatre that drew him in with such passion.
Phil: "I love the ability of good acting to take you on a journey elsewhere, to capture your mind for a few hours and release you from other thoughts. The emotion that a good concert or play can evoke is quite amazing. The theatre is a release from the world and the everyday responsibilities and concerns that inhabit that space.
Art and culture are an important part of my life, and my partner Denise's too. We also love combining a night at the theatre with a nice meal in the local area."
Phil and his partner Denise McOnie have been together since 2017. He told me it was entirely coincidental that she shared his love for the theatre. Seeing them side by side in a foyer reinforces this sense of sublime serendipity! They recently purchased a seat endowment in the newly renovated Wharf 1. I wondered what inspired this.
Phil: "I am in a privileged position after a long career and can afford to share to the extent I am able. Society needs more benefactors and I'm just trying to help a little. Denise and I decided to jointly purchase a seat, having been fortunate enough to attend a preview tour of the Wharf redevelopment before it was officially opened."
We both agree that the Arts need more community and Government backing, and with the impact of COVID on the sector, both for the individual theatre companies and more importantly the actors, creatives and other theatre staff, a seat endowment at STC was an ideal way of providing a bit of financial support. Denise also donates separately to the STC and the Actors Benevolent Fund, and purchased a number of items at a fundraising auction a few years ago."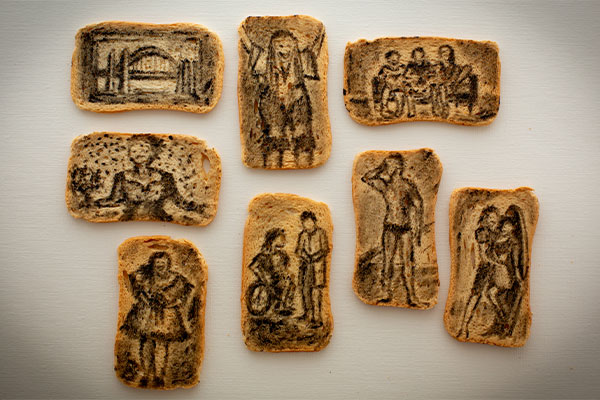 Muriel's Wedding Toast art by Heather Mitchell
---
This was where I first met Phil and Denise. STC's Toast auction was held at the National Art School in 2019. It was a fabulous event, staged around Heather Mitchell's beguiling Toast paintings. Denise purchased the Muriel's Wedding pieces. I'm told they have pride of place on her dining room wall.
I mentioned earlier that Phil meticulously keeps a spreadsheet of all the shows he has ever seen. I think it's best to let him do the talking.
Phil: "I have a Type A personality, some time back I thought it would be interesting to see how many events I had been to over the years. I had my old diaries, and have held onto my theatre programs. I had a habit of writing the date that I attended a performance inside, so it wasn't hard to set up a spreadsheet.
The earliest shows I saw were Hair in 1969 in Kings Cross with my high school mates, followed by a Cat Stevens concert on a first and only date in 1972, but best to forget that one. Shortly after was Jesus Christ Superstar. I can still remember the experiences but not a lot of the details. It wasn't until the 1980s that I really started seeing more shows, after returning to Sydney from working in the bush.
Before the recent lockdowns, I was on track to have seen 2 ballets, 62 concerts, 15 dance performances, 46 musicals, 381 plays and 22 other events including circuses, by the end of the year."
So what are your STC highlights?
Oh, too many… we like a variety, definitely preferring uplifting plays. I love a play that sucks you in so you forget the time… these are the ones to cherish. A couple of standouts include Sylvia in March 1998 with Mary Coustas, very funny! and more recently Muriel's Wedding with Maggie McKenna. All of the Wharf Revues have been particularly memorable. Nakkiah Lui's hilarious Black is the New White gave me a lot to think about too.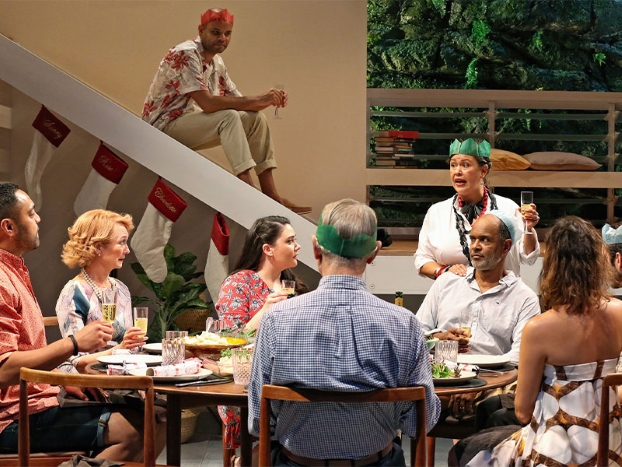 Black is the New White, 2017 (Photo: Prudence Upton)
---
As part of the STC donor program, we loved meeting the casts of Fun Home and Grand Horizons prior to their openings. This added another layer and interest to seeing the plays, as the actors were not 'in character' and hence we obtained a greater appreciation of their craft.
How have you managed since COVID started interrupting your Arts schedule?
The same way everyone else has I guess, hoping that the artists and creatives are OK and looking forward to the other side.
---
Thank you to everyone who has donated to Sydney Theatre Company in recent months. Each and every donation enables us to keep our community of artists, theatre makers and audiences intact.

Like Phil and Denise, we invite you to secure your very own seat in the new Wharf theatres, ready for when we are able to return to the theatre once more. Whether as a celebration of your love of theatre or in honour of a loved one, your donation provides crucial support to our ongoing, important work.
For further information, please visit sydneytheatre.com.au/wharfseat or contact STC Foundation on (02) 9250 1976 or [email protected], to discuss flexible payment options. We would love to hear from you!