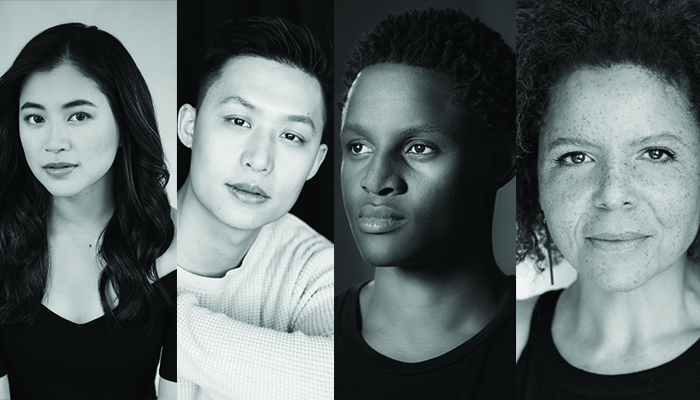 Kimie Tsukakoshi, Alan Zhu, Thuso Lekwape and Brigid Zengeni
From a seasoned English actor to a young up-and-comer fresh out of acting school, four performers are making their Sydney Theatre Company debut in our latest production – Death of a Salesman, directed by our Associate Director Paige Rattray.
We spoke to Thuso Lekwape, Kimie Tsukakoshi, Brigid Zengeni, and Alan Zhu about preparing for their first STC show, working with Paige and the team in the rehearsal room, and how they think this production of an American classic will relate to 2021 Australian audiences.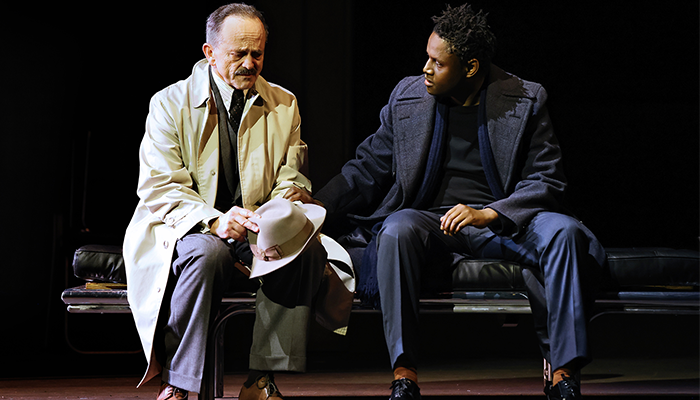 Jacek Koman and Thuso Lekwape. Photo: Prudence Upton

Thuso Lekwape as Bernard
Treading the boards at Sydney Theatre Company has always been "the dream" for Thuso Lekwape, who plays Bernard in Death of a Salesman.
"I remember seeing a show at STC when I was in Year 10 and being absolutely blown away. That's what made me think 'I'd love to perform here one day'."
The South African-born actor graduated with a Bachelor of Fine Arts (Acting) from NIDA in 2014 and has performed for other mainstage theatre companies in his career including Belvoir and Bell Shakespeare.
Thuso said working with Paige Rattray and the 11-strong ensemble cast of STC's Death of a Salesman had been a "masterclass in presence".
"I've seen a lot of Paige's work and always wondered how she makes that magic happen – how you watch one of her plays and walk away being transformed – and now I get to witness that magic," Thuso said.
"Because of the incredibly caring and respectful team Paige has assembled, I feel I've become much more present and eager to learn. We have so many different generations in one room but there's no pressure – what's built around us allows us to do our best."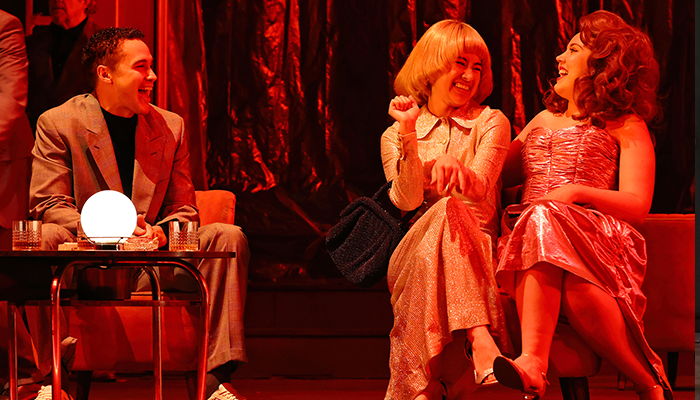 Callan Colley, Kimie Tsukakoshi and Contessa Treffone. Photo: Prudence Upton

Kimie Tsukakoshi as Jenny/Letta
Kimie Tsukakoshi, a young actor who moved from Brisbane to Sydney about five years ago, said the story of the Loman family was "timeless" and would definitely resonate with Australian audiences – particularly in the midst of a global pandemic.
"Lockdown was understandably very difficult for a lot of people, but it also afforded us the time to stop, breathe, and step outside the rat race," Kimie said.
"What has really struck me about Death of a Salesman as we're coming back into the world are the questions in the play that ask why we're all in this competition with each other. Why do we need to compete and conquer, and what does that do not only to ourselves but to our relationships? It's been a huge reminder for me personally not to get caught up in this need to be a great success at the expense of my humanity.
Kimie has worked predominantly on screen for the past fews years, starring in the hit series The Bureau of Magical Things and other Australian shows including Miss Fisher's Modern Mysteries, Doctor Doctor, and H2O: Just Add Water. She made her mainstage theatre debut with Queensland Theatre in its 2018 production Nearer the Gods, and says working for Sydney Theatre Company has always been a huge career goal.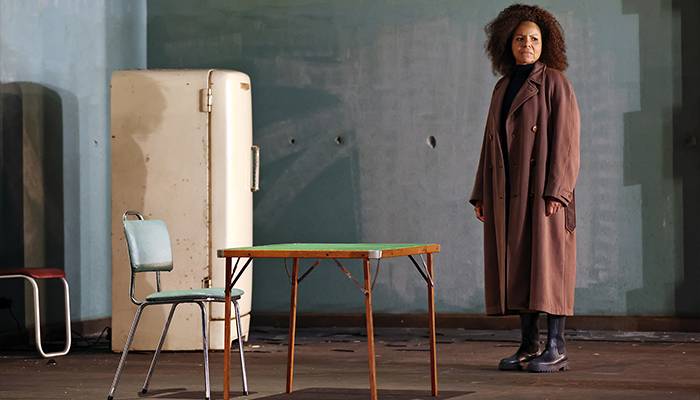 Brigid Zengeni. Photo: Prudence Upton

Brigid Zengeni as The Woman
"I'll do anything for you babes," English actor Brigid Zengini told Death of a Salesman director Paige Rattray within hours of meeting her.
Brigid, who has worked extensively at world class theatres in critically acclaimed productions – including London's The National Theatre, The Royal Shakespeare Company and The Lincoln Centre New York – moved to Sydney from London with her Australian partner in February 2021. A meeting with Paige was organised through her agent, and they hit it off straight away.
"I think Paige is incredible," Brigid said. "She explained her vision for this production of Death of a Salesman with such clarity and such passion that I was just like okay, I'm in!"
Brigid has an acting career spanning over 28 years and most recently can be seen as Kevin's lawyer in Motherland (BBC) and in Season 2 of the critically acclaimed Trying (Apple TV+/BBC Comedy) with Imelda Staunton.
Not only is this Brigid's first show with STC, but also her first theatre production in Australia since her move.
"I know this sounds really cliche but if I walk into a rehearsal room, no matter where in the world I am, I'm home," Brigid said.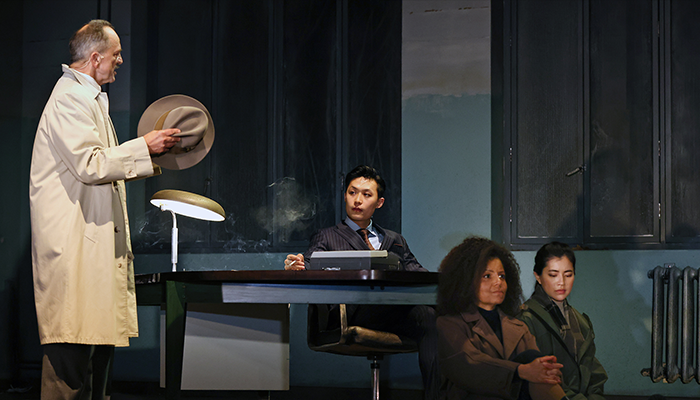 Jacek Koman, Alan Zhu, Brigid Zengeni and Kimie Tsukakoshi. Photo: Prudence Upton

Alan Zhu as Howard/Stanley
2020 NIDA Bachelor of Fine Arts (Acting) graduate Alan Zhu said it was an "absolute dream come true" to be making his mainstage debut with STC as Howard and Stanley in this production.
"To be fresh out of my studies and onto the STC stage really is a dream come true, especially for it to be with such an incredible director and cast. Everyone is so supportive, kind and compassionate. The other actors really take care of us newcomers. I have been so eager to learn from everyone and have definitely made new friends and mentors I intend to keep for a long time."
He said his acting instincts had already improved tenfold from soaking up the talent and energy in the rehearsal room.
"I play Howard who is Willy's boss, and it can be a little bit intimidating acting across from someone like Jacek Koman," Alan said. "But his work is so rich and you get so much to work off as his scene partner. I can definitely see a lot of personal growth within myself already from this experience."
---
Death of a Salesman, runs until 22 Dec 2021 at the Roslyn Packer Theatre