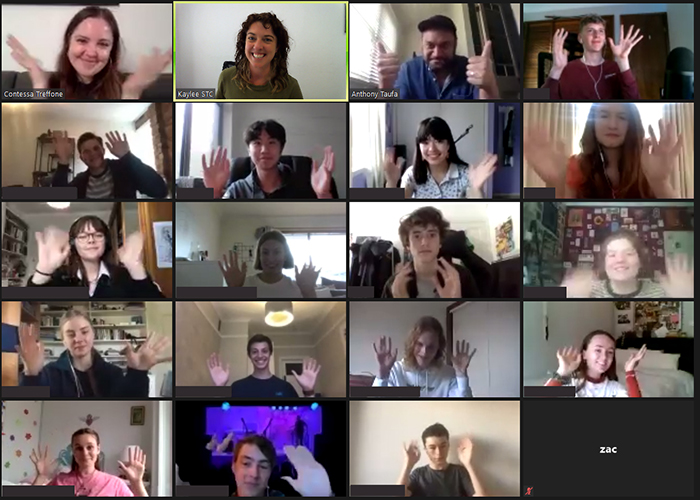 The actor's panel.
Sydney Theatre Company's Work Experience Week is one of the highlights of the Company's calendar and a wonderful opportunity for a lucky selection of young people to experience theatre-making from the inside out, looking at the process that takes a play from script to stage. Equally, the week is a welcome chance for STC staff, both onstage and behind-the-scenes, to connect with a new generation of talented theatre makers and to share their finely honed skills and wealth of experience.
Every year STC welcomes a group of Year 10 and 11 students from all around NSW to participate in the Work Experience Week. The group is selected via a competitive application process, in which each hopeful supplies a video of themselves answering questions and giving a sense of their personality - in keeping with the nature of the industry, the application videos are often fantastically creative and hilarious, performances in their own-right.
One of the key factors of STC's Work Experience Week is that participants are exposed to a broad range of professions and skill sets within the Company, not just the jobs that the public are most familiar with: these include specialists working in programming, direction, set and costume design, marketing, sponsorship and philanthropy.
Years past have seen the Work Experience group take up residence in one of STC's rehearsal spaces, where they participate in workshops and panel discussions, work on group projects and present their collaborations to members of the Company at the end of the week.
As you might expect, the realities of 2020 made an in-person program impossible. But travel restrictions and COVID-Safe requirements didn't stop STC's Education Department delivering a thrilling and enlightening week to last year's 17 lucky applicants. For the first time, the program was conducted wholly on Zoom with the participants beaming in from their homes around the state.
The week began with a welcome by STC's Education team, then the group jumped in head first with a session hosted by two of the Company's best loved actors; Contessa Treffone (The Deep Blue Sea, The Harp in the South: Part One and Part Two) and Anthony Taufa (How to Rule the World, Black is the New White). This was followed by a session run by STC's Artistic Director Kip Williams about his craft and career. Of the sessions, Timothy, a student at Hunter School of the Performing Arts in Newcastle, said "[It was an] eye opening experience to see what it is like from a Director's perspective to bring a production to life. He had great insights into what to focus on with productions and I will try to take this advice into the current plays I am involved in."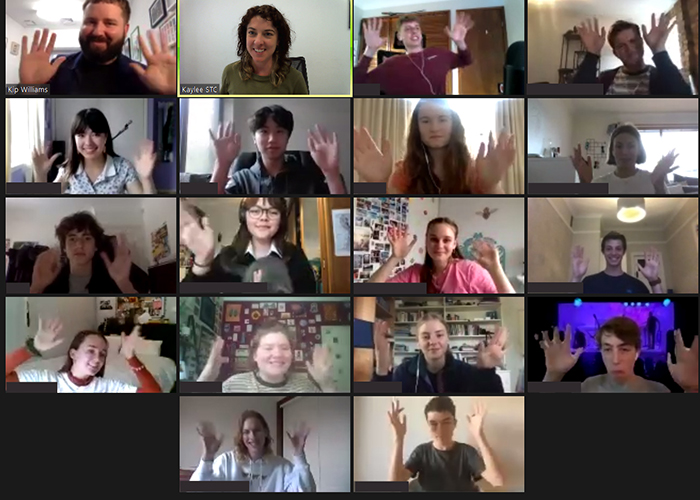 Kip Williams with the Work Experience crew.
These panel discussions and one on one seminars continued throughout the week, giving the participants unusual insights into disciplines as diverse as public relations, touring and stage management, philanthropy and casting. The team were also lucky enough to have two playwriting workshops with STC's literary manager Polly Rowe and a Director Concept sessions with Resident Director Jess Arthur.
Timothy continues, "It was a really fascinating week that gave me an in-depth deep dive into all facets of theatre work and a whole new perspective on what is involved in getting professional productions staged from concept through to performance. I couldn't recommend it more highly."
Throughout the whole experience all the members of the Company were consistently impressed with the calibre and enthusiasm of these talented young people, who rose to the challenge of collaborating and creating remotely. Despite the geographical distance separating the team, they were able to forge ongoing relationships with each other (there's even talk of a future film collaboration!). Adelaide from Turramurra High School summed the experience up nicely, "I loved talking to Kip Williams and also the actor's panel. But my favourite part was probably actually meeting all of the other work experience kids.
"We still are all in contact and it is so great to be connected to other kids with the same passions that are my age. I also loved the part where the kids could interact together to make something and then it gets reviewed or improved by people who actually work in the STC."
Learn more about STC's education programs here