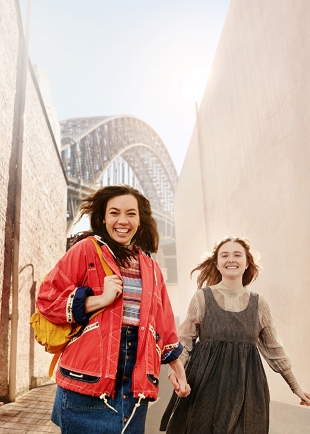 The Rocks: Sydney's most historic and mysterious suburb. Full of twisting laneways, hidden staircases and the Harbour glinting in the distance, The Rocks is a place where the past and the present co-exist and, from time to time, blur into one another.
Into this world comes Abigail, a fiercely independent teenager who's moved to the suburb with her recently separated mother. Coming to terms with her new normal as well as all the tribulations of being a teenager, Abigail feels at odds with her life and out of place in her new home.
When Abigail follows the haunting spectre of a little girl, she finds herself transported back through the mists of time to The Rocks in 1873. There, with the help of her new companion Beatrice "Beatie" Bow and her family, Abigail embarks on a thrilling adventure to find her way back to the present day and in doing so learns what 'home' really means.
Playing Beatie Bow, 22 Feb – 1 May 2021, Wharf 1 Theatre
Seeing the show? Let us know your thoughts. Tag @sydneytheatreco and #sydneytheatreco
---
Image of Sofia Nolan abd Catherine Văn-Davies in Playing Beatie Bow.