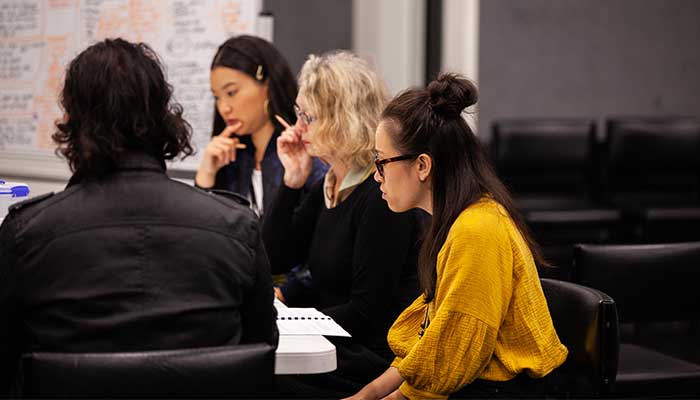 It's a golden milestone for Rough Drafts!
Rough Drafts are weeklong workshops, facilitated by STC, that give theatre makers the opportunity to develop a new work for the stage, and we have held our 50th.
This milestone means 50 opportunities for playwrights to receive access to a rehearsal space, a director, a paid team of actors and/or creatives and dramaturgical support from STC's literary manager Polly Rowe.
Beginning in 2007 Polly recalls the program's inception with then Artistic Directors Cate Blanchett and Andrew Upton, "We conceived Rough Draft as a space for theatre artists to experiment. It was about putting teams together and seeing what they came up with". She continues, "The thing I like about the program is that it's both consistent and greatly flexible. We do three or four a year and have done so for 12 years but, beyond that, everything is up for grabs: the artists that we work with, how they work, what stage of development the work is at".
Director of past Rough Drafts, as well as the most recent Rough Draft #50 – The Australian Offence Force, Jessica Arthur, also cherishes that the programs often culminate in a live reading for an audience, remarking "To hear an audience respond to the play at the end of a Rough Draft week helps you hear and feel things in such a different way. It heightens your senses and your awareness to another level, and it helps you focus on storytelling".
For our 50th milestone, we're celebrating this incredible engine for new work at STC by looking back at some productions which journey to the stage included Rough Drafts.
Triple X by Glace Chase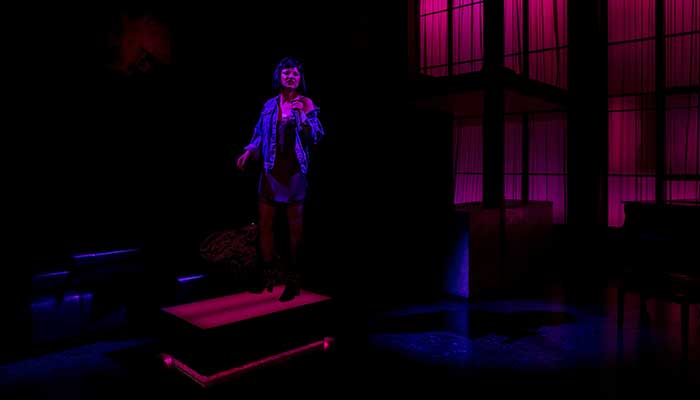 Triple X is set to return to STC for our 2022 season next year! Its extra long journey to the stage due to closures in both 2020 and 2021, started life as a Rough Draft in 2018. Paige Rattray has played an enormous part in bringing it to life directing both the Rough Draft and production, and actors Josh McConville, Contessa Treffone, and playwright Glace Chase also acting in the lead role, have joined her across the journey.
Mariage Blanc by Tadeusz Rozewicz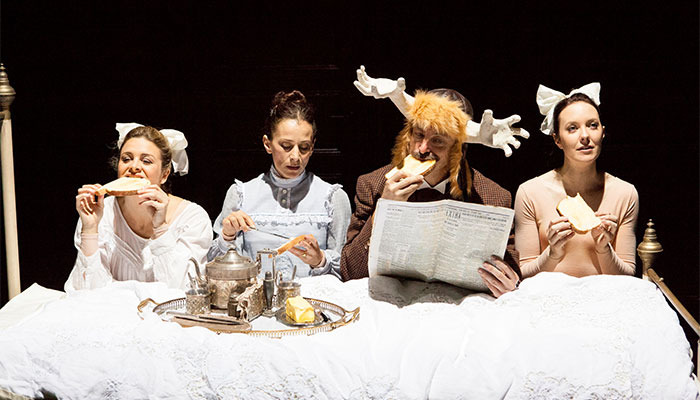 The compelling dark humour of Mariage Blanc, by Polish playwright Tadeusz Rozewicz was workshopped in a Rough Draft in 2011 with a adaptation by Tom Wright before being programmed in the 2012 Season with an adaptation by Melissa Bubnic, with Director Sarah Giles taking on this abstract exploration of coming of age and sexuality.
Banging Denmark by Van Badham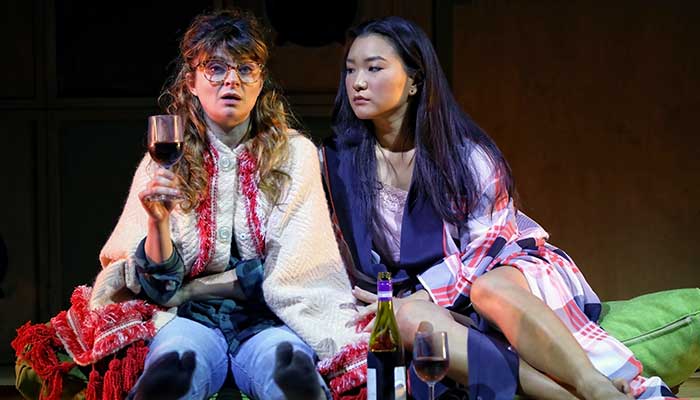 After a Rough Draft workshop in 2017, this hilarious script went on became a part of our 2019 season. Director Jessica Arthur directed both the workshop and the final production, and actors Amber McMahon and Michelle Lim Davidson reprised their roles from the workshop to the final show.
Battle of Waterloo by Kylie Coolwell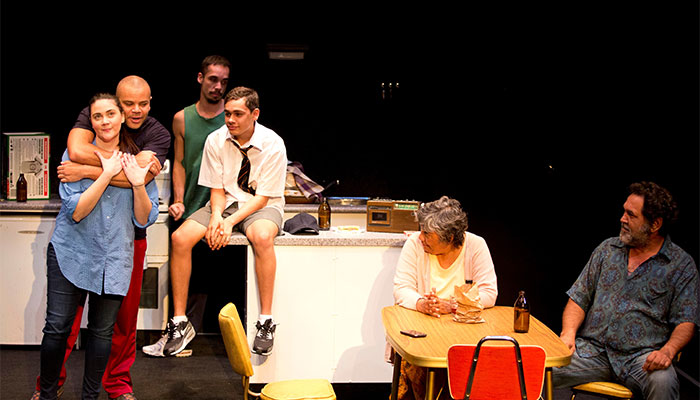 Playwright Kylie Coolwell makes an extraordinary debut at STC with Battle of Waterloo - a hilarious tender and fierce production brought from the Rough Draft program in 2013 to the main stage in 2015 with then Resident Director Sarah Goodes. The production was met with stellar reviews for this powerful Australian story about contemporary Indigenous life.
Still Point Turning by Priscilla Jackman and Catherine McGregor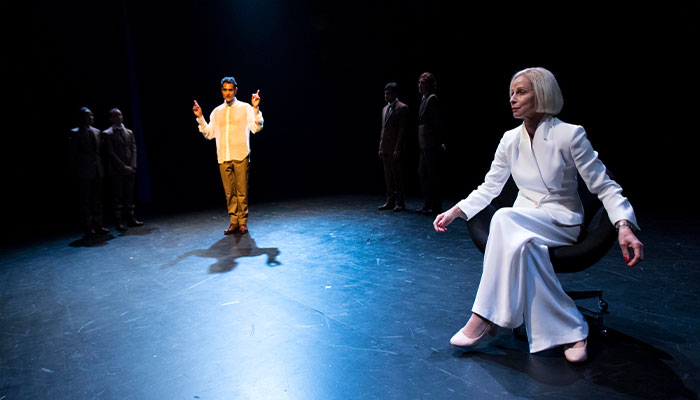 Writer and Director Pricilla Jackman brings to the stage the true story of Catherine McGregor, through a moving journey of self discovery. Since workshopping in Rough Draft for a week in 2016, the outstanding cast led by Heather Mitchell (Cloud Nine) gave us a poignant production for our 2018 season.
---
Other Rough Drafts that have worked their way to the STC stage include Lethal Indifference by Anna Barnes, Wonnangatta by Angus Cerini, The Long Forgotten Dream by H. Lawrence Sumner, Australian Graffiti by Disapol Savetsila, Little Mercy by Sisters Grimm, and Who's the Best? by Post.
Many plays have also gone on to be produced at other theatre companies!
---
Full list of all 50 Rough Drafts:
#1: Inspired by Mozart's The Magic Flute
Created by Lally Katz, Ralph Meyers and Stefan Gregory
Directed by Ralph Meyers
#2: Pacific Sky
By Tanya Goldberg, Trent Barfeld, Tee O'Neil
Directed by Tanya Goldberg
#3: The Nocturnal Project
By Tommy Murphy
Directed by Simon Stone
#4: Antidote
By Willoh S. Weiland (writer) and Mikaela Martin (creator/performer)
Directed by Rochelle Whyte
#5: Who's The Best?
By Post (Zoe Coombs Marr, Mish Grigor and Natalie Rose)
#6: Whistling in Bed
By Rita Kalnejais
Directed by Richard Cottrell and Kate Revz
#7: Cut
By Duncan Graham
Directed by Sarah John
#8: Pompeii L.A.
By Declan Greene
Directed by Daniel Schlusser
#9: Girl In Tan Boots
By Tahli Corin
Directed by Susannah Dowling
#10: The Vehicle Failed To Stop
By version 1.0 (David Williams, Kym Vercoe, Jane Phegan, Sean Bacon, Paul Prestipino and Zindzi Okenyo)
#11: Mariage Blanc
By Tadeusz Rozewicz, adapted by Tom Wright
Directed by Sarah Giles
#12: Little Mercy
By Sisters Grimm (Declan Greene and Ash Flanders)
#13: Underland
By Alexandra Collier
Directed by Paige Rattray
#14: Star Story
By Rita Kalnejais
Directed by Byron Perry
#15: Birds Flying High
Directed and created by Imara Savage
#16: Open Them/Shut Them
Directed and created By Kip Williams
#17: The Lobotomist
By Side Pony Productions (Writer and Devisor Zoe Pepper)
#18: The Post-Colonial Traveler
By Frank Mainoo
Directed by Kip Williams
#19: The Waiting Room
By Kylie Trounson
Directed by Naomi Edwards
#20: An Alphabet of Arousal
By Angus Cerini
Directed by Sarah Giles
#21: The Secret Project
By Duncan Graham
Directed by Kip Williams
#22: Wake in Fright
By Kenneth Cooke, adapted by Andrew Upton
Directed by Sarah Goodes and Andrew Upton
#23: Battle of Waterloo
By Kylie Coolwell
Directed by Sarah Goodes
#24: Two Jews Walk into a Theatre
By Gideon Obarzanek and Brian Lipson
Directed by Lucy Guerin
#25: The Not-True Crime Project
By Angela Betzien
#26: Merryland
By Meryl Tankard
Directed by Meryl Tankard
#27: Lighten Up
By Nicholas Brown and Sam McCool
Directed by Sarah Goodes
#28: Hooting & Howling
By Phil Spencer and Elana Stone (composer)
Directed by Scarlet McGlynn
#29: Australian Graffiti
By Disapol Savetsila
Directed by Paige Rattray
#30: Still Point Turning
By Priscilla Jackman and Catherine McGregor
Directed by Priscilla Jackman
#31: Martyrs
By Fregmonto Stokes
Directed by Paige Rattray
#32: Lethal Indifference
By Anna Barnes
Directed by Kip Williams
#33: The Long Forgotten Dream
By H Lawrence Sumner
Directed by Leticia Cáceres
#34: The Profit
By Angus Cameron
Directed by Jessica Arthur
#35: Barbaric Truth
By Jordan Shea
Directed by Courtney Stewart
#36: Banging Denmark
By Van Badham
Directed by Jessica Arthur
#37 Meat Eaters
By Lewis Treston
Directed by Alistair Clarke
Dramaturg: Courtney Stewart
#38: Wonnangatta
By Angus Cerini
Directed by Susanna Dowling
#39: Fairy Tales are Really True (F.A.R.T)
By The Listies (Rich Higgins and Matt Kelly)
WithZoe Norton Lodge
Directed by Jessica Arthur
#40: Triple X
By Glace Chase
Directed by Paige Rattray
#41: Frankenstein
By Emme Hoy and Imara Savage
#42: Siti Rubiyah
By Katrina Irawati Graham
Directed by Tessa Leong
#43: Dead Meat
By Natesha Somasundaram
Directed by Jessica Arthur
#44: Orange Thrower
By Kirsty Marillier
Directed by Courtney Stewart
#45: Chalkface
By Angela Betzien
Directed by Jessica Arthur

And
Marriage
By Nikolai Gogol, adapted by Marieke Hardy
Directed by Paige Rattray
#46: Top Coat
By Michelle Law
Directed by Courtney Stewart
#47: Queen Fatima
By James Elazzi
Directed by Paige Rattray
#48: Hubris & Humiliation
By Lewis Treston
Directed by Kenneth Moraleda
#49: The Garage Sale
By Monikka Eliah
Directed by Tasnim Hossain
#50: The Australian Offence Force
By David Finnigan, Jules Orcullo, Jordan Raskopoulos and Megan Wilding
Directed by Jessica Arthur
---
Rough Drafts are supported by: Girgensohn Foundation