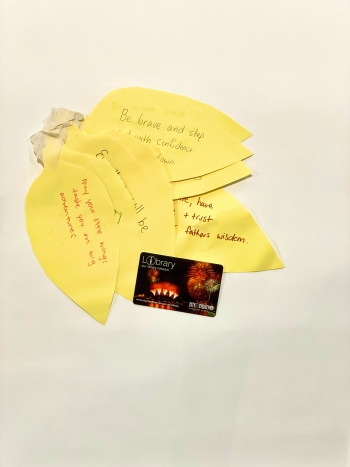 By now, we're well versed in the challenges of the past year. Nationwide restrictions meant things we took wholly for granted, like socialising and working face-to-face, were no longer possible. So, we headed online.
And while the transition was smooth for many of us—made technologically literate by age, necessity or opportunity—many marginalised people, particularly new migrants and people seeking asylum, struggled with access.
It was a challenge faced by many in STC's Connected program, an education program combining English language learning with drama-rich approaches, delivered in partnership with Asylum Seekers Centre (ASC). The program, now in its fifth year, has always been built around in-person workshops. But as the restrictions tightened, it quickly became clear that the weekly drama workshops could only continue in an online format.
Though many of us experienced frustrations with the video conferencing technology now ubiquitous in our lives, the Connected participants faced their own unique and complex challenges, something which Jenny Tracey, Education and Social Support Manager at ASC, encountered daily.
"[The technology] was hard. We fortunately were donated various devices: smart phones, tablets, older laptops. We tried to get that out to people who were interested in connecting online. For people who were still struggling with the technology, we set it up for them; showed them what buttons to press."
Jenny adds that the level of English comprehension we take for granted made some technology difficult for the Connected participants to navigate.
"Zoom is great once it's going but the language isn't simple. For example, you have to click 'Use Device's Audio', and that's actually not really simple language. Steve [STC Teaching Artist] and I had different flashcards with pictures of microphones or headphones, trying to do it without language. For one client who is not very English literate, I put different coloured stickers on his laptop."
For STC Teaching Artist Steve Martin, who helped facilitate the workshops, the challenges went beyond technology, to keeping the participants engaged.
"A massive challenge for us as facilitators [was the] giving and receiving of the energy that is so vital to the success of the program in face to face workshops."
But while the setup posed many problems, there were some surprising rewards to going online.
"It was quite good for people who haven't ever engaged in physical classes because they live far away, or have small children."
Some of the regular activities, usually based on verbally describing objects, also took on new meaning in the context of people's own homes.
"We could embrace the fact that people were in their environment. One lesson, Zoe [STC Teaching Artist] said, everybody find an object in your house that represents hope. It was really interesting. One lady showed a lemon from a lemon tree she'd grown from a seed. Another lady got her library card, and said, 'This opens access to materials and information I need'."
Steve adds that it is the participants dedication to their learning that kept the online workshops going.
"The beautiful and inspiring participants were willing to commit and meet the challenge, the very least we could do was honour that."
In 2021, the program has returned to face-to-face workshops, and the participants are finally able to reconnect in person. In a year marked by uncertainty, where technological literacy became not just an expectation but a requisite, the Connected program, its participants and Teaching Artists, have shown that a drive to learn and engage knows no technological or linguistic bounds.
Connected is made possible by funding from the City of Sydney's Cultural and Creative Grants program.