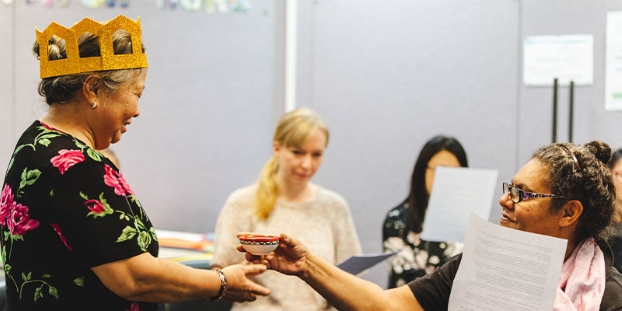 STC's Acting Director of Education and Community Partnerships Zoe Hogan observes a Connected session with MTC Australia in Blacktown, 2019. Photo: Hon Boey
---
"Language learning can be a very dry, academic and rules-based experience. There is a time and place for that, but Connected reminds us that language is something we live and breathe - it's a physical experience. We use drama to explore language. We connect, we laugh and we create a story together - it's a reminder that storytelling compels us, that's how we connect with and understand the world."
Kate Worsley, STC Teaching Artist
At 10.30am on Monday mornings during Sydney's lockdown, a group of relative strangers from a multitude of backgrounds gather on Zoom - their smiling faces beaming out from their screens - for sixty minutes of drama and language learning.
They introduce themselves by saying their names alongside expressive gestures - which are then repeated back to them by the other participants. They are prompted by Teaching Artists to bring a household item to their screen for the next warm up activity. One participant from Guinea brings a glass of water to her screen, another from China brings a hairbrush. While acting out how to use the items, they learn how to describe them in English. Later in the workshop, they'll be invited to share their language skills and teach one another words in their own language.
They laugh, sometimes from the nerves that come with speaking a new language in front of others, other times from the pure joy of being together.
The group are participating in an online workshop of Connected, facilitated by Sydney Theatre Company in partnership with the Asylum Seekers Centre. Learning a new language as an adult is difficult at the best of times, and can become much harder for a person seeking asylum who isn't able to access government-funded English classes. This is why Sydney Theatre Company's Connected program is so valuable.
Connected works with people from refugee and migrant backgrounds to learn English and foster social connections through imaginative storytelling and drama strategies.
Since 2016, STC has delivered the program in partnership with organisations including Asylum Seekers Centre, social enterprise MTC Australia, STARTTS (NSW Service for the Treatment and Rehabilitation of Torture and Trauma Survivors) and The University of Sydney's Refugee Language Program.
Connected evolved out of STC's unique and highly respected School Drama™ program, which combines drama strategies and quality children's literature to improve literacy in primary school students.
The idea for Connected first came about through the delivery of School Drama to high school students learning English. STC's now Acting Director of Education and Community Partnerships Zoe Hogan had been facilitating School Drama classes at Marrickville Intensive English Centre in Sydney's inner west and witnessed a young boy - for whom English was an additional language - grow from hesitancy to confidence in the space of a few weeks. He eventually got up in front of his class and, in role as a character in the drama, addressed his classmates using more English vocabulary than the classroom teacher knew he possessed.
"I thought - wow - if we can help create moments like that for people to get so involved in a story that they can overcome language anxiety, I imagined the School Drama approaches could be beneficial for adults learning a language," Hogan said.
"Learning a new language, particularly as an adult, can be confronting. It's strange being a beginner again when we feel fairly capable in most other aspects of life. I spoke to a few people in the adult language learning space and got a sense that incorporating storytelling and imagination could be very helpful."
Hogan, alongside Victoria Campbell from The University of Sydney and other STC Teaching Artists, then piloted the program with Asylum Seekers Centre and MTC Australia. Through a process of reflection and evaluation, they found that using myths and folktales as a stimulus for the drama experiences in Connected was an effective approach.
"We found that working with ancient myths and folktales worked well because these types of stories have archetypal and universal elements that can potentially transcend language," Campbell said.
"Drawing on the School Drama program, we knew that an episodic text model would work well, where we introduce the myth or folktale in short sections and then encourage the participants to build on the story each week - meaning we never end up with the same story when the workshops are over."
This gives participants a sense of ownership over the stories they are creating, and in turn, a more empowered connection to the process of learning a new language.
"We acknowledge that every participant has a voice and something to teach us, which makes the space very democratic," said Estevan Martin, an STC Teaching Artist.
"People are connecting with each other via their shared language [English] and growing alongside one another, as well as retaining pride in their own language and culture. It's a beautiful thing to witness."
In addition to improving English language skills, Connected also aims to increase participants' sense of social connectedness and wellbeing. Martin said the collaborative and communal nature of the program was one of the aspects he receives the most positive feedback about.
"Often participants say to me 'this is the way we should learn a language - like we do with our families. Together as a group, telling stories, demonstrating with our bodies, sharing and laughing".
The Connected workshops are typically 90-minute sessions held weekly over six or seven weeks. The participants come from a variety of backgrounds - including Guinea, Mongolia, Afghanistan, Iraq, Sri Lanka and China - and range in age, gender, level of education and lived experience.
Beyond the workshops, participants from Asylum Seekers Centre have also attended STC productions - most recently coming to watch Elaine Crombie perform in The 7 Stages of Grieving.
While the COVID-19 pandemic has interrupted the team's ability to deliver Connected workshops in person, we're delighted the sessions with Asylum Seekers Centre have transitioned to Zoom.
STC Teaching Artist, Kate Worsley, said the shift to delivering workshops on Zoom had been surprisingly successful.
"It's actually really magical how it's transitioned online," Worsley said.
"Interpersonal connection is even more important during this lockdown. For some of the participants it might be their only time each week to connect with each other and speak English. And to have something familiar that gives the week some structure during an uncertain time is really great - for all of us!"
Romy Gelber, Community Participation Lead at Asylum Seekers Centre, said the program was recording its most consistent attendance levels during lockdown.
"In-person we do see a fluctuation in attendance numbers, but the fact that people are coming again and again while the classes are online - even though it's voluntary - is a testament to the format and the sense of community it fosters," Gelber said. "The people we engage with are much more prone to social isolation and having barriers to access these types of opportunities, and this program meets a lot of their needs - not only educational, but from a social wellbeing point of view as well. We at the Asylum Seekers Centre value it very highly".
Hogan, who is also undertaking research on the program, has imbued Connected with her own passion for theatre and language.
"I'm so passionate about the fact that what happens in a theatre - the creativity, improvisation, connection with others - has so much to offer in other contexts," Hogan said.
"Theatre practitioners sometimes forget just how much we do have to offer different industries and community contexts. We've always been really clear with Connected that what we do have to offer is a creative approach that acknowledges the whole person and all of their experiences. It also encourages social connection - hence the name of the program - and we hope those connections are strong and long lasting."
Connected is part of STC's Education and Communities program, and is only made possible by the support of our donors.
Watch this short documentary for a glimpse into the positive impact Connected has on its participants' lives