What is the Patrick White Playwrights Award and Fellowship?
The Patrick White Playwrights Award has been an annual initiative of the Sydney Theatre Company since the year 2000.
The Award is a springboard for recognising and supporting both emerging and mid-career Australian playwrights with a $7,500 prize for original and ambitious unproduced plays. As well as the cash prize, the winning playwright receives a rehearsed reading of their play, which is featured in the Sydney Writers Festival. The Award is prestigious and opens doors for playwrights, seeking to have their work produced by theatre companies in Australia and overseas. Previous Award winners include well known playwrights Wesley Enoch, Brendan Cowell, Anna Barnes, Angus Cerini, Patricia Cornelius, David Milroy and Ningali Lawford
The Patrick White Playwrights Fellowship was later realised in 2010, recognising established Australian playwrights whose work has been produced professionally in Australia. The year-long Fellowship, worth $25,000, includes a cash prize and a commission to write a new play with STC.
STC Literary Manager Polly Rowe was involved in the creation of the Fellowship over ten years ago:
"We created the Fellowship as a way of supporting established playwrights with an honorarium, intended to buy them time to dream without being overly focused on a particular project outcome."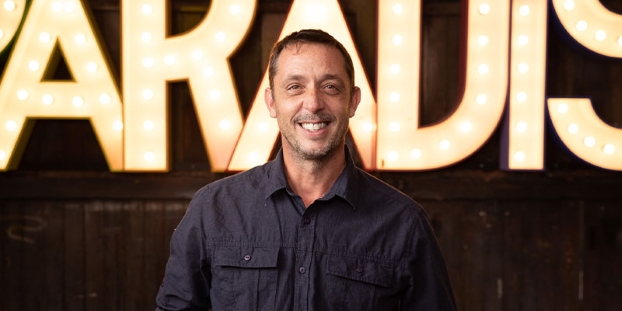 Photo © Shara Parsons
"While the Fellowship offers no guarantee of production, this model gives the writer a great shot at achieving that outcome. They spend the year having creative conversations with STC artistic staff and embark on the commission when they feel ready."
"Writing a play from within the Company benefits the playwright by familiarising them with the artistic vision, staff and audience. That's what is so special about the fellowship: it fosters a deep creative connection between playwright and Company."
---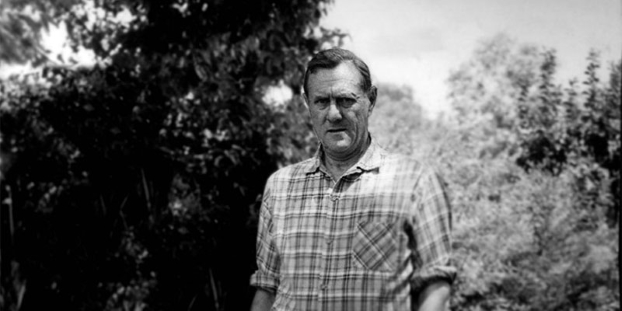 Patrick White, Australian Writer (1912-1990) The Award and Fellowship are named in honour of Australian writer Patrick White. White received wide acclaim, international success and a Nobel Prize for his extraordinary body of work, including 12 novels, eight plays and three short story collections over his lifetime.
---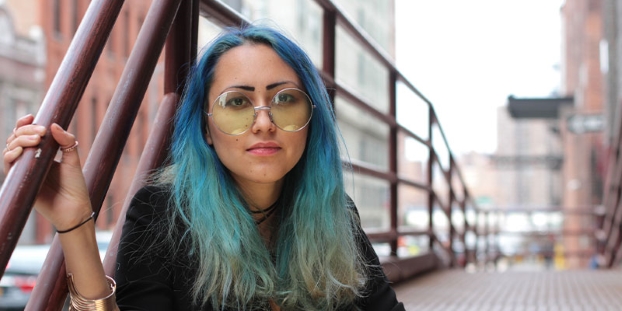 Photo © Brynne McManimie
Anchuli Felicia King, Patrick White Fellowship recipient, 2019 Playwright and multidisciplinary artist Anchuli Felicia King's practice spans dramaturgy; sound, video and projection design; and creative consultation. Her internationally acclaimed play White Pearl was co-produced by STC with The National Theatre of Parramatta in 2019 and we can't wait to see it return in 2022.
---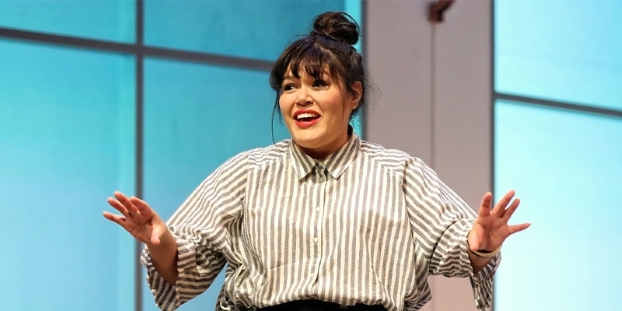 Photo © Prudence Upton
Nakkiah Lui, Patrick White Fellowship recipient, 2018 Gamillaroi and Torres Strait Islander writer and actor Nakkiah Lui has made award-winning strides in the literary, theatre and television worlds. She is well known to STC with her three plays Black is the New White (2017 and 2018), Blackie Blackie Brown (2018) and How to Rule The World (2019).
---
What does the recipient of the Patrick White Playwrights Fellowship do?
Each Fellow has a different experience depending on their creative practice and location, as sometimes they live interstate. Polly Rowe has seen first-hand how these playwrights use the year that they are attached to STC:
"Sue Smith chose to be very active in the Company, writing from the administration offices, observing rehearsals, and chatting to staff across the building. By the end of the year she had made friends in every department!"
---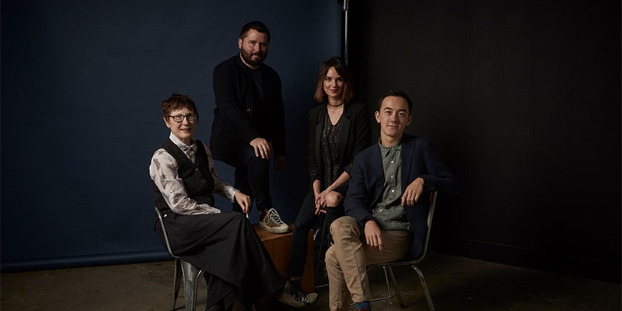 Left to right: Sue Smith Patrick White Fellowship recipient 2017, Kip Williams Artistic Director, Polly Rowe STC Literary Manager, Kim Ho Patrick White Award recipient 2017
Photo © Pedro Greig
Sue Smith, Patrick White Fellowship recipient, 2017 Multi-award winning screenwriter, playwright and script editor. She is well known to STC audiences for her play Kryptonite (written during her fellowship) back in 2014 and Machu Picchu in 2016.
---
"Felicia Anchuli King spent her Fellowship year interstate during lockdowns and border closures, which meant she was unable to visit the office. Despite the distance, Felicia found tailored ways to engage with the Emerging Writers Group, reading their plays and providing them with professional guidance."
"Angus Cerini, our current Fellow, also lives interstate but connects through regular phone calls to members of the artistic team, giving us updates on the progress of his writing and garlic farming."
---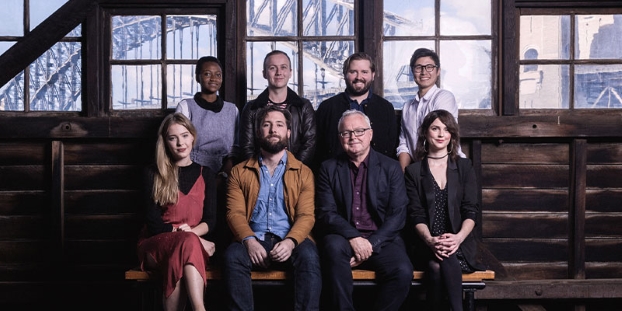 Back row: Moreblessing Maturure, Lewis Treston, STC Artistic Director Kip Williams, Disapol Savetsila
Front row: Emme Hoy, Julian Larnach, Andrew Bovell, STC Literary Manager Polly Rowe.
Photo © Christine Messinesi
How do I enter?
The Patrick White Playwrights Fellowship is an opportunity for the most established playwrights, writers whose work has received multiple professional productions in Australia. It is awarded at the discretion of the Artistic Director, who receives Expressions of Interest from playwrights throughout the year. The 2021 Patrick White Playwrights Fellowship will be announced in May 2022. Find out more.
The Patrick White Playwrights Award is open to any Australian citizen over the age of 18 who has written a full-length unproduced play. It is judged by a team of independent readers and STC artistic staff, in a three stage judging process. The assessors are tasked with seeking plays that are original and artistically ambitious, with great potential for a stage production. Applications for the 2021 Patrick White Playwrights Award will open in October 2021. Find out more.
Over the years, we've seen an incredible amount of talent emerge from the Patrick White initiative. Take a look back at the winners of the Award and Fellowship over the past two decades.
---

Photo © Prudence Upton

2019

Keziah Warner, Award

Anchuli Felicia King, Fellowship

2017

Kim Ho, Award

Sue Smith, Fellowship

2015

Neil Levi, Award

Tommy Murphy, Fellowship

2013

Chris Summers, Award

Angela Betzien, Fellowship

2011

Phillip Kavanagh, Award

Patricia Cornelius, Fellowship

2009

Ian Wilding

2007

Angus Cerini

Timothy Daly

2005

Wesley Enoch

2003

David Milroy

Ningali Lawford

2001

Brendan Cowell

Toby Schmitz

Jackie Smith

2018

Mark Rogers, Award

Nakkiah Lui, Fellowship

2016

Lewis Treston, Award

Andrew Bovell, Fellowship

2014

Debra Thomas, Award

Kate Mulvany, Fellowship

2012

Anna Barnes, Award

Hilary Bell, Fellowship

2010

Melissa Bubnic, Award

Raimondo Cortese, Fellowship (inaugural)

2008

Nicki Bloom

2006

Patricia Cornelius

2004

Stephen Carleton

2002

Reg Cribb

Ian Wilding

2000

Ben Ellis

Bette Guy

Ailsa Piper
Supported by: STC's Artists Program Donors