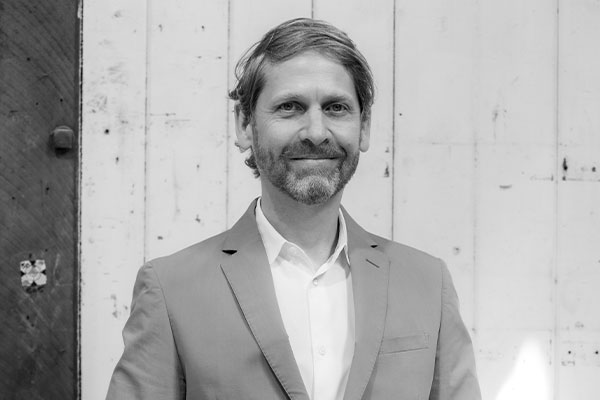 ---
"I will really miss Patrick's guidance. I constantly ask myself - what would Patrick think?"
Kip Williams, Artistic Director
Sydney Theatre Company's outgoing Executive Director Patrick McIntyre has left an indelible mark on the organisation over more than 11 years in the role.
From driving the Company's monumental Wharf Renewal Project, to raising the Company's international profile and leading through the uncertainty of a global pandemic - he certainly leaves an undeniable legacy.
In honour of McIntyre's departure to become the CEO of the National Film and Sound Archive, we spoke to him and some of his colleagues about his time at STC.
---
McIntyre first joined STC in 1993 after graduating with a communications degree from UTS. As Publications Manager, he wrote and edited the program notes as well as the subscriber magazine, Exstce, and his role then expanded into a broader marketing position.
After a few years at STC, Patrick worked as a consultant and freelance writer alongside several arts management roles - including Associate Executive Director of the Australian Ballet - before returning to STC as the Executive Director in 2010.
"It really felt fantastic to come back to STC, I've just always admired its work," McIntyre said. "I love the collaborative nature of theatre, all the different elements that come together into a show. But I had a very clear idea of what kind of contribution I could make to the Company and so it was very satisfying to arrive and be able to do that."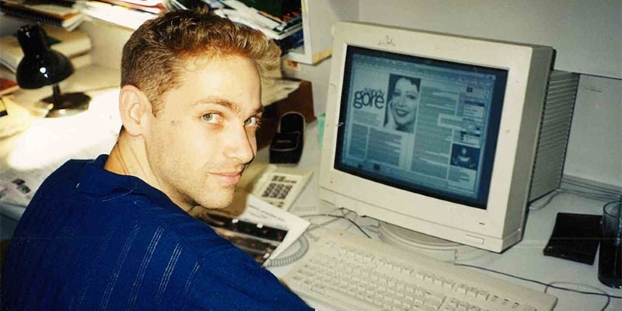 Patrick working on an STC program in 1993 Credit: STC archive
---
HIGHLIGHTS OF PATRICK'S TENURE
Wharf Renewal Project
In February 2021, STC officially reopened its premises at The Wharf, welcoming audiences for the first time since 2018 to its newly renovated home on Sydney Harbour. The 100-year-old timber shipping wharf at Walsh Bay - which was first transformed from a wool store to an award-winning theatre-making space in the 1980s - was upgraded to improve facilities and access and to modernise the theatre spaces.
The renovation project was initiated in 2013 by McIntyre and then Artistic Director, Andrew Upton to address three decades of continuous wear and tear, the growth and change of STC's business operations and the need for operational, technological and environmental efficiency, as well as an opportunity to create a world class theatre experience for artists, workers and audiences.
"I had no idea when I started that the building was in such terrible shape and would need redoing," McIntyre said. "I didn't really dream of doing a big capital job - I just happened to be in this job when something had to be done about it. At first I didn't realise that it would be such a phenomenal project and phenomenal outcome - I couldn't be happier with it. It took so much bandwidth but it was necessary."
Glenn Scott, principal architect with Hassell, said Patrick had been "fantastic" to work with - "probably one of the best clients you could hope for".
"Architecture and performing arts are both creative industries, so there was an inherent respect for each other's expertise from the outset," Scott said.

"Patrick was so proud of the final product - it's always delightful to have a client so effervescent about the outcome."
The Wharf Renewal Project was recognised with the prestigious Sir John Sulman Medal for Public Architecture at the 2021 Australian Institute of Architects NSW awards.
Artistic Director Kip Williams said the building project is "an incredible gift to the city and to the artistic community."
"We now have this extraordinary facility and these amazing theatres that can last us for decades, and allow us to work in a way that we weren't able to before," Williams said. "The creative possibilities for artists and audiences are through the roof now with this new building, and that's a huge legacy."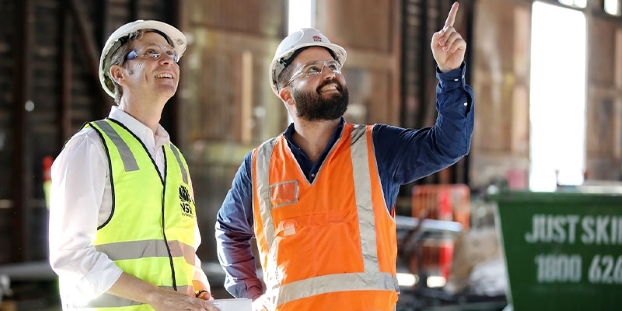 STC Executive Director, Patrick McIntyre and Artistic Director Kip Williams at the Wharf during construction in 2019. Credit: Prudence Upton