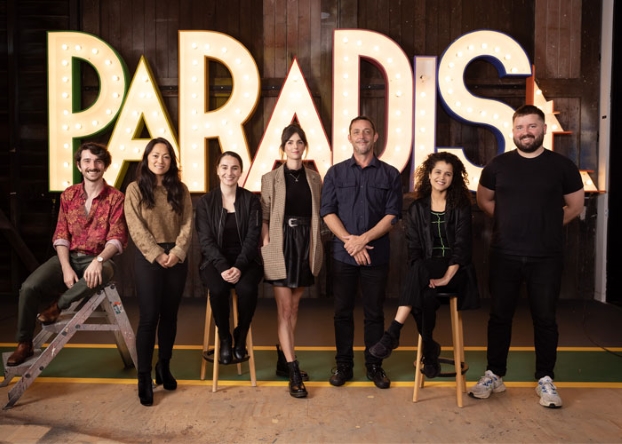 Michael Louis Kennedy, Ra Chapman, Monikka Eliah, Polly Rowe, Angus Cerini, Kirsty Marillier, Kip Williams. (Dylan Van Den Berg not pictured)
"Our Resident Artists are a collection of incredibly talented theatre-makers whose contribution to our creative vision is reflected on STC stages every year, and will continue to resonate in the works we produce for many years to come. With STC's investment in their development, they will shape the future of Australian theatre." KIP WILLIAMS, ARTISTIC DIRECTOR
With a proud heritage as a creative hub and incubator for Australian theatre and theatre-makers, Sydney Theatre Company has a range of Artist Programs aimed at developing new writing, diverse voices and a collaborative environment that encourages artistic excellence.
RESIDENT ARTISTS
Our Resident Artists play a key role in the day-to-day artistic life of the company including directing mainstage shows and Rough Draft development weeks, supporting our community programs and leading workshops and masterclasses. Our current Resident Artists are Associate Director Paige Rattray, Resident Directors Jessica Arthur and Shari Sebbens, and Richard Wherrett Fellow Courtney Stewart.
PATRICK WHITE PLAYWRIGHTS FELLOW AND AWARD
The Patrick White Playwrights Fellowship is a year-long position awarded each May to an established playwright in recognition of their excellent body of work and includes a commission to write a new play. STC's current Patrick White Fellow is Angus Cerini, whose gripping and mysterious piece fo Australian Gothic, Wonnangatta, had its world premiere with STC in 2020. Cerini was preceded by playwright Anchuli Felicia King whose play White Pearl will be remounted in Act 1 of STC's 2022 Season. Also announced each May, the Patrick White Playwrights Award is given to an original and ambitious unproduced script with strong theatrical potential. This year's Patrick White Playwrights award went to Ra Chapman for the play K-BOX.
EMERGING WRITERS GROUP
Now in its fifth year, the Emerging Writers Group seeks to encourage the next generation of Australian playwrights, supporting their professional development, expanding their skill sets and helping them discover and hone their own distinctive voices. The current members of our Emerging Writers Group are Monikka Eliah, Michael Louis Kennedy, Kirsty Marillier, and Dylan Van Den Berg.
CAAP DIRECTORS INITIATIVE
The CAAP Directors Initiative was created to unearth, nurture and develop Asian Australian directors for the stage. Working with Contemporary Asian Australian Performance (CAAP), in partnership with Queensland Theatre and Melbourne Theatre Company, Sydney Theatre Company developed a two-year tailored training program for selected participants.
DESIGN ASSOCIATE PROGRAM
An exciting new initiative, formed as part of STC's Cultural Representation Pledge, the Design Associate Program aims to address the lack of representation of Aboriginal and Torres Strait Islander and culturally and linguistically diverse theatre designers. A paid annual Resident Artist Program, the Design Associate Program will mentor and help upskill artists in set, costume, lighting, sound design, music composition and other creative fields to help them transition into theatre work. Our first and current group of Design Associate Program participants are Kate Baldwin, Brendon Boney, and James Lew.
NIDA PATHWAYS COMMISSION
In partnership with the National Institute of Dramatic Art (NIDA), the STC and NIDA Pathways Commission was introduced in May 2020. Bringing together the resources of STC's directors and NIDA's emerging actors, this program enables a theatrical work by a NIDA writing graduate to be developed and considered for performance by STC. The 2020 recipient was Emme Hoy.
There are a number of other key artist-focused initiatives that make up STC's development programs and supported pathways. These initiatives include Assistant Director positions, Rough Draft script developments, commissions, project developments and further NIDA/STC collaboration.
For more information on artist programs, visit sydneytheatre.com.au/artists
Supported by STC's Artist Program Donors.
The Emerging Writers Group is made possible by the support of the Copyright Agency Cultural Fund.