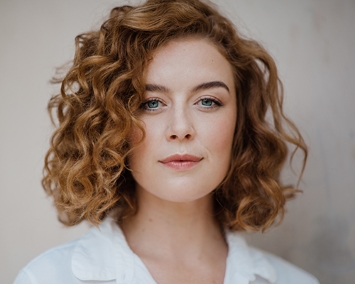 Actor Nikki Shiels, who many audience members will remember from our productions of Cat on a Hot Tin Roof, A Cheery Soul and Three Sisters, is gearing up to make her debut as the alternate performer in our 2022 season of The Picture of Dorian Gray. Nikki will perform the piece a total of five times during the remainder of our Sydney Season – matinee performances on Sat 30 Apr, Wed 4 May, Sat 7 May, and Sat 14 May, and an evening performance on Wed 11 May. We sat down with her to discuss the process of joining this historic production and the amazing team of creatives who make it happen.
What does it feel like to get ready to take the stage as the alternate performer in The Picture of Dorian Gray?
When I first got the call, I thought, "Of course, I have to do this." Also, "I feel sick. How will I ever do this?" My feelings have changed a lot throughout the whole process – from that first moment, to doing my own work and preparation on it, to actually starting rehearsals. At first it was a combination of real excitement and terror, but since then I've managed to work out the balancing act. Preparing for this show is such a unique process and like nothing I've ever done before. It's so specific, firstly, as a work of art in and of itself, and secondly, as a technical process. It has its own quirks that are continually unfolding and revealing themselves as I work through it. So, it's about working out how to fulfil the needs of the production, how to stir in my own brand of authenticity, and how to serve Kip, Eryn Jean and the whole creative team's extraordinary vision.
What's the first thing you do to prepare for a show like The Picture of Dorian Gray?
Well first of all I saw it as an audience member back in 2020. I loved it. After being invited to join the production, I familiarised myself with the novel to get a strong sense of the world and the desires of the characters. And then I immersed myself in the script. Because I knew I wouldn't be able to wrap my head around the technical requirements of this performance unless I knew the text and the characters inside out. Next came a process of deconstructing those technical elements and layering the performance in.
As you already mentioned, this show is unlike any other you've been a part of. Can you tell us about the particular challenges of this piece?
It's all about the relationship with the camera: what the camera represents at any given point and the internal reasons of why you're looking at the camera, and which camera, at any given time, because there's five of them on stage, all live, at many points throughout the show.
It's also about having a very technical roadmap for myself, so I know when and where I need to be, like the back of my hand. It's that familiarity with the roadmap that translates to all the theatre magic that audiences experience when seeing this show.
You're going to play 26 different characters on stage, how have you gone about creating all those personalities?
Because the characters have already been created so wonderfully, it's about stepping into and filling out those shapes. It's sort of like attuning my 'instrument' to Eryn Jean's.
Marg Horwell's costume design has been a huge part of the character development too. Her designs are so physically-informing that, when there have been times that I've been unsure about who a character is, getting into costume has really helped me in understanding them, and how to embody them.
What's it been like working with Kip and Eryn Jean and the creative team?
It's been incredible. I was still learning the lines while Eryn Jean was in rehearsals for the encore season, and it was just amazing to be a fly on the wall during that process and to understand the collaborative relationship they all have. It was great to watch how Eryn Jean navigates such technically-heavy rehearsals, before beginning previews, and then performances. It's also a rare privilege to be in my position, creatively, because I have a map and I understand how I need to get to where I'm going. It's about knowing what I'm aiming for at the end, being patient with myself, and rising to meet the amazing creation that Kip and Eryn Jean and the whole creative team have made together.
Bio
Award-winning actress Nikki Shiels returns to Sydney Theatre Company as the alternate performer in The Picture of Dorian Gray after previously appearing in our productions of Cat on a Hot Tin Roof, A Cheery Soul and Three Sisters. Her other theatre credits include My Brilliant Career, The Sugar House, The Rover and Twelfth Night for Belvoir, The Unspoken Word is 'Joe' for Griffin Theatre, The Dream for Bell Shakespeare, Home, I'm Darling, The Cherry Orchard, True Minds, Top Girls and Don Parties On for Melbourne Theatre Company, Picnic at Hanging Rock, Night on Bald Mountain, The Dragon and Elizabeth: Almost by Chance a Woman for Malthouse, Joan for The Rabble, They Divided the Sky, M + M, The Dollhouse and Peer Gynt for Daniel Schlusser Ensemble, Madeleine for Black Sequin Productions and The Last Wife for Ensemble Theatre. Her performance in MTC's Home, I'm Darling won her a 2021 Green Room Award and in 2018 she won a Sydney Theatre Award for They Divided the Sky. On television, Nikki has starred in BLOOM, Neighbours, House Husbands, Childhood's End and Rush. Nikki has appeared in the film The Eye of the Storm and the short films Safety Net and Perfect Pair. She also performed in ABC Radio National's Cassandra is a Waitress. Nikki trained at the Victorian College of the Arts and is a proud member of Actors' Equity.
---
The Picture of Dorian Gray, Roslyn Packer Theatre, on stage now until 14 May.