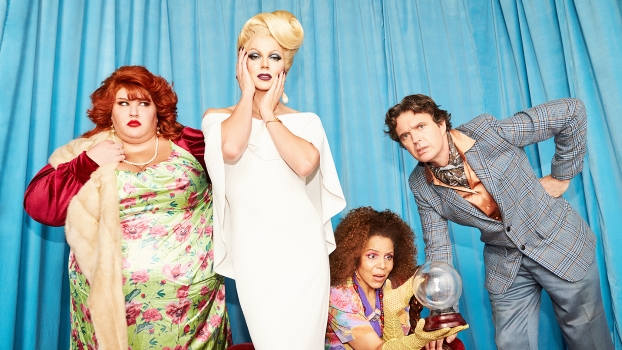 Bessie Holland, Courtney Act, Brigid Zengeni, and Matt Day. Photo: Rene Vaile
---
Charles (Matt Day) and Ruth Condomine (Bessie Holland) live in genteel isolation in the English countryside, with the latest in a long line of long-suffering maids, Edith (Megan Wilding). Charles, a famous novelist, is working on his next triumph: a story that delves into the shadowy world of the occult.
In the interest of research and a bit of a laugh, Ruth and Charles invite the nearby village's self-described clairvoyant and medium, Madame Arcati (Brigid Zengeni), to conduct a séance in their tastefully-appointed drawing room. The Condomines' friends Doctor and Mrs Bradman (Tracy Mann, Nancy Denis) join for an evening they all expect to be full of tacky parlour tricks, smoke, and mirrors.
But as the haunting strains of Irving Berlin's Always fill the house and Madame Arcati slips into an eerily convincing trance, something far more vampy and sinister is unleashed: Charles' long-dead first wife Elvira (Courtney Act). And Elvira isn't returning to the underworld until she sorts out some unfinished business.
---
Blithe Spirit, 21 Mar — 14 May 2022, Drama Theatre, Sydney Opera House