Heather Mitchell has been part of the STC family for over three decades. In that time, she's seen the company grow and change:
"I remember the opening party for The Wharf, which seemed to go on for days. Every space along The Wharf was crammed with people dancing and partying. It's probably because I was young then but there seemed to always be parties happening there. The STC has expanded enormously since the days I began with the company when it was two rooms and an office in Kings Cross. I think it is wonderful that the company offers so much to audiences. It is a huge company and maintaining intimacy in such an expanding environment is challenging but I always feel thrilled to be in the building and love working here. It is still the most beautiful, inspiring place to go to work."
And what has she learnt about working here? "Never leave cake lying around the STC. It will disappear."
From the classical to the contemporary, from the comic to the tragic, Heather has given countless acclaimed and fondly remembered performances.
Here, we look back on some of her roles at STC and pick up some anecdotes along the way...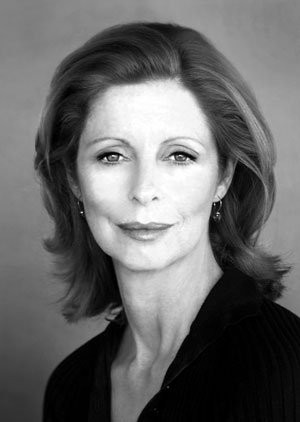 Heather Mitchell
HENRY IV, PT I (1981)
Heather's first experience working at STC was for an HSC workshop in 1981 when she performed, along with Andrew Tighe, scenes from Henry IV, Part I.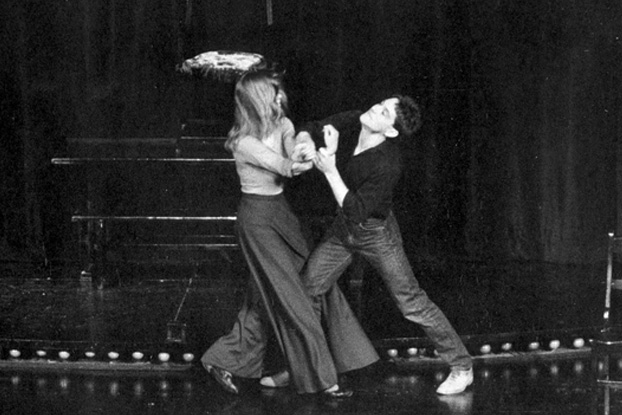 YOU CAN'T TAKE IT WITH YOU (1982)
The following year she made her main stage debut alongside Gordon McDougall and Carol Raye in You Can't Take It With You.
Heather: "I was in Adelaide about to begin rehearsals for a non-speaking role when George Ogilvie offered me You Can't Take It With You. I was thrilled. It was a cast of eccentrics and every day of that rehearsal period was utter joy. Five of the cast are no longer with us and yet the impact that each one of those actors had on me remains with me. Al Thomas kept his lines written on his shirt cuffs, Alex Hay's exuberance kept us in awe and Geoffrey Rush's comedic inventions had us in constant fits of laughter. George was known for his hilarious habit of stuffing a hanky in his mouth to suppress his laughter and I rarely saw him without bulging cheeks. It was an absolute joy to work on."
(Photo: Sandy Edwards)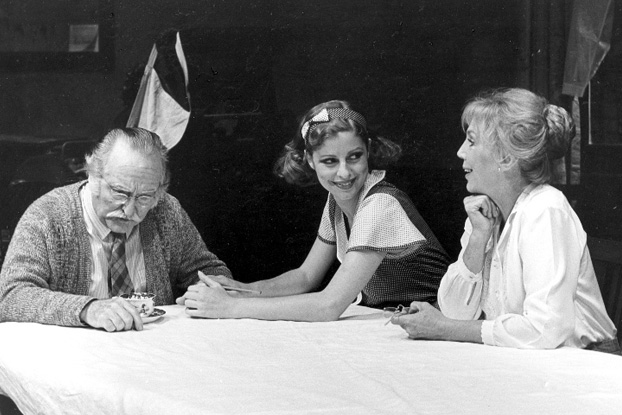 MACBETH (1982)
Later that year Heather joined Pat Bishop and Janice Finn as one of the three witches in Macbeth. (Photo: Brett Hilder)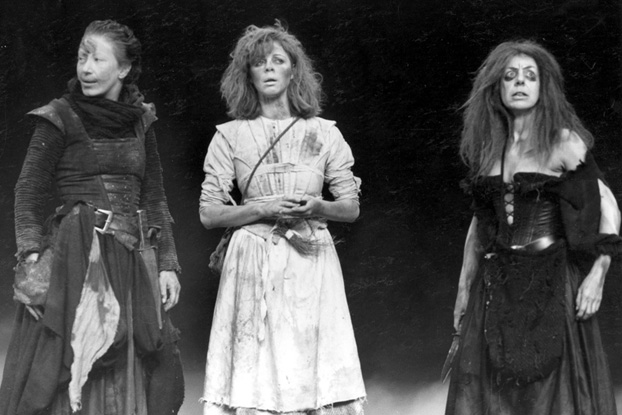 AS YOU DESIRE ME (1982)
Also in 1982, she performed in Luigi Pirandello's As You Desire Me.
Heather: "I remember in As You Desire Me, Peter Carroll was to receive a phone call which was a significant plot point and the phone had not been set on the stage (this is long before mobiles). He sent one of the cast off to see whether anyone might be looking for him with a message."
(Photo: Dennis del Favero)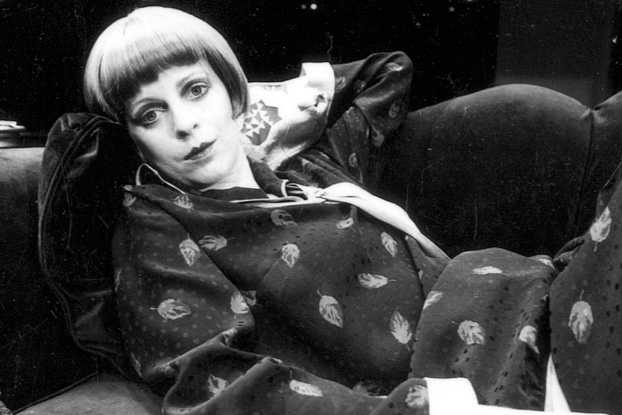 THE FIELDS OF HEAVEN (1983)
The next year, Heather performed in two shows at STC. First, Dorothy Hewett's The Fields of Heaven with Lex Marinos. (Photo: Dennis del Favero)
THE CHERRY ORCHARD (1983)
Later that year, Heather returned as Varya in Anton Chekhov's The Cherry Orchard with John Howard, Odile le Clezio and Jane Harders.
Heather: "One night during The Cherry Orchard, a woman in the middle of the auditorium leapt up on to the stage just as John Howard was selling the orchard and ran to me saying she was my sister and hugged me until security guards were called. I often think of her."
(Photo: Dennis del Favero)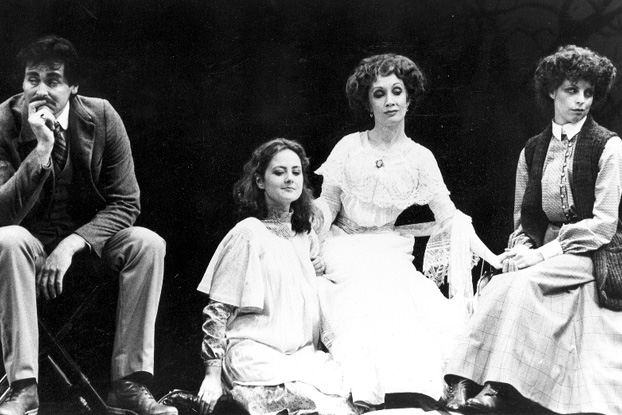 THE DOLL TRILOGY: KID STAKES & OTHER TIMES (1985)
In 1985, Heather performed in Ray Lawler's The Doll Trilogy plays Kid Stakes and Other Times.
Heather: "The Doll Trilogy, which included Kid Stakes and Other Times, was set in the 1930s and 40s, and had the most wonderful costumes. I, as Nancy, wore delicately hand-knitted cardigans, tapered calf-length skirts, silk robes and glorious evening dresses of the period."
(Photo: Hugh Hamilton)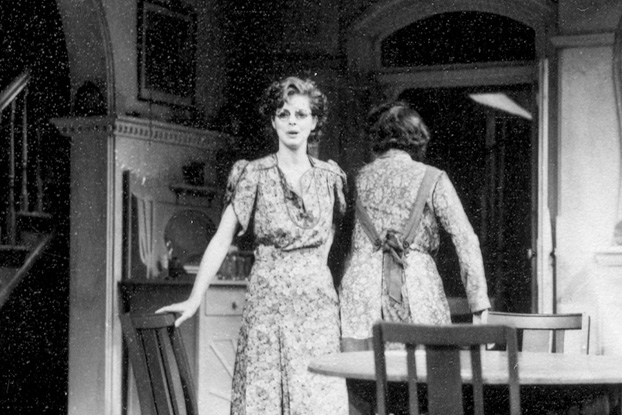 Here, in Other Times, Heather is pictured alongside Harold Hopkins. (Photo: Andrew Southam)
NO WORRIES (1986)
In 1986, she performed with Fiona Stewart, Kaarin Fairfax, Stephen Champion, Terry Serio and Michael O'Neill in No Worries.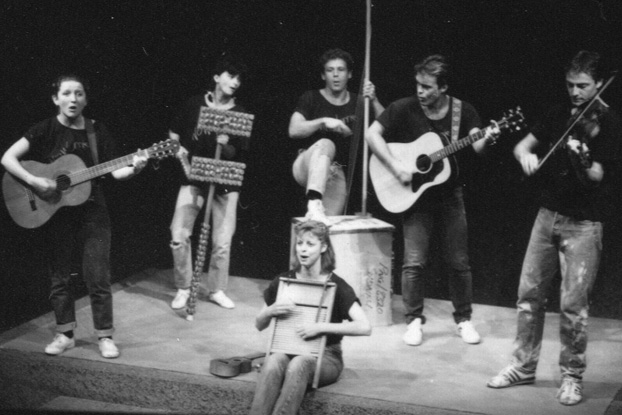 NO(H) EXIT (1987)
The following year, Heather and Kirrily Nolan performed in No(h) Exit, a combination of three one-act plays: Jean-Paul Sartre's No Exit, and Yukio Mishima's The Lady Aoi and Hanjo.
Heather: "At the end of No Exit one night the door didn't open, which rather confused the play and all of us. Quite a bit of improvising."
(Photo: Hugh Hamilton)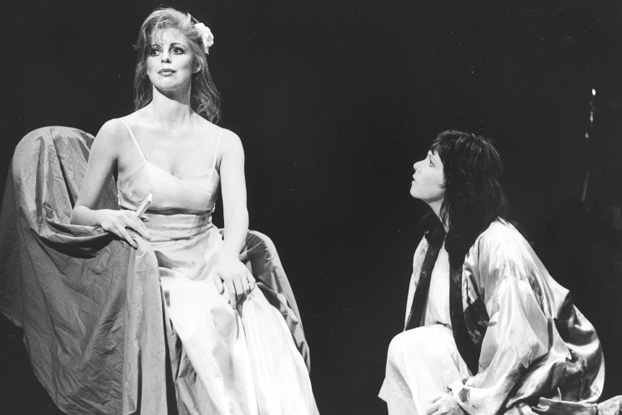 BLOOD RELATIONS (1987)
David Malouf's Blood Relations, in 1987, brought Heather together onstage with John Wood. (Photo: Hugh Hamilton)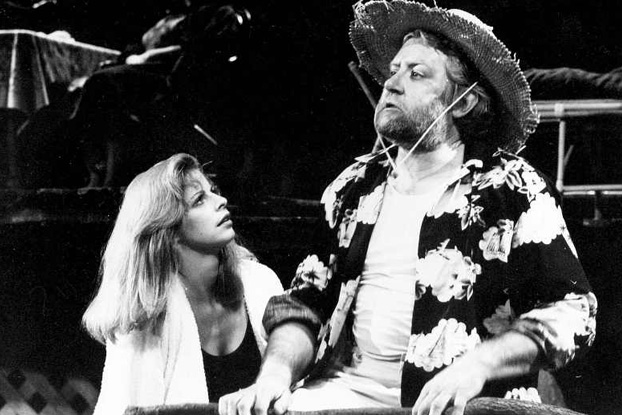 1841 (1988)
Michael Gow's 1841, which also featured Gillian Jones, premiered in Adelaide as part of the Australian Bicentennial Arts program in 1988 before coming to Sydney. (Photo: David Wilson)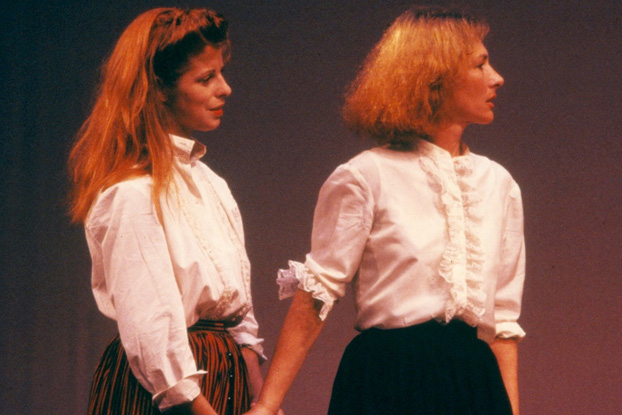 A DREAM PLAY (1989)
In 1989, Heather performed in August Strindberg's A Dream Play, which was directed by renowned Swedish opera director Göran Järvefelt (it was one of his last productions). (Photo: David Wilson)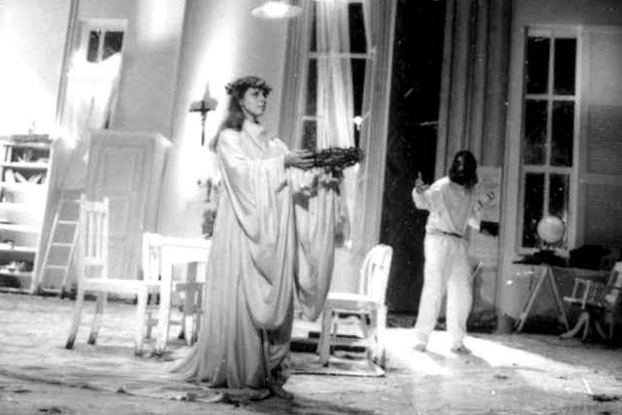 ALL MY SONS (1989)
Also that year, she joined Melissa Jaffer and John Stanton in Arthur Miller's All My Sons, directed by Gale Edwards. (Photo: Hugh Hamilton)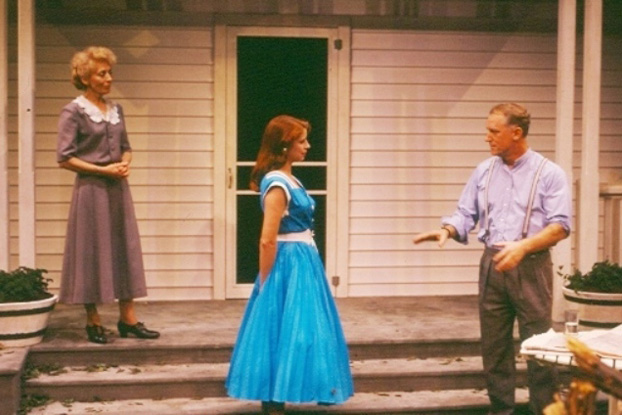 THE SECRET RAPTURE (1990)
Heather played opposite Hugo Weaving in David Hare's The Secret Rapture in 1990. (Photo: Branco Gaica)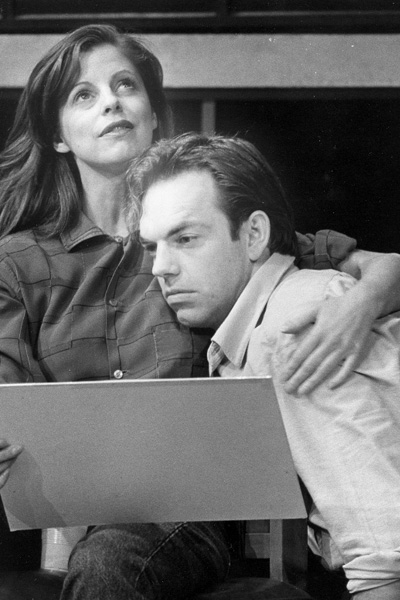 BURN THIS (1990)

Later in 1990, came Lanford Wilson's Burn This, directed by Wayne Harrison.
Heather: "I loved doing Burn This. The play was very much of its time, dealing with AIDS, ambition and isolation. Apart from the physical challenge of playing a professional dancer, I love my character's naivity and vulnerability masked by an outward confidence and ambition. It is a love story at heart and I adored playing every night with Richard Roxburgh and discovering new and exciting ways to navigate our way through the story. Audiences loved the play and many people said they had come more than once, which is definitely rewarding."
"During the season there was a heat wave and the air conditioning broke in the theatre for a week. We performed in 38 degree heat and the audience used their programmes as fans until they could bear it no longer and eventually crept out. A few fainted. I smoked in the show and one night as I went to inhale saw that my cigarette was no longer in my hand. It took some time before I realised that the smell of burning hair was coming from my head. Two audience members were calling out 'Your hair!', 'Your hair, it's on fire!'. Yes, it was a hot show."
(Photo: Branco Gaica)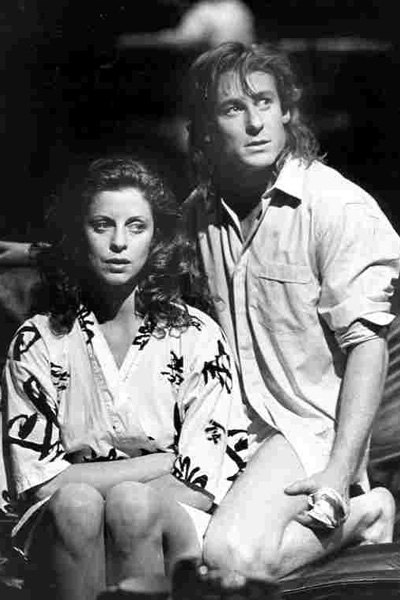 THE HOMECOMING (1992)
Richard Roxburgh and Warren Mitchell joined Heather for a production of The Homecoming in 1992. (Photo: Tracey Schramm)
Heather: "I loved Jenny Tate's very simple 1950s costume for me in The Homecoming. I remember a costume the most when it feels completely appropriate to the character. Some costumes I can't wait to get into because then I know where I'm going."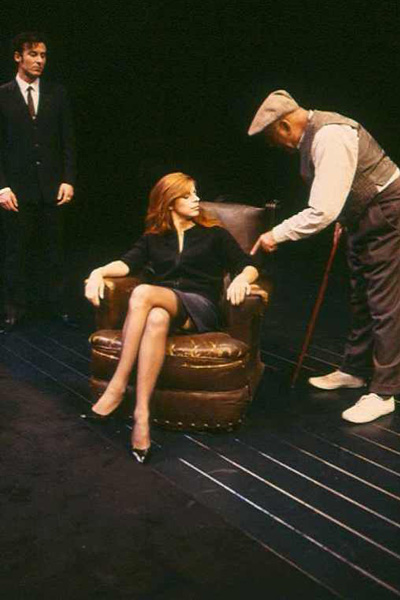 TWO WEEKS WITH THE QUEEN (1993)
And she was very glamorous in Two Weeks with the Queen, which toured to the Adelaide Festival Centre in 1993. (Photo: David Wilson)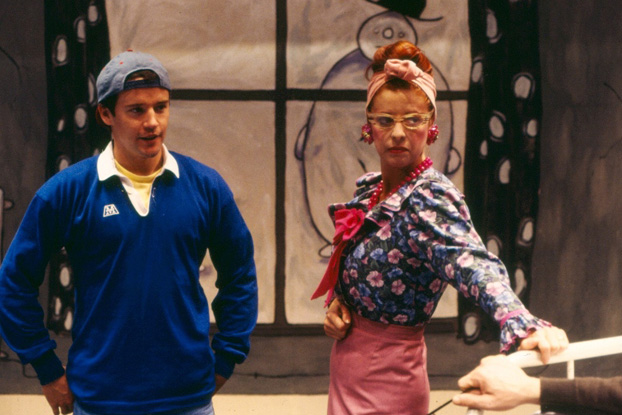 CORIOLANUS (1993)
Heather teamed up again with John Howard in 1993 for Coriolanus, which Rosemary Neill in The Australiandescribed as "So brilliantly conceived and executed it should stand as a benchmark to which all Shakespearean productions in this country should aspire for years to come." (Photo: Robert McFarlane)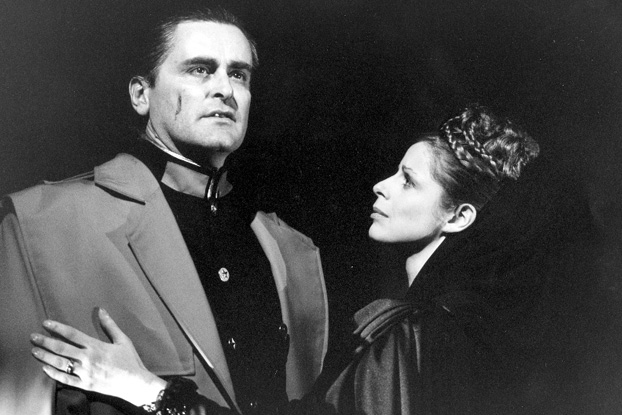 A DELICATE BALANCE (1998)
She performed with Michael Craig in Edward Albee's A Delicate Balance, directed by Simon Phillips, in 1998. (Photo: Tracey Schramm)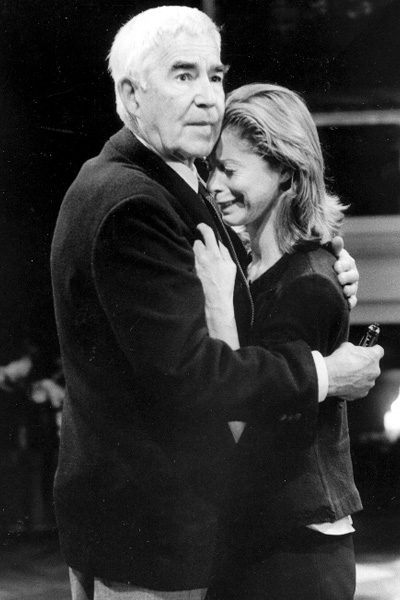 THE WHITE DEVIL (2000)
In 2000, Heather worked on The White Devil alongside William Zappa (pictured below) and Hugo Weaving (whose projected eyes are visible in the photo below). However, as she describes, illness meant she only performed up until opening night. "During The White Devil I developed pneumonia while four months pregnant and only just made it through opening night. The following night Hugo was nearly strangled when a trick rope didn't function and director Gale Edwards sprang up in the audience and stopped the show. Another night, Angie Milliken crashed her car on the way to the theatre and was thankfully unharmed." (Photo: Robert McFarlane)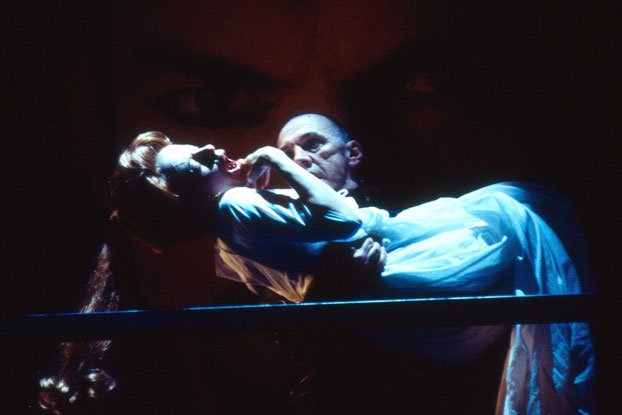 THE REAL THING (2003)
Heather worked again with Andrew Tighe in Tom Stoppard's The Real Thing in 2003, directed by Robyn Nevin. (Photo: Tania Kelley)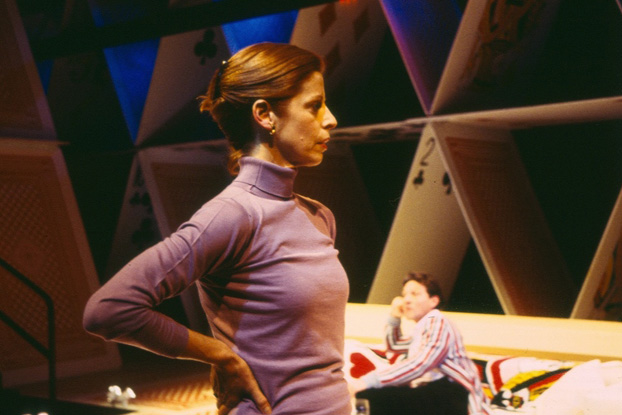 SELF ESTEEM (2007)
She showed off her impressive guns in Self Esteem for Wharf 2LOUD in 2007, written and directed by Brendan Cowell. (Photo: Jimmy Pozarik)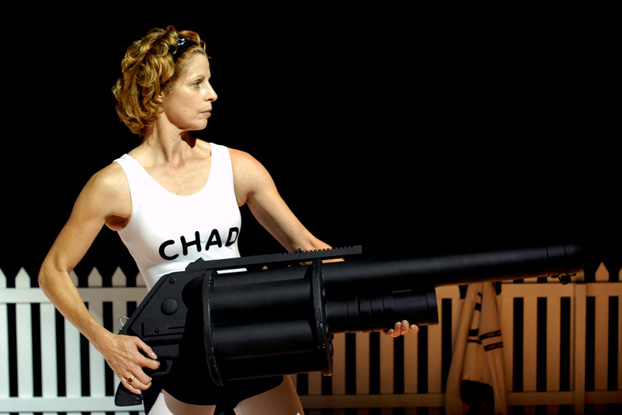 TRUE WEST (2010)
In 2010, she worked again with Brendan Cowell, but this time they were both onstage. She played his mum in Sam Shepard's True West, directed by Philip Seymour Hoffman. (Photo: Brett Boardman)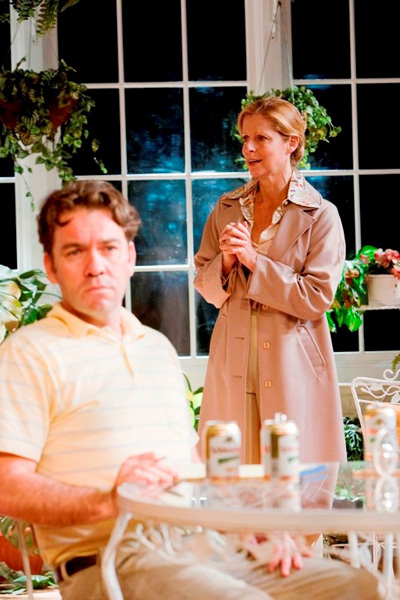 NEVER DID ME ANY HARM (2012)
At the start of 2012, Heather was part of the ensemble performing in Never Did Me Any Harm, which was produced by Force Majeure and STC. (Photo: Lisa Tomasetti)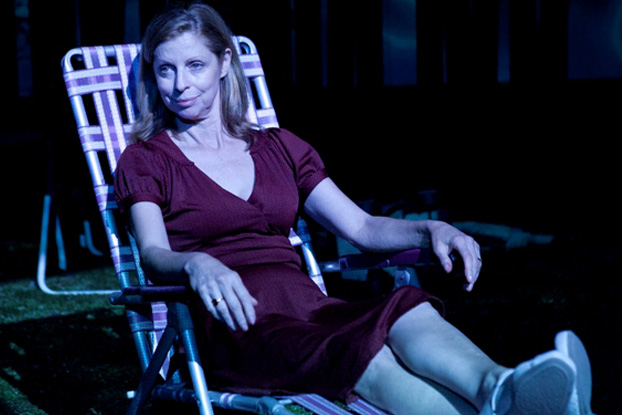 LES LIAISONS DANGEREUSES (2012)
In 2012, Heather appeared in Les Liaisons Dangereuses. (Photo: Brett Boardman)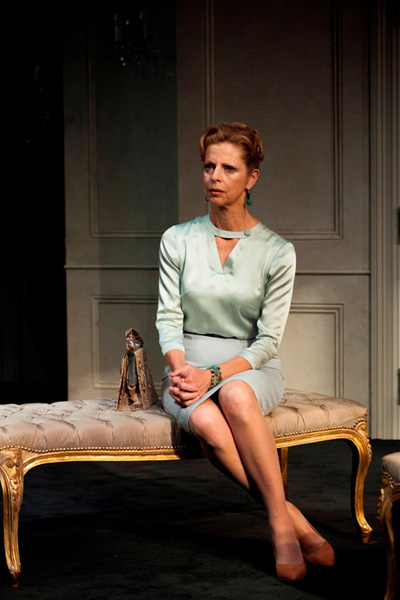 ROSENCRANTZ AND GUILDENSTERN ARE DEAD (2013)
Tom Stoppard's Rosencrantz and Guildenstern are Dead brought Heather back as Gertrude, with Chris Stollery here as Claudius. In Gabriela Tylesova's extraordinary costume, Heather was every bit a queen. (Photo: Heidrun Löhr)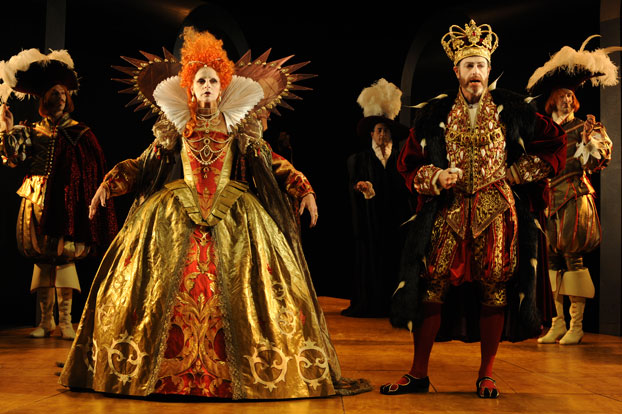 HAY FEVER (2016)
In Noël Coward's comedy Hay Fever, directed by Imara Savage, Heather played Judith Bliss – a retired actor who still seems to be performing most of the time. Here, Heather lounges in the tub with a very sporting Josh McConville. (Photo: Lisa Tomasetti)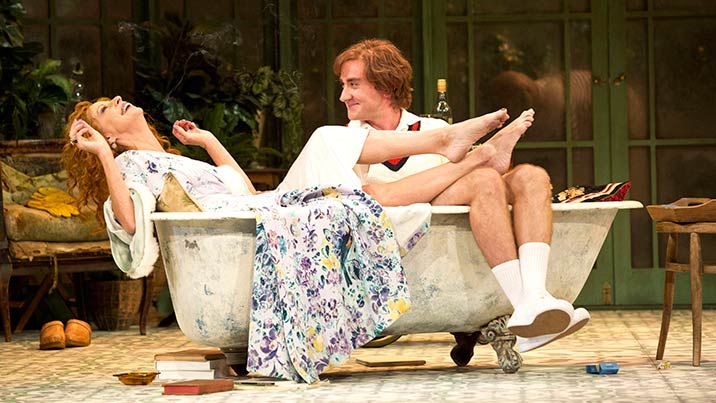 AWAY (2017)
In Michael Gow's Australian classic Away, directed by Matthew Lutton, Heather played the tightly wound mother, Gwen. (Photo: Prudence Upton)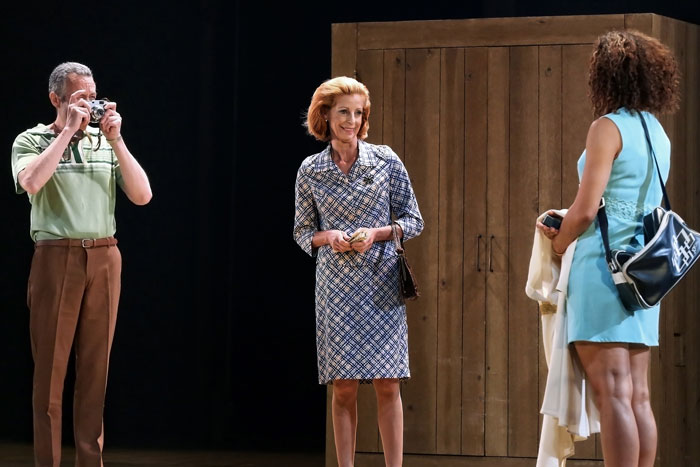 CLOUD NINE (2017)
In Caryl Churchill's classic Cloud Nine, Heather played a young boy in the first half. And then played that young boy's mother in the second half. (Photos: Daniel Boud)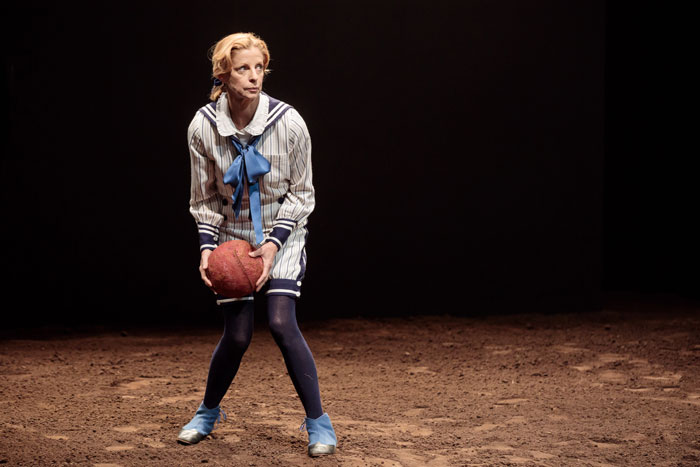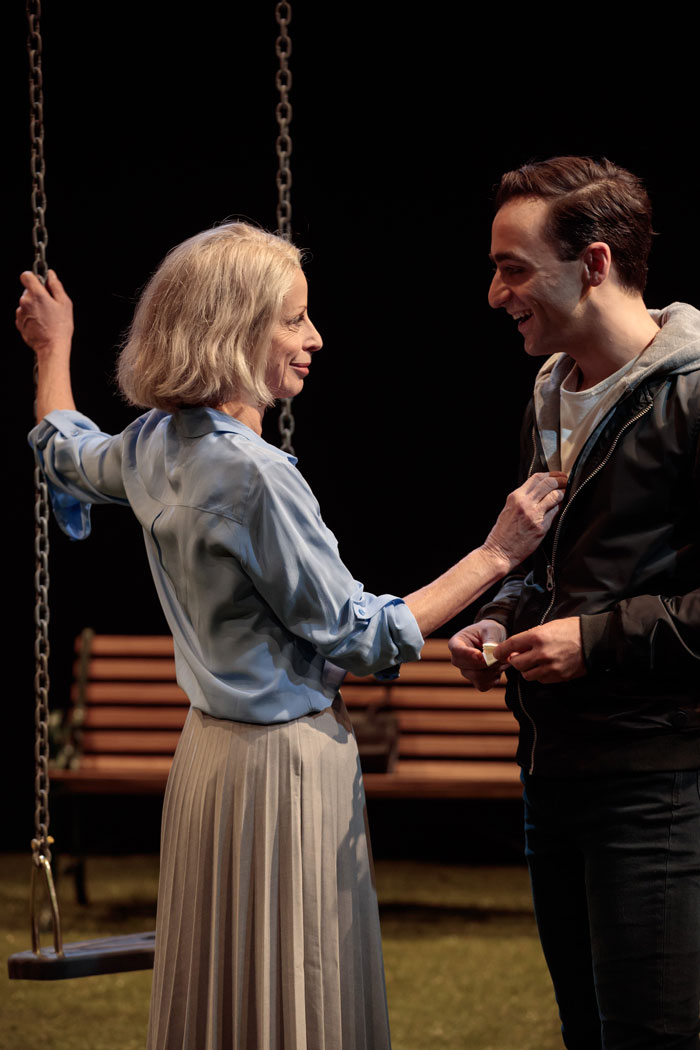 TOP GIRLS (2018)
Heather did back-to-back Caryl Churchill plays with her appearance in Top Girls. In this production she played Pope Joan in the famous dinner party scene as well as another character later on, Louise. (Photos: Brett Boardman)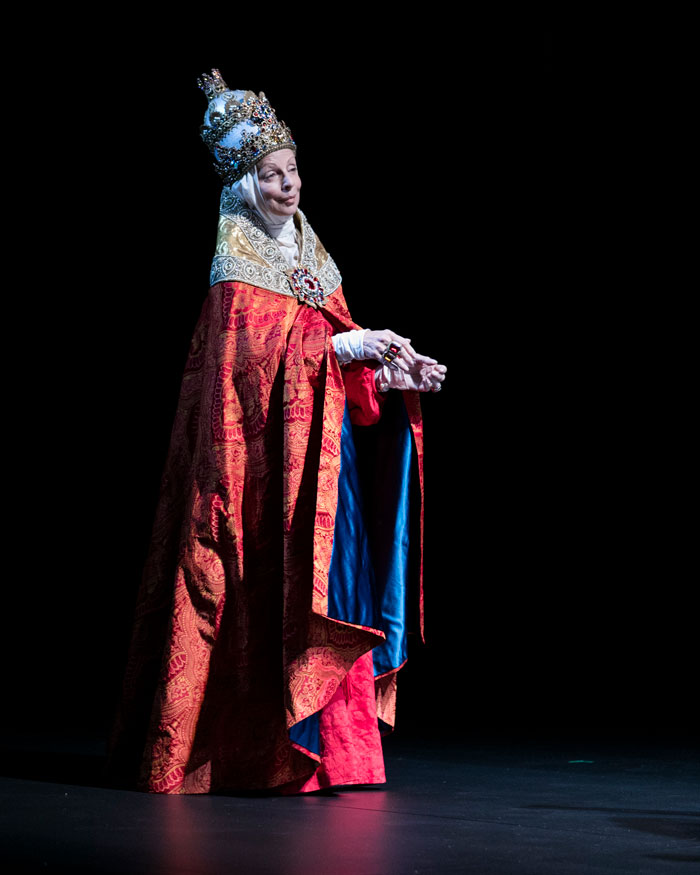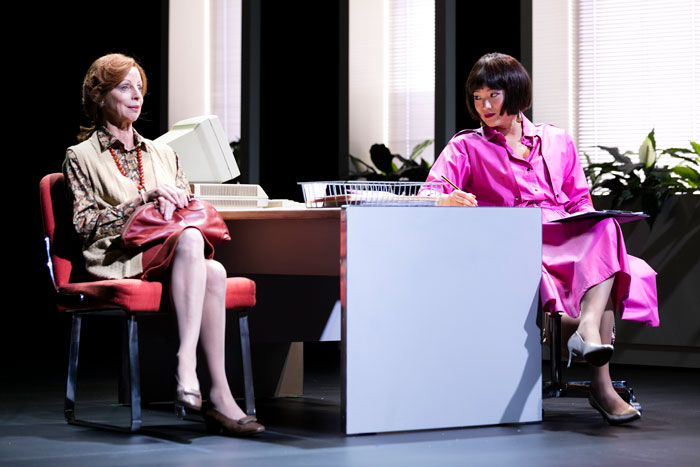 STILL POINT TURNING: THE CATHERINE MCGREGOR STORY (2018)
In this new Australian work, based on the real-life Catherine McGregor (who was involved in the casting process), Heather played the title character in a greatly-admired performance. "Heather Mitchell is one of our greatest actors and the performance she gives here, as the controversial trans woman Catherine McGregor, is extraordinarily rich and multi-layered... She is magnificent" was how The Australian summed it up. (Photos: Philip Erbacher)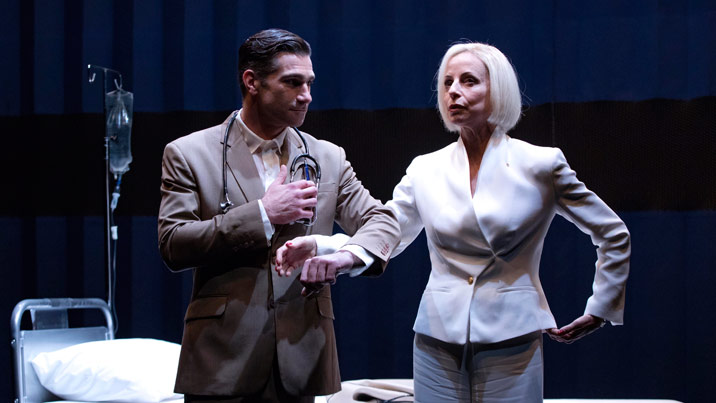 THE HARP IN THE SOUTH, PART 1 AND PART 2 (2018)
In Kate Mulvaney's epic two-part adaptation of Ruth Park's classic Australian novel trilogy of the same name, Heather played Eny Kilker, the cheeky-yet-charming Irish grandmother of the Darcy family. (Photo: Daniel Boud)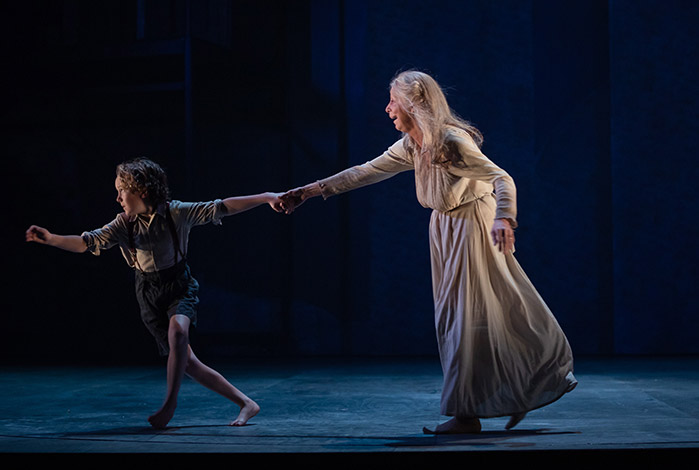 Seeing the show? Let us know your thoughts. Tag @sydneytheatreco and #sydneytheatreco