With Kip Williams' bold new production A Midsummer Night's Dream coming to the Drama Theatre in September, we take a look back at some of the Shakespearean pairings that our stages have seen in the past.
A MIDSUMMER NIGHT'S DREAM
Couples and coupling are at the heart of A Midsummer Night's Dream, with plenty of partner-swapping drama to keep things interesting. In our 1989 production, Mark Pegler and Susan Lyons played the on-again-off-again uber-fairies Oberon and Titania. Meanwhile, in another part of the enchanted forest, Marcus Graham and Rebecca Frith came to grips as Demetrius and Hermia (Photos: Branco Gaica).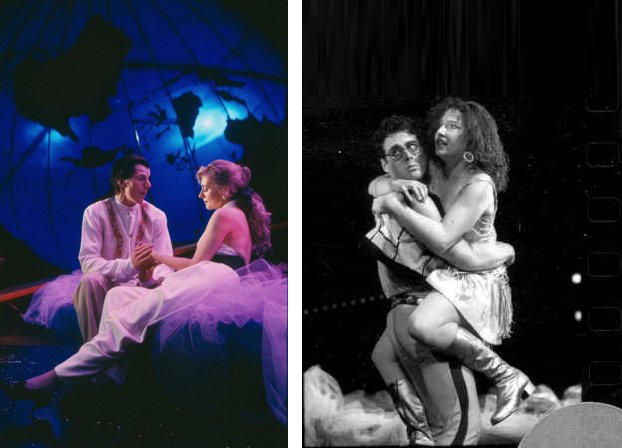 In our 1997 production, Tony Briggs (Demetrius) and Deborah Mailman (Helena) found themselves spooning in a mossy glen and got married shortly after. There's a lesson for all of us in that. (Photo: Tracey Schramm)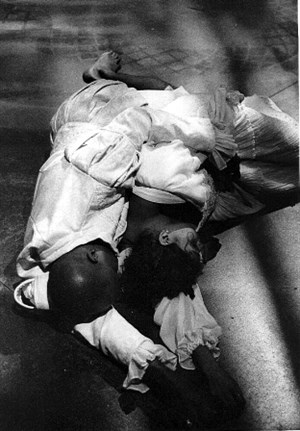 A decade later, Pamela Rabe (Titania) narrowly avoided marrying Colin Moody (Bottom) when he was being a right ass. Luckily for us, Colin lost the big, hairy ears just in time for him to join the cast of this year's Romeo and Julietas Capulet. (Photo: Heidrun Lohr)
CORIOLANUS
Our 1993 production of Coriolanus was a more serious affair, with John Howard in the title role and Heather Mitchell as his wife Virgilia, who had every right to look worried. (Photo: Robert McFarlane)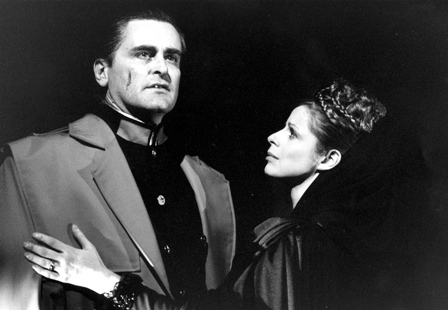 MUCH ADO ABOUT NOTHING
John Howard had a happier ending the year before in Much Ado About Nothing, in which his smart alec Signor Benedick managed to get over himself long enough to fall for the acid wit of Pamela Rabe's Beatrice. (Photo: Robert McFarlane)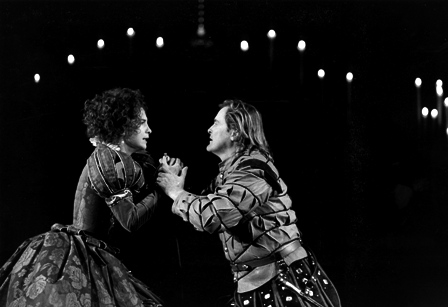 HAMLET
Not every couple gets a happy ending, but Julia Ohannessian (Ophelia) and Sophie Ross (Hamlet) didn't even get started before the wheels fell off. (Photo: Tracey Schramm)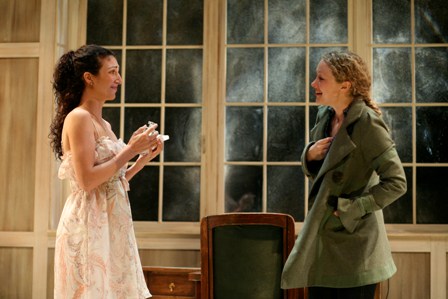 MACBETH
On the other hand, Colin Friels and Helen Buday only had themselves to blame as the Macbeths in 1999. The same goes for Robyn Nevin and John Bell back in 1982. (Photos: Tracey Schramm and Brett Hilder)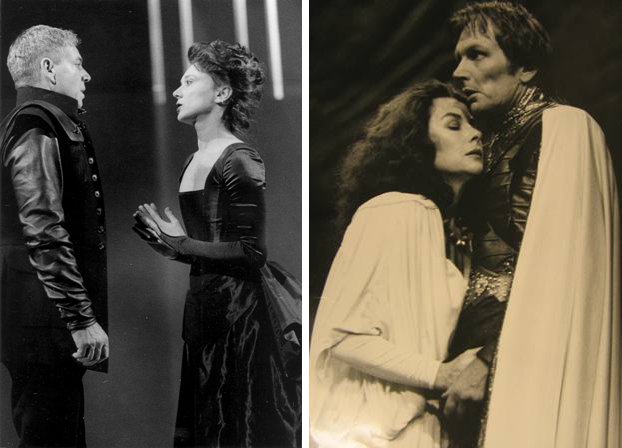 MEASURE FOR MEASURE
In Measure for Measure (1986), Marcelle Schmitz (Juliet) and Graham Harvey (Claudio) played a couple that became a trio. (Photo: Stuart Campbell)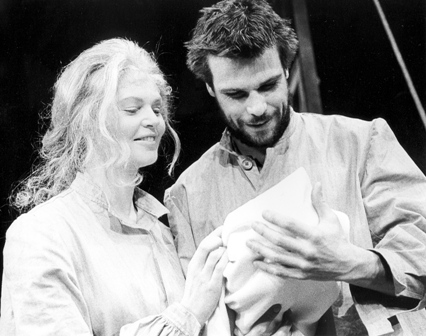 PERICLES
Some Shakespearean couples are more complicated. In this photo from Pericles, you'd think that Jim Holt and Isabelle Anderson were being married by David Downer, dressed as a natty celebrant. Alas, the story goes that Antiochus (David) is having an incestuous relationship with his daughter (Isabelle) and Pericles (Jim) has stepped right in the middle of it. And that's all in Act 1. (Photo: Hugh Hamilton)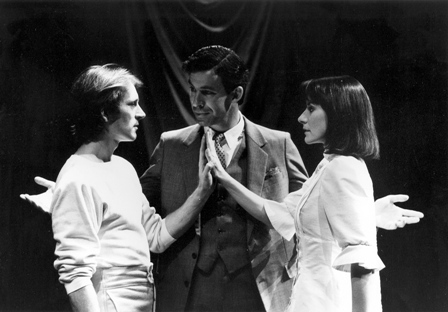 THE MERRY WIVES OF WINDSOR
Also stepping right into the middle of things is Sir John Falstaff (Max Phipps), the troublemaking knight in The Merry Wives of Windsor, who tries it on with Mistress Alice Ford (Carol Raye) precisely because she's already married. (Photo: Brian Geach)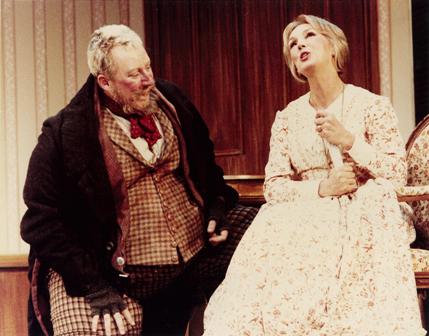 ROMEO AND JULIET
To wrap things up, let's end with some former Juliets and Romeos. First up, Sophie Ross and Isaac Drandich at the ball and, then, Luciano Martucci and Rebecca Frith on the balcony in 1989. And, finally, Eryn Jean Norvill and Dylan Young getting cosy in Kip Williams' 2013 production. (Photos: Tracey Schramm, Branco Gaica and Lisa Tomasetti)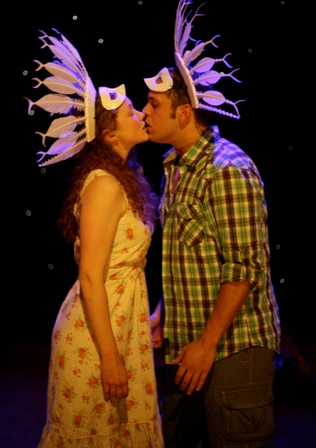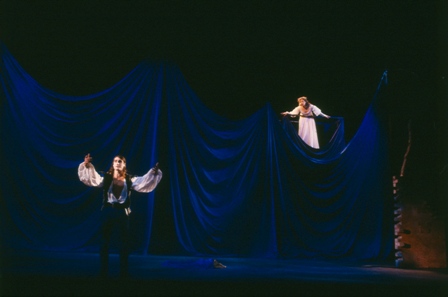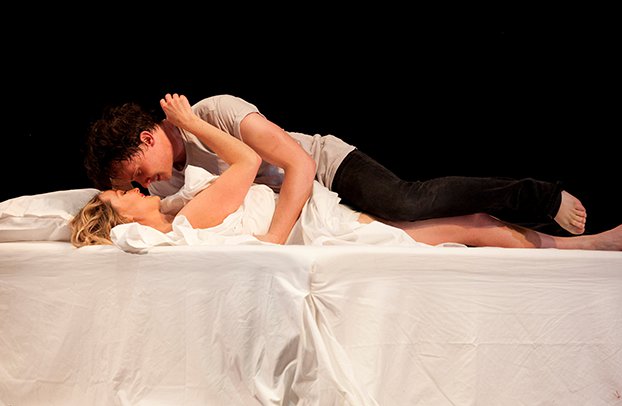 A Midsummer Night's Dream, 12 Sep – 22 Oct 2016, Wharf 1 Theatre