Sydney Theatre Company has been producing and presenting musicals since its very first season in 1979. In that year, STC presented Nimrod's production of The Venetian Twins directed by John Bell. In 1980, STC staged George Darrell's melodramatic The Sunny South and, ever since, we have programmed a wide range of musical theatre classics, brand new works, and hosted workshops for new musicals.
With the world premiere of Muriel's Wedding the Musical coming up later this year, we take a moment to look back at some of the other wonderful musicals from STC's past.
Touring productions…


CHICAGO (1981, 1983)
A satire on corruption and fame, this smash-hit production starred Geraldine Turner and Nancye Hayes as Velma Kelly and Roxie Hart. Following the roaring success of the production, the season transferred from the Sydney Opera House to the MLC Royal Theatre before touring to Melbourne and Adelaide until it played again at the MLC Theatre for a return season. The production won Richard Wherrett a Sydney Theatre Critics' Circle Award for Artistic Direction.
In 1983, Chicago marked STC's first international tour when it was invited to participate in the 1983 Hong Kong Festival of the Arts.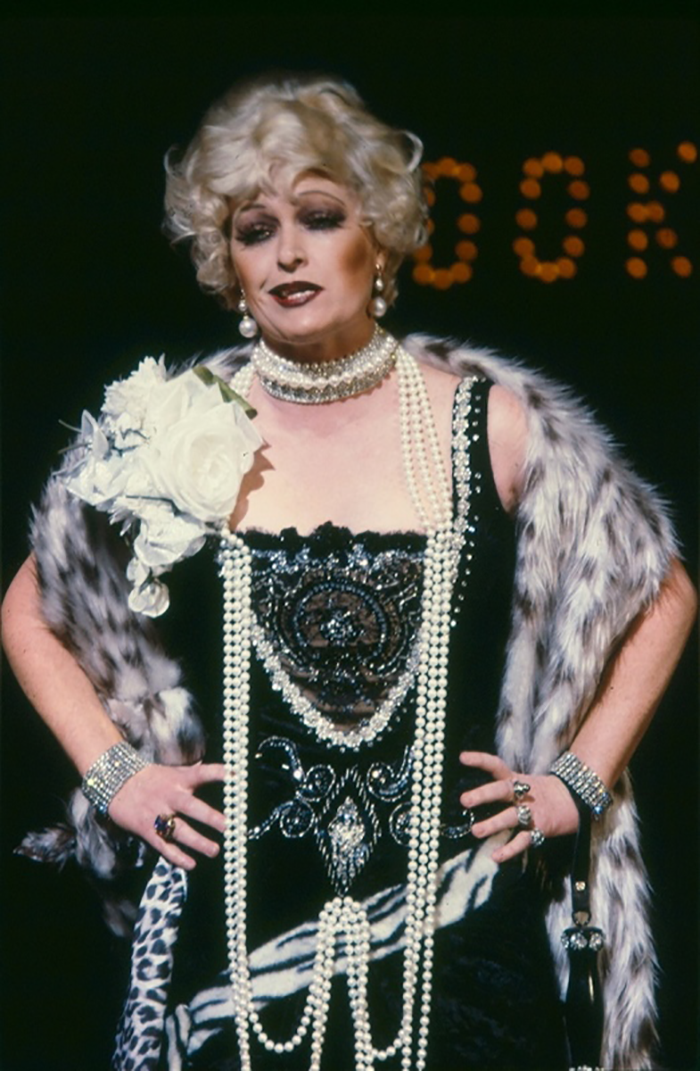 Judi Connelli in STC's Chicago, 1981 (Photo: Brett Hilder)



Geraldine Turner and Nancye Hayes in STC's Chicago, 1981 (Photo: Brett Hilder)
---
DARLINGHURST NIGHTS (1988)
Darlinghurst Nights was written by Katherine Thomson, based on poetry by Kenneth Slessor. Set in the 1930's in Sydney, the musical takes five characters from Slessor's work and brings them to life on stage. Directed by Terry O'Connell, this brand new Australian work also toured to Canberra for a season in the ANU Arts Centre.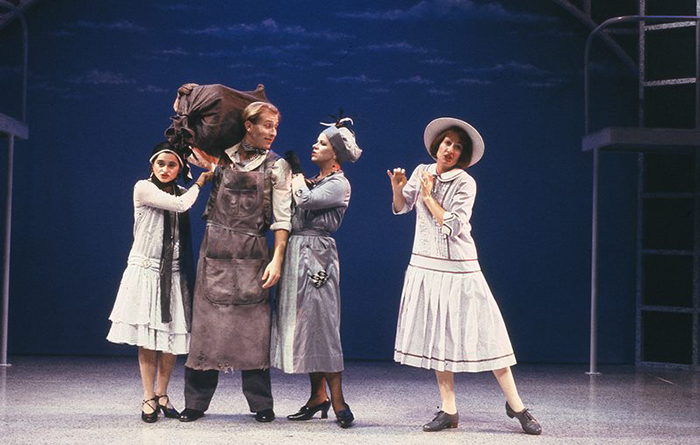 Kaarin Fairfax, David Whitney, Valerie Bader and Julie Haseler in STC's Darlinghurst Nights, 1988 (Photo: Branco Gaica)
---
DINKUM ASSORTED (1988)
An original STC commission, Dinkum Assorted was workshopped at the 1987 Australian National Playwrights' Conference in Canberra before its world premiere at the Sydney Opera House in 1988. The production then toured to Melbourne for a season at the Victorian Arts Centre. Written by Linda Aronson, this wild comedy centres around stories of women striving for personal and professional freedom.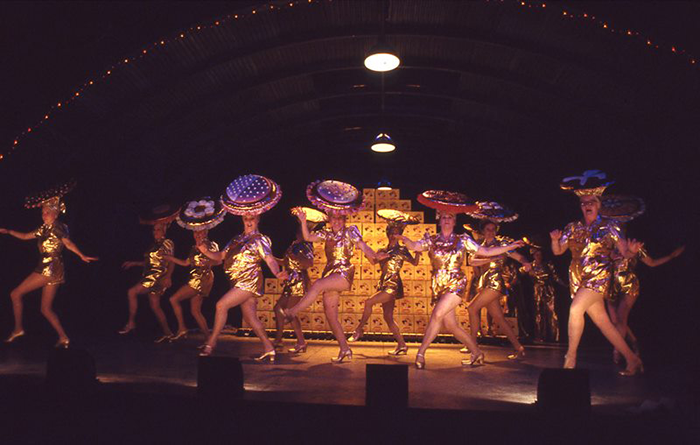 Cast of STC's Dinkum Assorted, 1988 (Photo: Branco Gaica)
---
THE RISE AND FALL OF LITTLE VOICE (1993, 1994)
This musical about a shy girl called Little Voice and her exuberant mother was written by Jim Cartwright, directed by Wayne Harrison and starred Amanda Muggleton – who won the Norman Kessell Memorial Award for Stage Performer of the Year for her role. The cast also included Magda Szubanski. Following a season at the Wharf Theatre, the production toured to Adelaide for a season at the Dunstan Playhouse.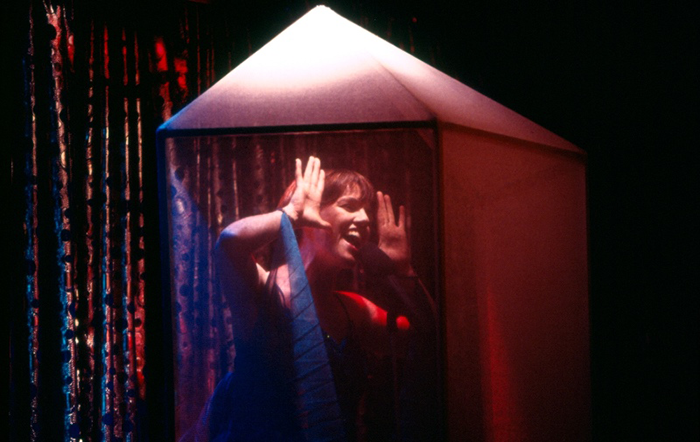 Angela Toohey in STC's The Rise and Fall of Little Voice, 1993 (Photo: Robert McFarlane)
---
FALSETTOS (1994)
Written by William Finn and James Lapine, Falsettos was also directed by Wayne Harrison. The cast included Gina Riley (also seen on the STC stage in Merrily We Roll Along in 1996 ), who won the Victorian Green Room Musical Theatre Award for Best Female Artist in a Leading Role for this production.
Following a season at the Drama Theatre in the Sydney Opera House, Falsettos embarked on a national tour to Victoria, Hobart and Canberra. Tony Sheldon also won the Green Room Award for Best Male Artist in a Supporting Role for the touring production.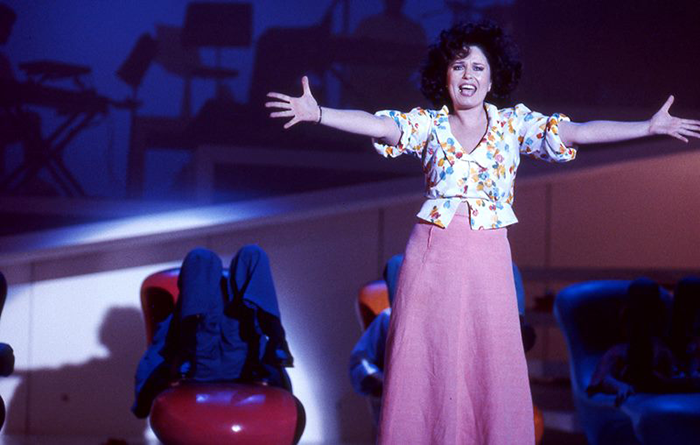 Gina Riley in STC's Falsettos, 1994 (Photo: Robert McFarlane)
---
THE CONVICT'S OPERA (2008, 2009)
The Convict's Opera follows a small group of Australia-bound convicts who put on their own production of John Gay's classic The Beggar's Opera in a play-within-a-play. In an international co-production with the London-based touring company Out of Joint, The Convicts' Opera featured five local Australian actors and four British actors. Rehearsed and mounted in Australia in 2008, the production embarked on an extensive UK tour in 2009.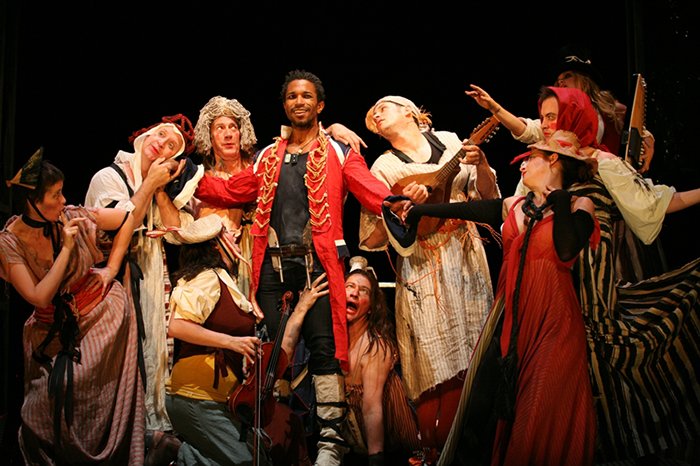 Cast of STC and Out of Joint's The Convict's Opera, 2008 (Photo: Olivia Martin-McGuire)
---
From Broadway to Sydney…
COMPANY (1986)
Mounted by STC in 1986, this classic musical was originally produced and directed on Broadway by Harold Prince in 1970. Composed of short vignettes, Company explores the concept of marriage against the idea of eternal singledom. The original production was nominated for fourteen Tony Awards and won six.
Cast of STC's Company, 1986 (Photo: Branco Gaica)
---
A LITTLE NIGHT MUSIC (1990)
STC's production of this Tony Award-winning musical hit the Drama Theatre stage in 1990. The musical follows the romantic lives of several couples as they meet for a weekend in the countryside where the twists and turns of the lovers' trysts are revealed. Directed by Wayne Harrison, the cast included Toni Collette (star of the original film of Muriel's Wedding).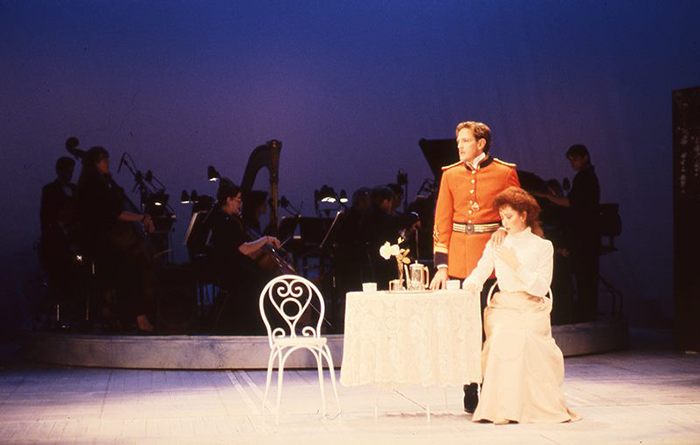 Michael Smith and Diane Smith in STC's A Little Night Music, 1990 (Photo: Hugh Hamilton)
---
INTO THE WOODS (1993)
STC's production of Into the Woods in 1993 was a highly technical and visually spectacular show. The musical follows a childless baker and his wife who are on a quest to start a family. Throughout the story, they encounter the characters of several fairytales including Cinderella, Little Red Riding Hood, Jack and the Beanstalk and Rapunzel.
Directed by Wayne Harrison, this production won a swag of awards including Best Musical and Best Male Performer: Philip Quast at the 1993 Sydney Critics Circle Awards, and Best Musical Production, Best Male Performer: Philip Quast, Best Musical Performer: Philip Quast, Best Performer in a Supporting Role: Sharon Millerchip, and Best Female Performer: Judi Conelli at the 1993 Mo Awards.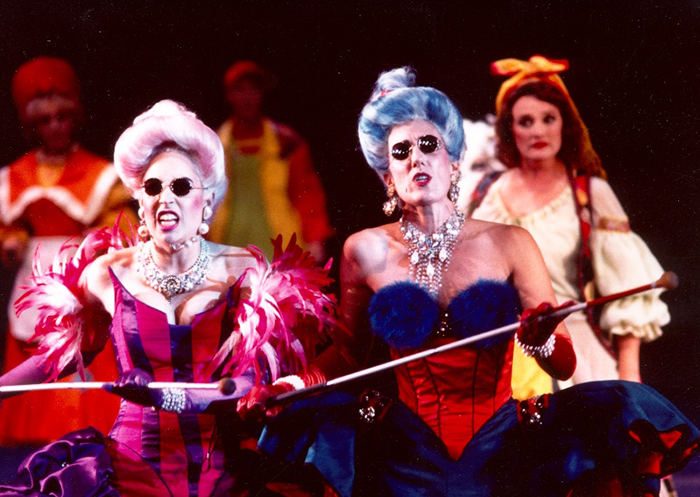 Jacqueline Linke and Jenny Vuletic in STC's Into the Woods, 1993 (Photo: Robert McFarlane)
---
MERRILY WE ROLL ALONG (1996)
A story of three friends told in reverse order, this production featured music by Stephen Sondheim, was directed by Wayne Harrison and staged at the Footbridge Theatre at Sydney University.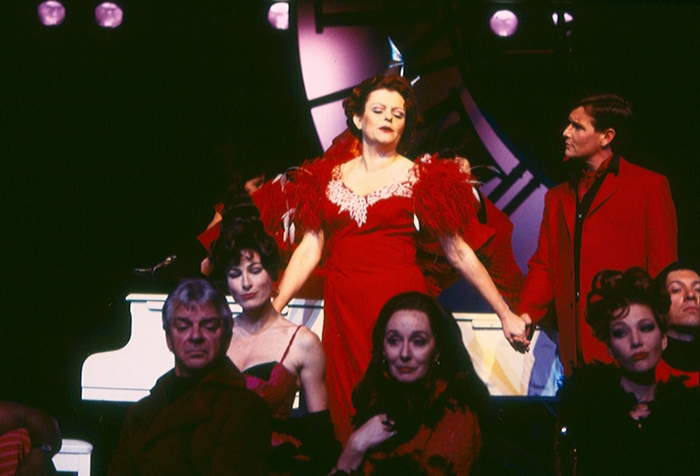 Genevieve Lemon and cast of STC's Merrily We Roll Along, 1996 (Photo: Robert McFarlane)
---
RENT (1998)
Based loosely on the story of La Bohème, Rent is a rock musical that tells the story of a group of young New Yorkers struggling to survive in the 90s. Rent was directed by Michael Greif and the cast included Natalie Bassingthwaighte and Christine Anu.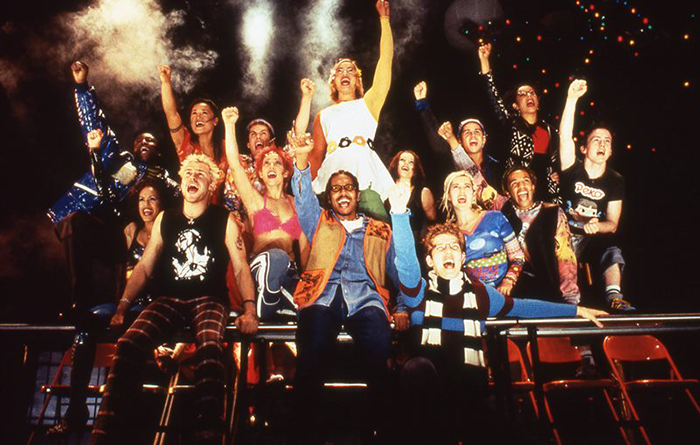 Cast of Rent, 1998 (Photo: Michael Le Poer Trench)
---
SPRING AWAKENING (2010)
This Tony Award-winning musical is based on the original play by Frank Wedekind and is written by Steven Sater. Set in late-19th-century Germany, the musical follows a set of teenagers and their discovery of sexuality. Directed by Geordie Brookman, this high-energy production was the most recent musical produced by STC.
Spring Awakening featured a very talented cast who would go on to exciting things. In the lead role, Clare Bowen played the innocent Wendla. Following a string of roles in TV and film, in 2012 Clare secured a main cast role in the US musical television series, Nashville. Known for originating the role of Glinda in the West End production of Wicked, Helen Dallimore played the adult female roles in this production. Following his role as Hanschen in Spring Awakening, Jamie Ward took over the role of Marius in the West End production of Les Miserables in 2013. And Tom Conroy is playing Winston in the national tour of 1984 which is coming to STC in June.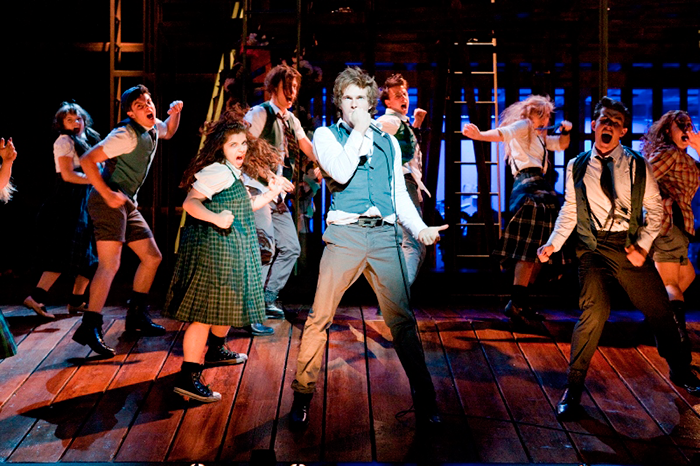 Cast of STC's Spring Awakening – A New Musical, 2010 (Photo: Brett Boardman)
---
New Australian works…
THE STRIPPER (1988)
The Stripper written by Carter Brown and directed by Brian Thompson invited the audience into Brown's iconic vision of the "world of Americana". A small production with only ten actors, this world premiere season played at the Kinsela's Theatre, one of Sydney's best-known cabaret style venues.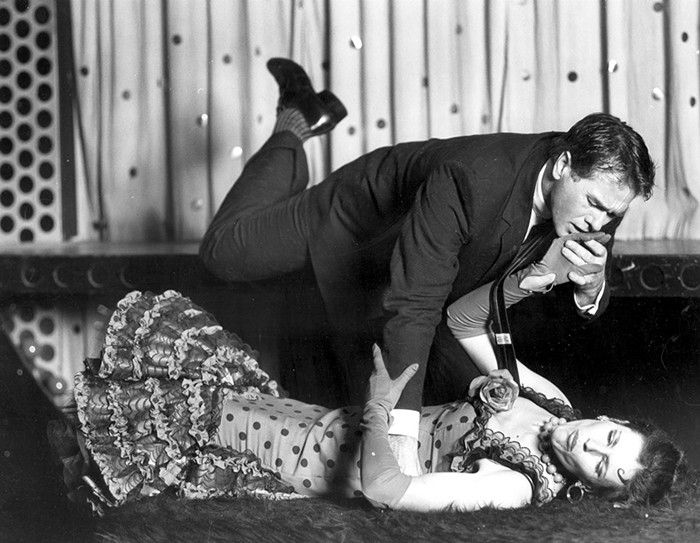 Terence Donovan and

Anne Grigg

in STC's The Stripper, 1982 (Photo: Brett Hilder)
---
JONAH JONES (1985)
Based on the novel Jonah by Louis Stone, Jonah Jones was one of the first two commissions in late 1979 funded by a grant from the Division of Cultural Activities of the NSW Government. It was then workshopped in 1981 and played a world premiere season in 1985. Written by John Romeril, Jonah Jones tells the ironic story of the capitalist rise of a hunchback shoe repairer.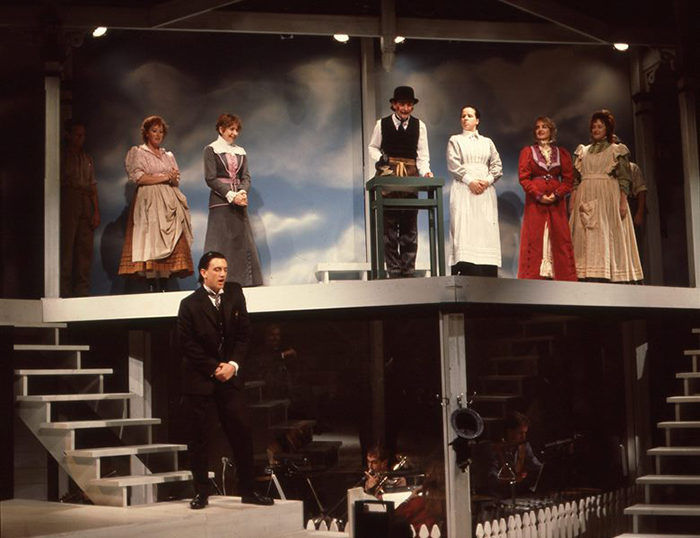 Simon Burke and cast of STC's Jonah Jones, 1985 (Photo: Brett Hilder)
---
SUMMER RAIN (1989, 2005)
This musical follows a theatrical family who are down on their luck. Desperate for an audience, they relocate to Turnaround Creek where the country folk welcome this distraction. Written and set in Australia, Summer Rain by Nick Enright was originally commissioned by NIDA and was subsequently revised as part of Sydney Theatre Company's 1989 season.
The production was revived in 2005 in which original cast members Nancye Hayes and Genevieve Lemon returned. This production was nominated for four Helpmann Awards and won a Sydney Theatre Award for Best Lighting: Damien Cooper.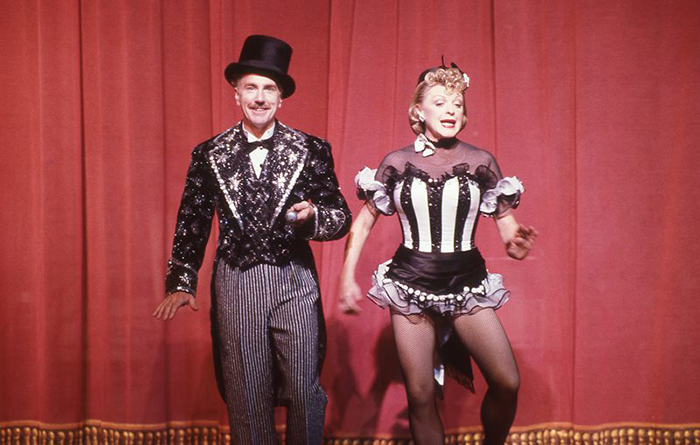 Peter Carroll and Nancye Hayes in STC's Summer Rain, 1989 (Photo: Sandy Edwards)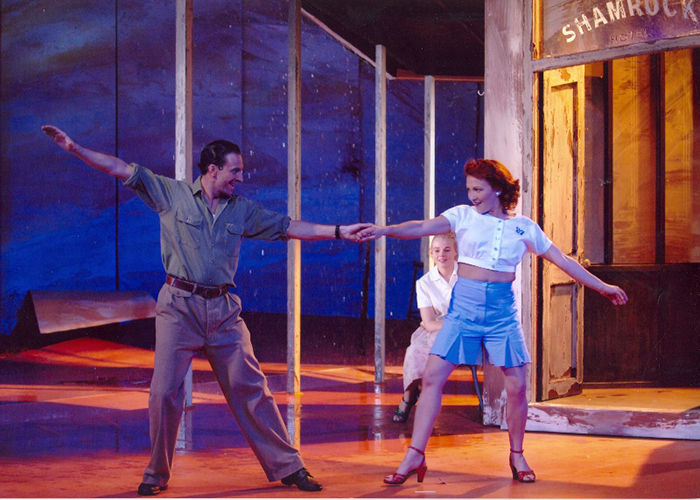 Mitchell Butel, Belinda Wollaston and Blazey Best in STC's Summer Rain, 2005 (Photo: James Morgan)
---
THE REPUBLIC OF MYOPIA (2004)
The Republic of Myopia was one of two new Australian works presented in celebration of the opening of the new Sydney Theatre (now Roslyn Packer Theatre). Written by Jonathan Biggins, Drew Forsythe and Phillip Scott (co-writers of The Wharf Revue), the comedic musical was set in the fictional European republic of Myopia. The musical follows the people of Myopia who live a peaceful and happy existence until an American envoy arrives and ventures to 'make things better'.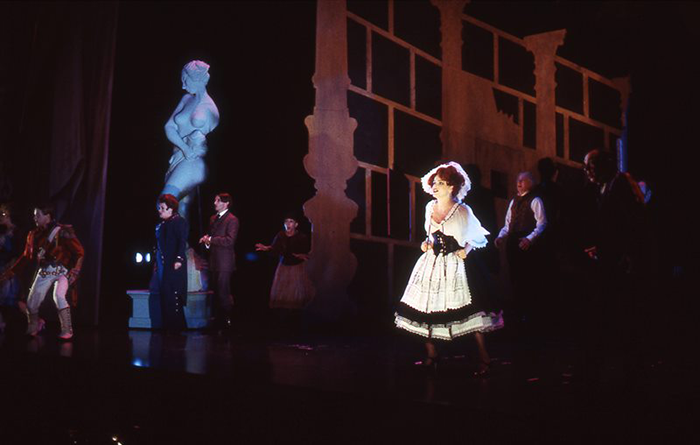 Cast of STC's The Republic of Myopia, 2004 (Photo: Tracey Schramm)
---
Muriel's Wedding the Musical, 6 Nov 2017 – 27 Jan 2018, Roslyn Packer Theatre
Seeing the show? Let us know your thoughts. Tag @sydneytheatreco #sydneytheatreco