It's always a pleasure to welcome Helen Thomson back to STC. Over almost two decades she's proven to be a comedic tour de force, sending audiences into stitches with her sparkling wit and incomparable timing. A veritable chameleon, Helen is as comfortable playing a glamorous housewife as a geeky Shakespearean tradesman. We last saw Helen in early 2019, playing none other than Queen Elizabeth in Kate Mulvany's gripping adaptation of Friedrich Schiller's Mary Stuart.
In 2020, she's back in Marieke Hardy's laugh-out-loud adaptation of a classic Dario Fo farce, No Pay? No Way!.
Here, we celebrate Helen's history with STC in pictures...
ARCADIA (1994)
Helen's first production with STC was the Australian premiere of Tom Stoppard's Arcadia in 1994, directed by Gale Edwards and also starring Hugo Weaving. (Photo: Tracey Schramm)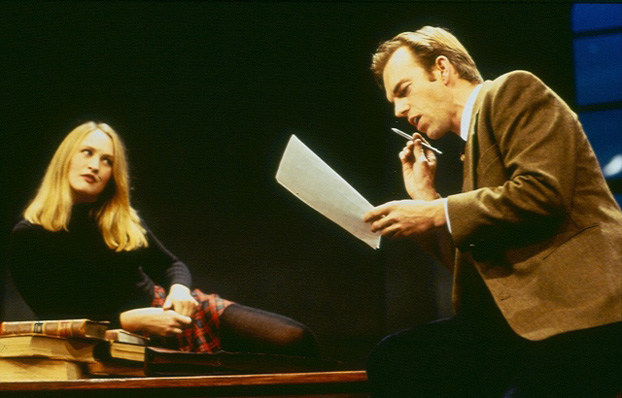 THE JOHN WAYNE PRINCIPLE (1996 & 1997)
The following year she was cast in The Shaughraun, and then in 1996 and 1997 she performed in The John Wayne Principle, written by STC's then Playwright-in-Residence Tony McNamara. This production began as a workshop, was then produced as part of the 'New Stages' season, before going on to a Main Stage season and a tour to Melbourne. (Photo: Tracey Schramm)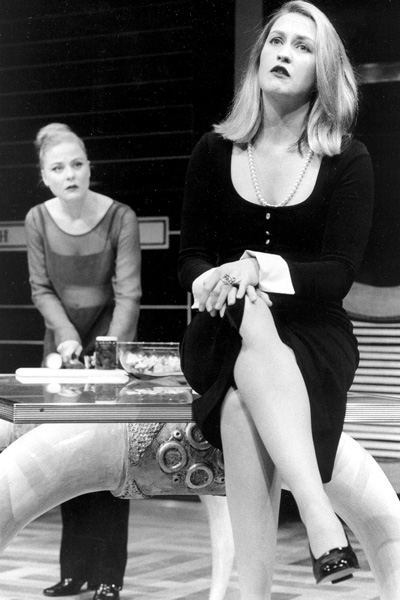 THE SCHOOL FOR SCANDAL (2001)
In 2001, Helen played Lady Sneerwell in a lavish production of Richard Brinsley Sheridan's The School for Scandal, directed by Judy Davis. (Photo: Tracey Schramm)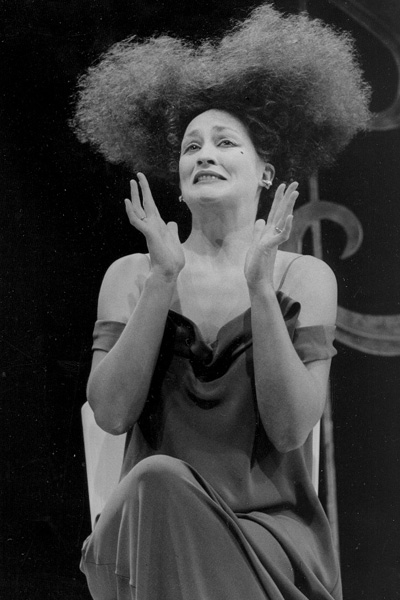 THE VIRGIN MIM (2002)
The following year Helen returned to STC for another Tony McNamara play, The Virgin Mim (which McNamara also directed), opposite Sophie Lee and Jeremy Sims. (Photo: Tracey Schramm)
THE SEASON AT SARSAPARILLA (2007)
Helen then became a member of the STC Actors Company and performed in three major productions in 2007. First there was Benedict Andrews' take on Patrick White's The Season at Sarsaparilla. (Photo: Tania Kelley)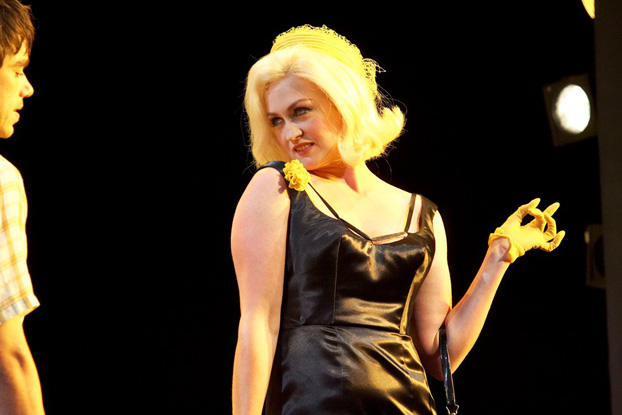 THE ART OF WAR (2007)
Later in the year, Helen was part of the ensemble rocking fatigues in The Art of War. (Photo:Tania Kelley)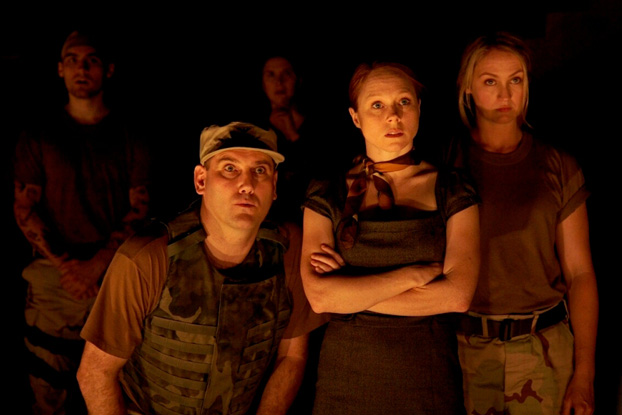 A MIDSUMMER NIGHT'S DREAM (2007)
Finally, she turned in a wonderfully comic performance as Quince in A Midsummer Night's Dream, alongside Peter Carroll. (Photo: Heidrun Löhr)
THE GOD OF CARNAGE (2009)
In 2009, Helen was part of a talented quartet of actors (with Marcus Graham, Sacha Horler and Russell Dykstra) in a Gale Edwards directed production of Yasmina Reza's The God of Carnage, in which she performed a truly spectacular and memorable vomiting scene. (Photo: Brett Boardman)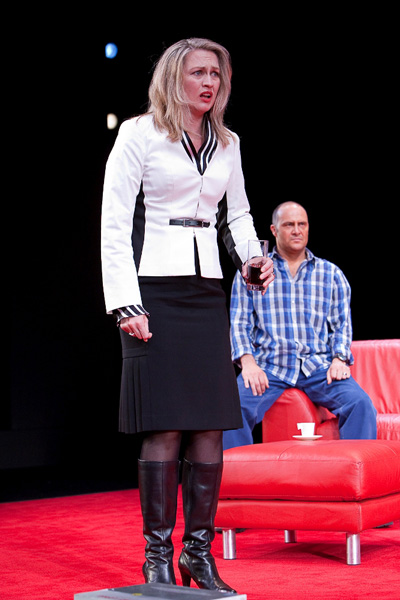 IN THE NEXT ROOM, OR THE VIBRATOR PLAY (2011)
In 2011, Helen played the giggling Sabrina Daldry in our plush production of In the Next Room, or the vibrator play, opposite Jacqueline Mackenzie. (Photo: Brett Boardman)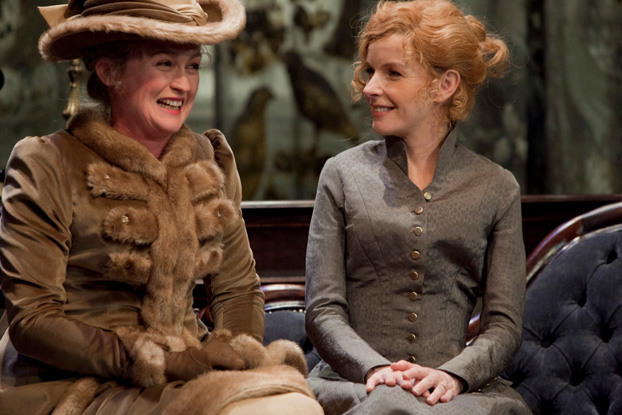 UNDER MILK WOOD (2012)
In 2012, she appeared in Under Milk Wood with Bruce Spence, directed by Kip Williams. (Photo: Heidrun Löhr)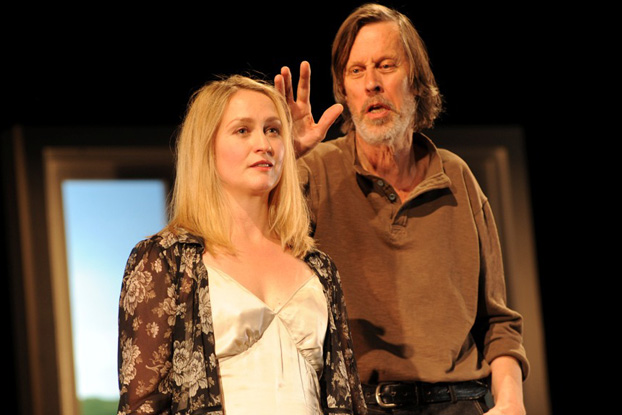 THE SPLINTER (2012)
Helen returned in the same year for The Splinter alongside Erik Thomson, directed by Sarah Goodes. (Photo: Brett Boardman)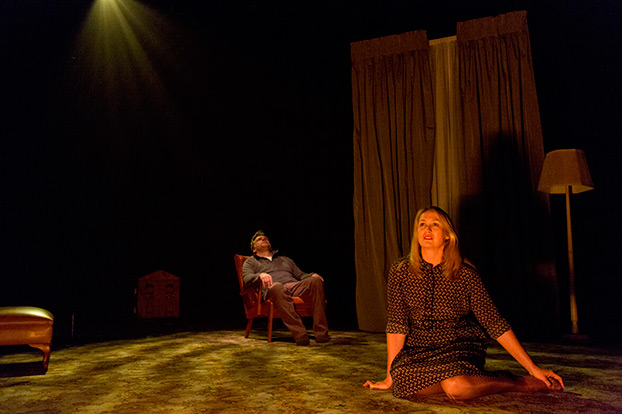 MRS WARREN'S PROFESSION (2013)
She played the title role in Sarah Giles' exquisite production of George Bernard Shaw's Mrs Warren's Profession. (Photo: Brett Boardman)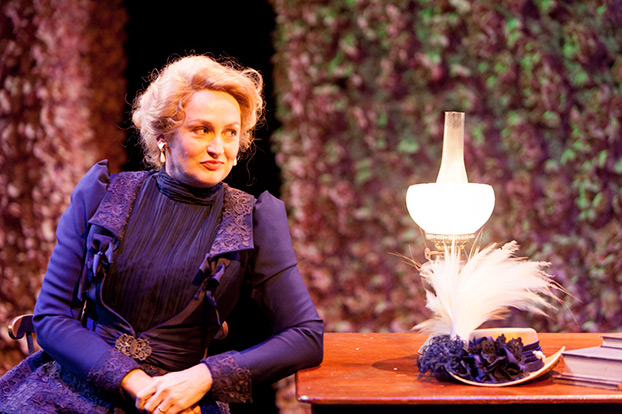 CHILDREN OF THE SUN (2014)
In 2014, Helen did her best to seduce Toby Truslove in Andrew Upton's adaptation of Maxim Gorky's Children of the Sun. To no avail. (Photo: Brett Boardman)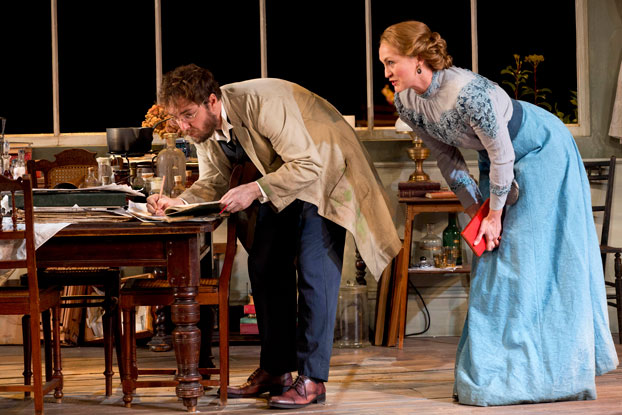 AFTER DINNER (2015)
Andrew Bovell's first play, After Dinner, was given a hilarious revival by director Imara Savage in 2015. Here, Helen entertains Anita Hegh and Rebecca Massey. (Photo: Brett Boardman)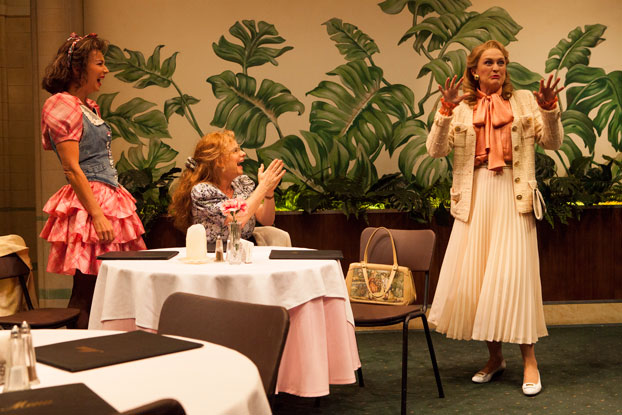 KING LEAR (2015)
In Neil Armfield's production of Shakespeare's classic, Helen played Regan – daughter to Lear. Here, she's pictured with her ill-fated husband Cornwall, played by Colin Moody. (Photo: Heidrun Löhr)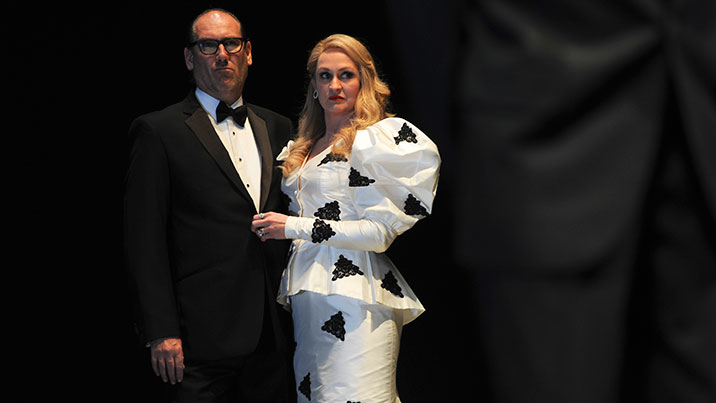 HAY FEVER (2016)
Like After Dinner the year prior, Hay Fever was a comedy directed by Imara Savage. In this play, written by Noël Coward, Helen played one of the house guests at a weekend away at the Bliss family home. Here she is with Heather Mitchell and Josh McConville when the fun was just getting started. (Photo: Lisa Tomasetti)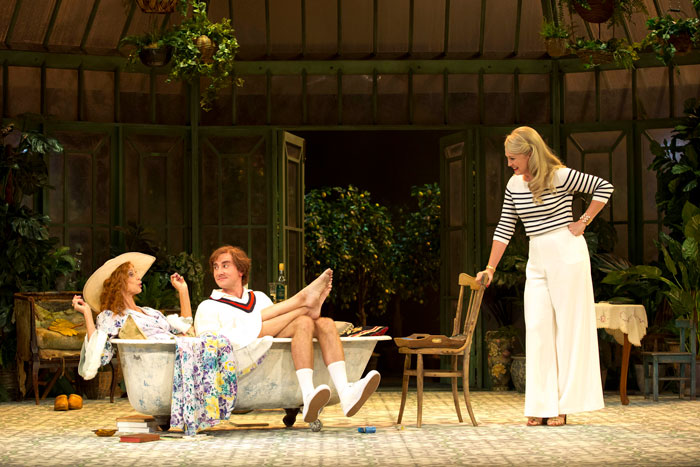 TOP GIRLS (2018)
In 2018 Helen Thomson played the unstoppable & high-powered Marlene in Churchill's modern classic Top Girls. Here she is pictured with Kate Box and Michelle Lim Davidson. (Photo: Brett Boardman)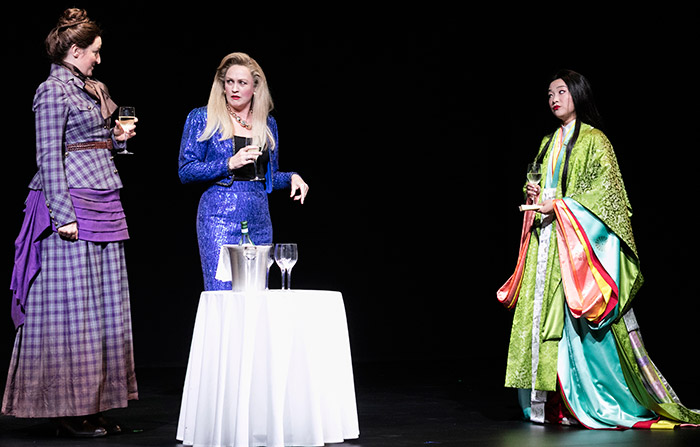 THE HARP IN THE SOUTH PART 1 AND PART 2 (2018)

Helen Thomson as Delie Stock in Kate Mulvany's epic new adaptation of Ruth Park's beloved trilogy The Harp in the South. (Photo: Daniel Boud)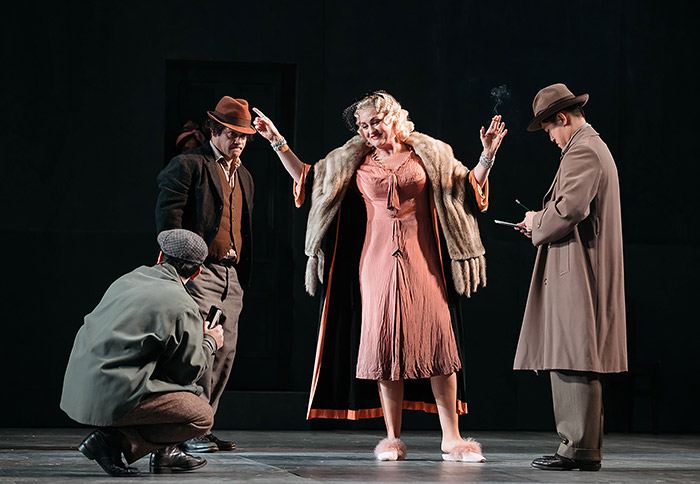 MARY STUART (2019)
In 2019, Helen Thomson took to the stage as Queen Elizabeth, in Kate Mulvany's powerhouse adaptation of Mary Stuart, by Friedrich Schiller. (Photo: Brett Boardman)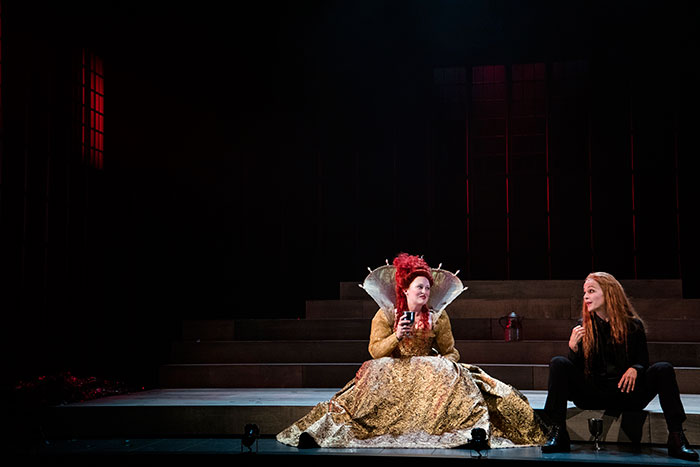 No Pay? No Way!, 10 Feb – 4 Apr 2020, Drama Theatre, Sydney Opera House
Seeing the show? Let us know your thoughts. Tag @sydneytheatreco and #sydneytheatreco