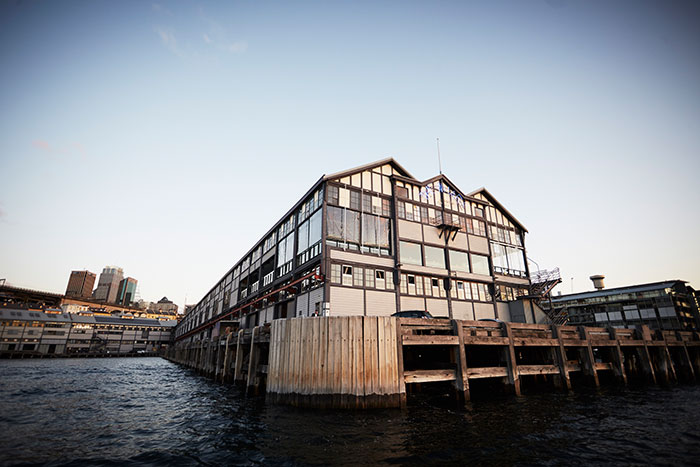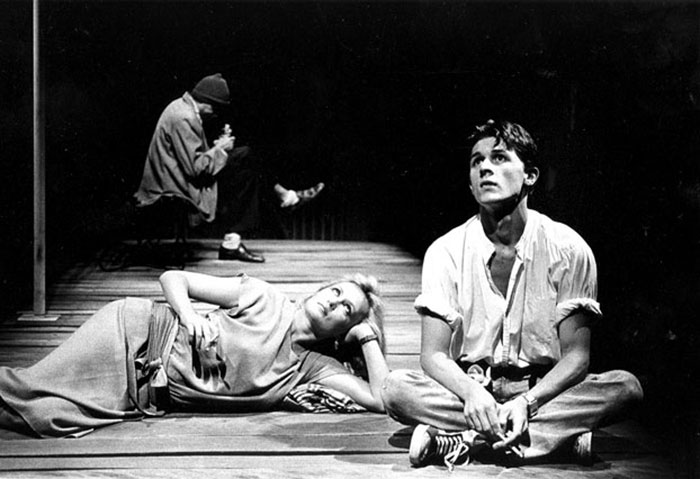 Kate Fitzpatrick, Drew Forsythe (at back) & John Polson in Late Arrivals, which opened 17 January 1985. (Photo: Andrew Southam)
The Bald Prima Donna, another production featured in Shorts at The Wharf, was the first play directed by then-Artistic Director Richard Wherrett for the new Wharf Theatre. A fast-paced, Absurdist classic, it was the debut play by Romanian-French playwright Eugene Ionesco whose seminal works, alongside those of playwrights like Samuel Beckett and Harold Pinter, gave rise to the notion of 'theatre of the Absurd'. The production starred Gary Files, Drew Forsythe (The Wharf Revue), Melissa Jaffer (The Long Forgotten Dream) and Diane Smith (who would later appear in A Country Practice and Muriel's Wedding).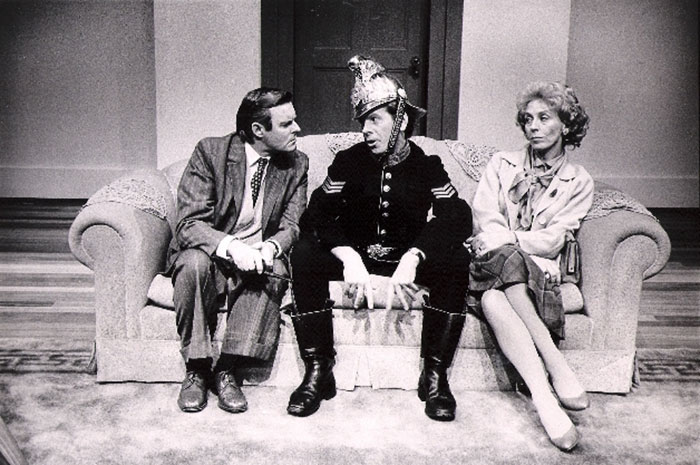 Gary Files, Terry Bader and Melissa Jaffer in STC's The Bald Prima Donna, part of Shorts at The Wharf, 1985. (Photo: Andrew Southam)
FIRST WHARF WORLD PREMIERE PLAY TO PREMIERE OVERSEAS
ON TOP OF THE WORLD (1986)
On Top of the Worldwas the first Wharf play to have an overseas premiere, playing at London's Warehouse Theatre in 1992. A two-act family drama, On Top of the World was received by STC as an unsolicited manuscript from famed Australian playwright Michael Gow in 1985. That year, the play was presented at a public reading, directed by Amanda Morris, before its world premiere in The Wharf Theatre in 1986, directed by Peter Kingston, and designed by Robert Kemp. The play's British premiere was produced by the Warehouse Theatre Company in partnership with Sydney Theatre Company, directed by Wayne Harrison, designed by John Senczuk, and with an Australian cast.
Read more about Michael Gow's long career at STC here.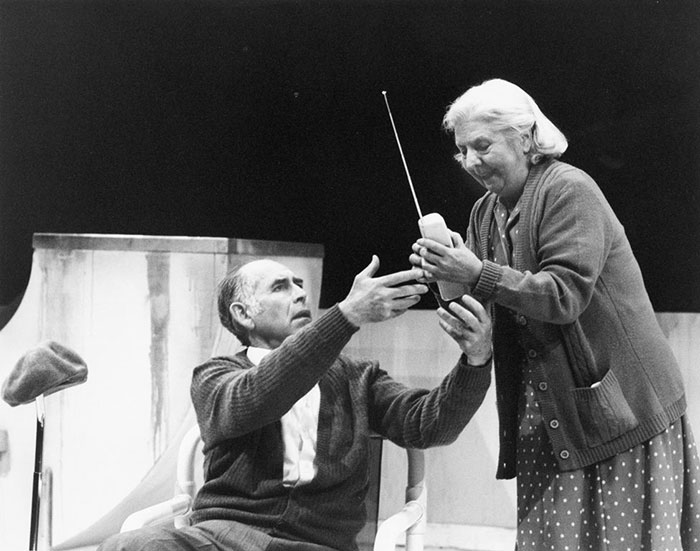 Ron Haddrick and Lois Ramsay in STC's On Top of the World, 1986, in The Wharf Theatre. (Photo: Hugh Hamilton)
FIRST RESIDENT COMPANY AT THE WHARF
SIX YEARS OLD (1988)
Six Years Old was a collaborative company formed in late 1987; an STC initiative, part of the Australian Bicentennial Authority's Arts Australia programme. Officially launched at The Wharf on 3 June, 1988, the company's Artistic Director was celebrated director Baz Luhrmann. He was joined by Gabrielle Baker (formerly of Anthill in Melbourne) and eight permanent actors. Artistically and financially autonomous from STC, Six Years Old was the first resident company at the Wharf Studio. For the 1988 Bicentennial programme, the company staged Haircut (devised from Hair by Gerome Ragni) on 23 July, Strictly Ballroom on 24 September, and Angels on 26 November.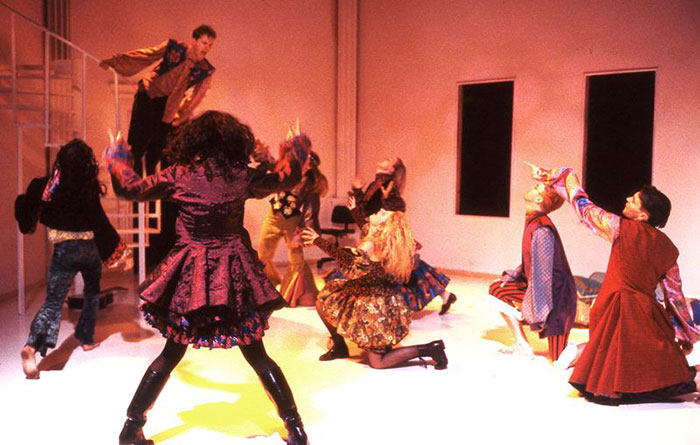 The cast of Six Years Old's Haircut, 1988, presented by STC as part of the 1988 Bicentennial programme. (Photo: STC)
FIRST PLAY WRITTEN SPECIFICALLY FOR THE WHARF
SIREN (1990)
In 1990, one of Australia's most celebrated playwrights, David Williamson, was commissioned to write a play specifically for the Wharf Theatre. The result was Siren, a play centering on Liz, a woman hired by undercover police to seduce a local councilor suspected of accepting bribes. Williamson scripted the set — a sleazy Central Coast motel room — to work perfectly in the intimate space of The Wharf.
Siren featured Andrea Moor and Tony Poli, and was directed by Richard Wherrett. It is one of two Williamson plays (the other being Top Silk) about men who had affairs that almost broke up their marriages.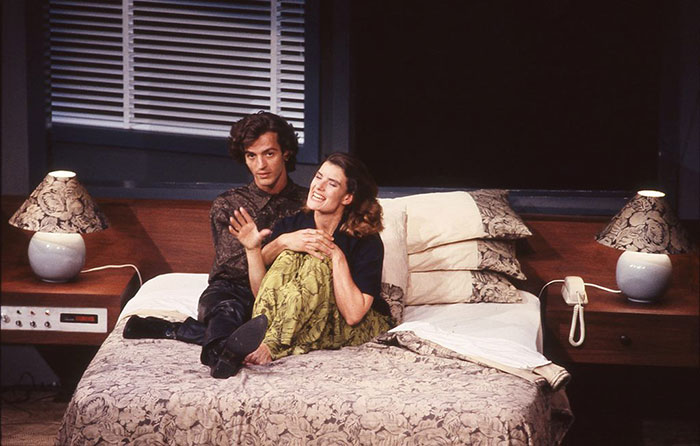 Tony Poli and Andrea Moor in Siren, by David Williamson, 1990 in The Wharf Theatre. (Photo: Stuart Campbell)
WAYNE HARRISON'S FIRST PLAY IN THE WHARF THEATRE IN HIS ROLE AS STC ARTISTIC DIRECTOR
BURN THIS (1990)
For his inaugural play as STC's newly appointed Artistic Director, Wayne Harrison directed Burn This by Lanford Wilson. Opening with the funeral of Robbie, a young, gay dancer, the production featured Heather Mitchell as Robbie's former dance partner and Richard Roxburgh as her hyperactive restaurant-manager love interest. Burn This touched on socially prevalent issues of gay identity and modern relationships, and was the beginning of Wayne's commitment as Artistic Director to showing diverse relationships (the heartbreaking A Little Night Music, 1990) and challenging audiences' expectations of theatre (the anti-Disney Into the Woods, 1993, and the dark allegory Happy Days, 1991).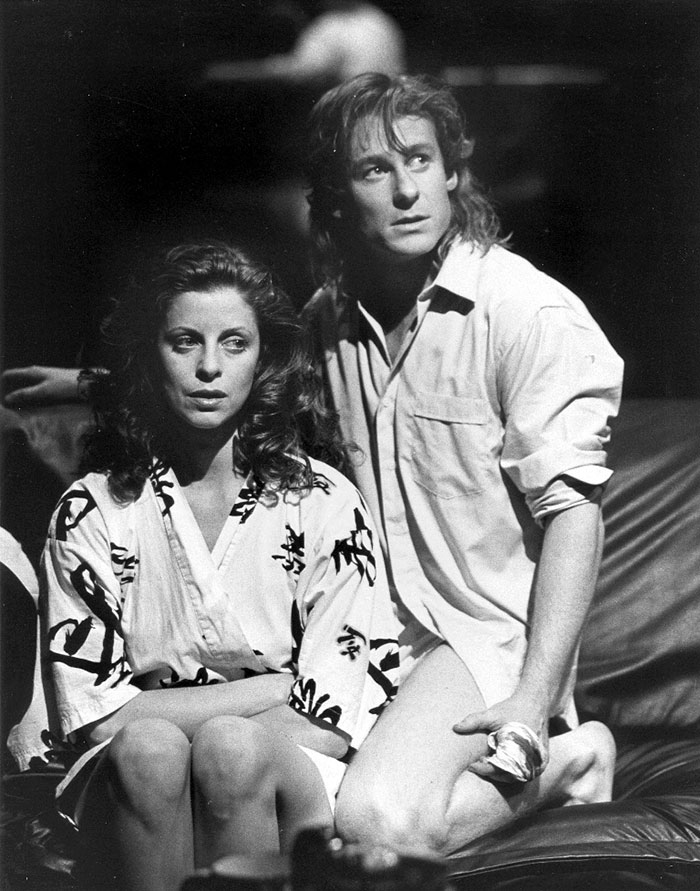 Heather Mitchell and Richard Roxburgh in STC's Burn This, 1990, in The Wharf Theatre. (Photo: Branco Gaica)
FIRST STC MUSICAL TO BE PRODUCED WITH THE ASSISTANCE OF FUNDS MADE AVAILABLE BY THE MACINTOSH FOUNDATION
MIRACLE CITY (1996)
Before Miracle City was revived as a Missy Higgins-led Opera House musical in 2017, it was a seldom produced Australian classic. The musical premiered in Wharf 2 as a 'workshop production' for STC New Stages: a program established in 1994 that sought to bring new Australian writing to the stage. Written by acclaimed writer Nick Enright (Lorenzo's Oil) and composed by Max Lambert, the play focused on a Tennessee evangelical family's dream to build the eponymous Christian theme park. Miracle City was the first STC musical to be produced with the assistance of funds made available by The Macintosh Foundation, set up by producer Cameron Macintosh for the production of new Australian musicals.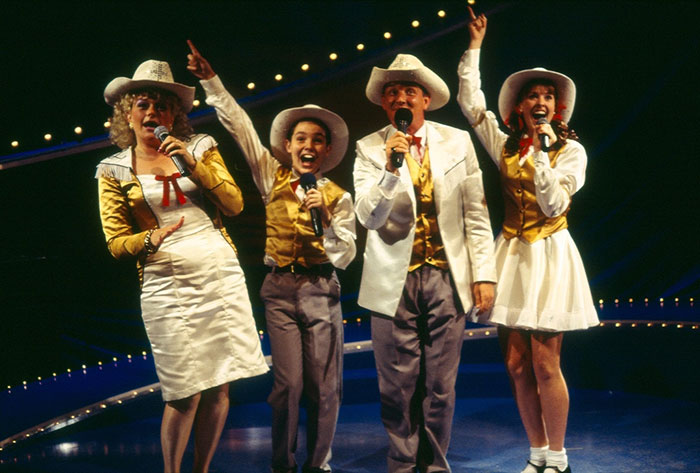 Genevieve Lemon, Stephen King, Tom Burlinson and Hayley Toomey in STC's Miracle City, 1996, for STC New Stages. (Photo: Tracey Schramm)
FIRST COLLABORATION WITH ATYP
SPURBOARD (1999)
In the years after STC moved into their newly renovated Wharf 4/5 home, a slew of Sydney's most innovative performing arts companies took up residence. One of course, was STC; another was the Australian Theatre for Young People (ATYP). So began a history of creative collaboration, beginning in 1999 with Spurboard, which followed the lives of a group of country town teens as they navigated their identity, sexuality and parents. Commissioned by ATYP, with funds from the Australia Council for the Arts, the play was also STC Education's first co-production with ATYP.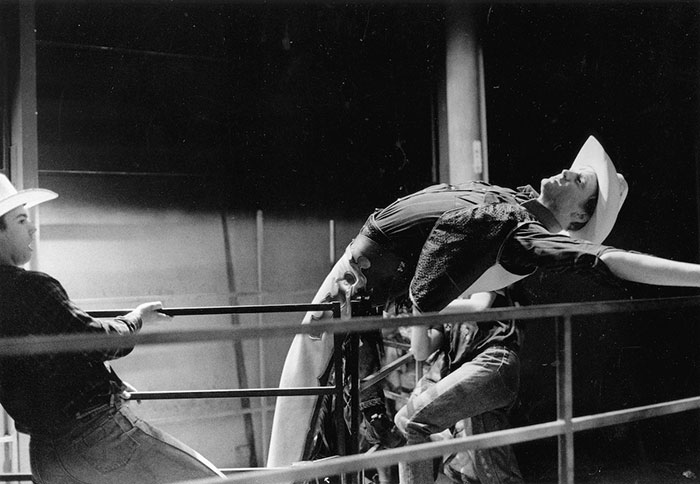 Adrian Jarrett and Christopher Baker in Spurboard, 1999, co-produced by ATYP and STC. (Photo: Tracey Schramm)
ROBYN NEVIN'S FIRST PLAY IN WHARF 1 IN HER ROLE AS STC ARTISTIC DIRECTOR
THE RECRUIT (2000)
For her first play in Wharf 1 as Artistic Director, Robyn Nevin directed The Recruit by Australian writer and Oscar nominee Tony McNamara. A world premiere, the production featured John Howard as sports agent Josher, and Leeanna Walsman as Niki. Robyn and John would not work together again until 2016, when they co-starred in STC's acclaimed staging of Arthur Miller's All My Sons.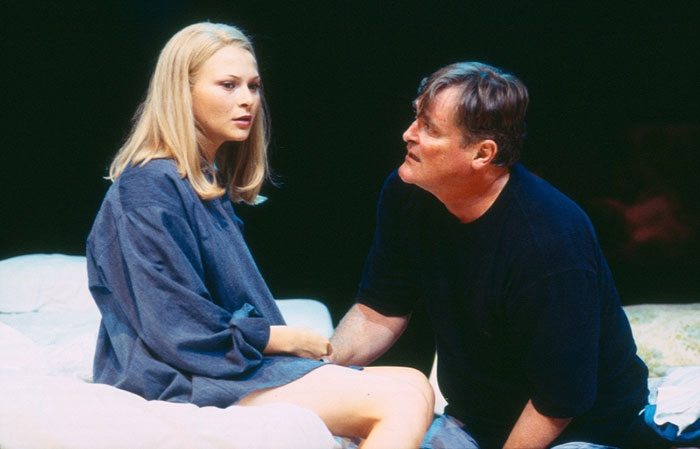 Leeanna Walsman and John Howard in The Recruit, opened 7 January 2000. (Photo: Tracey Schramm)
THE VERY FIRST WHARF REVUE SHOW
THE END OF THE WHARF AS WE KNOW IT (2000)
Since 2000, the satirical, side-splitting trio of Jonathan Biggins, Drew Forsythe and Phillip Scott have sung and danced their way into the hearts of STC audiences. The first Revue saw Jonathan, Drew and Phillip write and perform 'an hour of sketch comedy with songs and special guests' armed with nothing but a few props and their quick wit. It was a hit, with two subsequent productions featuring guest contributors such as Linda Nagle, Robyn Moase and Tony Sheldon throughout the year. Flash forward, and The Wharf Revue has become one of STC's most popular shows.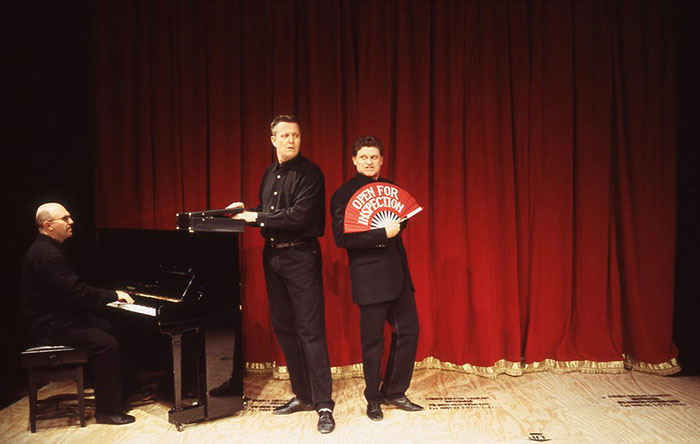 Phillip Scott, Jonathan Biggins and Drew Forsythe in The End of The Wharf As We Know It (The Wharf Revue), 2000. (Photo: Tracey Schramm)
THE INAUGURAL PRODUCTION OF THE STC ACTORS COMPANY
MOTHER COURAGE AND HER CHILDREN (2006)
Robyn Nevin has had a lifelong passion for creating safe, nurturing rehearsal rooms. In 2006, as then-Artistic Director, Robyn concretised her dream into the STC Actors Company: an ensemble of full-time actors (including Pamela Rabe, Deborah Mailman, John Gaden, Peter Carroll and Hayley McElhinney) employed for two years, full-time. This made STC the only state company in Australia to have a full-time ensemble. Actors chosen for the Company would be part of a collaborative space, where all voices were listened to. The inaugural production of the STC Actors Company was Bertolt Brecht's Mother Courage and Her Children, directed by Robyn Nevin herself. The ten plays by the STC Actors Company are some of the most celebrated in STC history. For Mother Courage and Her Children, both Hayley McElhinney and Colin Moody won Sydney Theatre Awards.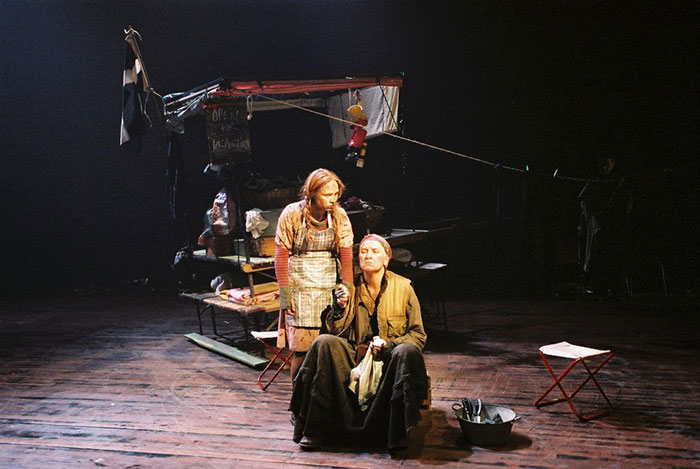 Hayley McElhinney and Pamela Rabe in STC's Mother Courage and Her Children, 2006 (for the STC Actors Company). (Photo: Heidrun Löhr)
THE FIRST PRODUCTION TO BE PERFORMED IN THE ROUND
BLACKBIRD (2007)
Directed by Cate Blanchett, this production of David Harrower's controversial play Blackbird was the first and only production to be performed in the round — that is, with audiences placed on all sides of the stage. The acclaimed drama, which won the 2007 Laurence Olivier Award for best new play, confronted audiences with its subject matter: the sexual relationship between a 12-year-old girl and a 40-year-old male neighbour. Following a season in Sydney, the production toured to New Zealand and later became the first STC production to tour to Germany, playing at the Ruhrfest at the Recklinghausen Festival.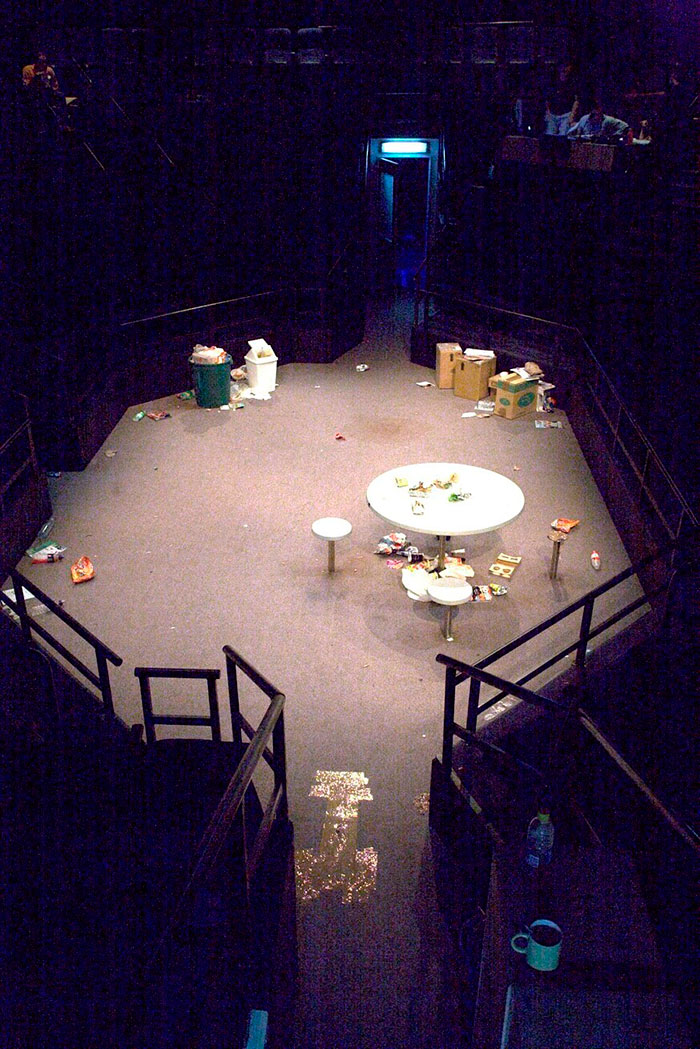 STC's Blackbird, 2007, set in the round in Wharf 1. (Photo: Tania Kelley)
CATE BLANCHETT'S FIRST PLAY IN WHARF 1 IN HER ROLE AS CO-ARTISTIC DIRECTOR
THE YEAR OF MAGICAL THINKING (2008)
The year after Robyn Nevin passed the Artistic Directorship over to Andrew Upton and Cate Blanchett, she fittingly appeared in a play directed by Cate. The Year of Magical Thinking is an intensely autobiographical work by Joan Didion, featuring Robyn as the author surrogate. It charts the painful year of grieving Joan experienced following the death of her husband, and the declining health (and eventual death of) of her daughter. Giorgio Armani, a patron of STC at the time, designed the costumes for the show.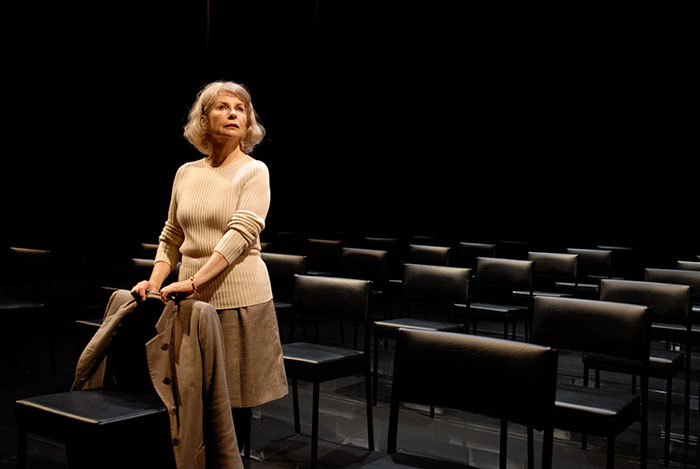 Robyn Nevin in The Year of Magical Thinking, 2008. (Photo: Heidrun Löhr)
ANDREW UPTON'S FIRST PLAY IN A WHARF THEATRE IN HIS ROLE AS STC CO-ARTISTIC DIRECTOR
THE MYSTERIES: GENESIS (2009)
Andrew Upton's first Wharf production as Artistic Director was a co-direction of The Mysteries: Genesis with Mathew Lutton and Tom Wright. The play, in a new version by Hilary Bell and Lally Katz, drew on the theatrical origins of medieval mystery plays, creating an immersive experience for audiences. The Mysteries: Genesis was the first main stage production with STC's ensemble of actors, The Residents — a reiteration of the former STC Actors Company developed by co-Artistic Directors Andrew Upton and Cate Blanchett. The ensemble of nine young actors performed stories of biblical proportion: from Noah's Ark to Cain and Abel.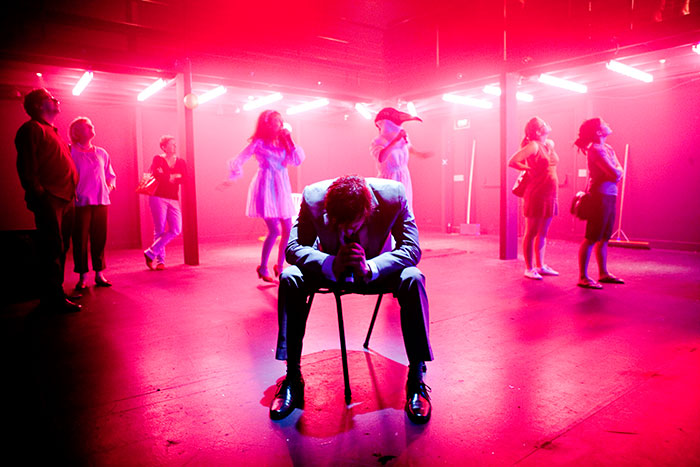 Audience members in promenade mode, with Julia Ohannessian to the left of Richard Pyros (seated), in STC's The Mysteries: Genesis, 2009. (Photo: Brett Boardman)
STC'S FIRST COLLABORATION WITH BANGARRA DANCE THEATRE
BLOODLAND (2011)
In 2011, STC teamed up with Wharf neighbour Bangarra Dance Theatre for Bloodland. This marked STC's first cultural collaboration with the iconic Aboriginal and Torres Strait Islander dance company. The groundbreaking production touched on classic issues of forbidden love, whilst highlighting the ongoing struggle by Aboriginal people to observe traditional lore in Westernised communities. Developed and directed by Wayne Blair, from a concept by Stephen Page, with story by Kathy Balngayngu Marika, Bloodland was performed in Yolngu language and pidgin English. The production had its World Premiere in Wharf 1.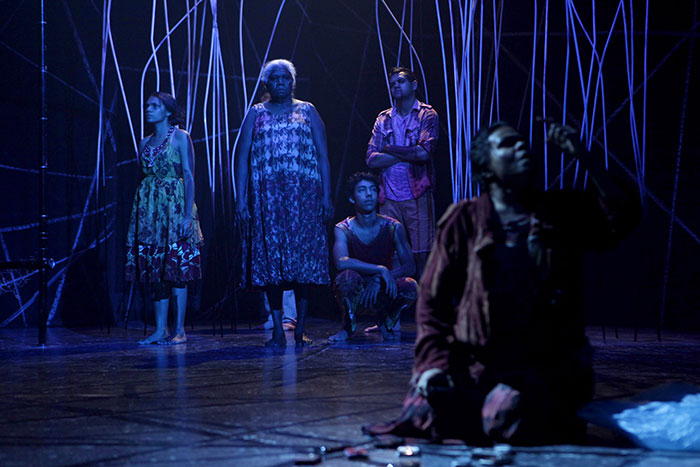 Rarriwuy Hick, Kathy Balngayngu Marika, Hunter Page-Lochard, Meyne Wyatt and Ursula Yovich in STC's Bloodland, 2011, in association with Bangarra Dance Theatre. (Photo: Danielle Lyonne)
ARTISTIC DIRECTOR KIP WILLIAMS' FIRST PLAY IN A WHARF THEATRE IN HIS ROLE AS STC ARTISTIC DIRECTOR
CLOUD NINE (2017)
Although he had been the Interim Artistic Director for the three months prior, Kip Williams officially became STC's Artistic Director in November 2016. His first play in the Wharf in this new role was Caryl Churchill's scandalous and brilliantly subversive Cloud Nine. Challenging expectations around gender and race, the production continued Kip's exploration of Churchill's work following his 2015 staging of Love and Information. Designed by STC Resident Designer Elizabeth Gadsby, Cloud Nine featured Harry Greenwood (Cat on a Hot Tin Roof), Kate Box (ABC's Rake), Heather Mitchell (Away), and Anthony Taufa (Black is the New White).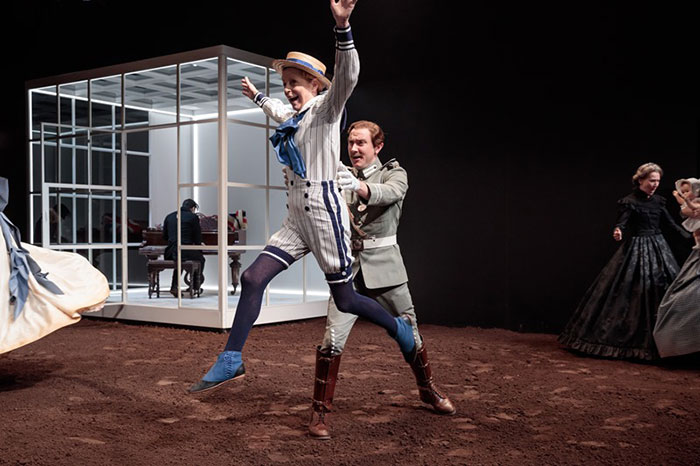 Heather Mitchell, Josh McConville and Anita Hegh in STC's Cloud Nine, 2017. (Photo: Daniel Boud)