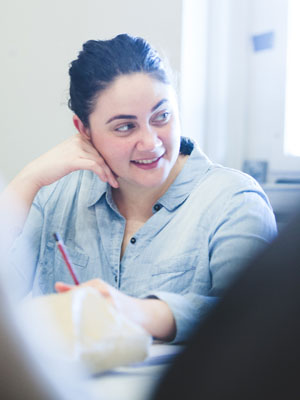 As with most of us, actor and director Shari Sebbens's 2020 looks a little different to what she'd expected.
The Bardi, Jabirr-Jabirr woman is a tireless advocate for Indigenous theatre and performance, particularly contemporary pieces, and always chooses roles that reflect the vastness and diversity of Australian experience, illuminating our present by helping us understand our past.
"I'm a big believer in knowing exactly where you came from to know where you're going," she says, from her Sydney home – a home that has seen a surprising amount of theatre action in the last few weeks.
In 2019, she made the leap into the realm of directing, nabbing Sydney Theatre Company's distinguished Richard Wherrett Fellowship for emerging and developing directors. This year, Shari was set to helm her first production: a restaging of Deborah Mailman and Wesley Enoch's seminal Indigenous play The 7 Stages of Grieving. But quarantine regulations and social distancing brought those plans to a halt. STC is planning to stage the play next year but, in the meantime, Shari has had to get creative about the way she brings Indigenous stories to audiences.
---
Shari Sebbens in rehearsals for Black is the New White (2017)
---
While you might know her from her many stage and screen roles, including Charlotte Gibson in Nakkiah Lui's smash-hit comedy Black is the New White, one of three cast members in the Angus Cerini's brilliant and brutal The Bleeding Tree and Kay in The Sapphires, Shari has spent the last few weeks doing something quite different. Partnering with STC's Associate Director Paige Rattray, she's been working on a series of to-camera pieces from some of Australia's most important plays – all of them written by First Nations playwrights.
"I thought this would be a really great way to look at the history of Black Theatre, through a new format. You often feel like theatre, and Black Theatre especially, isn't easily accessible to the people it really should be talking to most of the time, so I was really excited to reach an Indigenous audience that might not have known about these pieces before."
While Indigenous audiences are at the forefront of her mind, the accessibility and immediacy of video means other audiences, who may not usually connect with Indigenous theatre, have an exciting new entrypoint.
"It's been so lovely to touch on things, and look at the breadth of our storytellers, because I think audiences can quite easily go, Black Theatre, that's about tragedy and trauma and drama and yes, it is, but amongst that is joy and love and moments of humanity that apply to everyone. So, to be able to take something out of context, and still have it still make so much sense, that's a testament to the quality of the writing, and that's exactly what it is our Black writers try and cover, and what they try and bring to Australian audiences. It's a real gift."
This process, of taking monologues or pieces out of their plays and largely stripping them of context, is a nuanced task. It is Shari's close relationship with Paige that helps draw down the meaning and sentiment of whole plays into short excerpts.
"Paige and I have such a great shorthand, we've worked together and I feel like so much of my career is moulded around my working rapport with Paige, and we're best friends in real life so that helps. Which means we can jump on and have a chat, I film something, send it to her, she sends me notes back. Our shorthand definitely takes a lot of time out of it. It's been a great way for us to keep creating together. It's been very fun in amongst all this strangeness."

The videos are a way of connecting with wider audiences but they're also a means to helping an Arts community in crisis.
"We thought, how can we support other artists through this? … People who have lost a lot of work."
Shari hopes that the videos will not only entertain, but provide a unique, raw insight into the process of bringing theatre to the stage.
"People are getting to see what it might be like on our first day of rehearsals. If something has been shot take after take, it's different. I mean, right now, we could just go in and fix it on these videos, but we actually try and do them in one or two goes."
There is something, in this time of social distancing, communal about video. It mimics the shared storytelling experience we cherish in live theatre, and reminds us of the power of plays, storytelling and connection. For Shari, it is a way of continuing her mission to bring more – and more diverse – people to the theatre; a warm, accessible way to invite new audiences into an institution that can seem intimidating on the outside.
"I like the lo-fi [aspect] of it, I like taking the reverence out of it a bit. That's one of the lessons I'd like to come out of this time period with, how do we keep getting people in Orange, or Darwin".
"Because theatre should be for everyone."