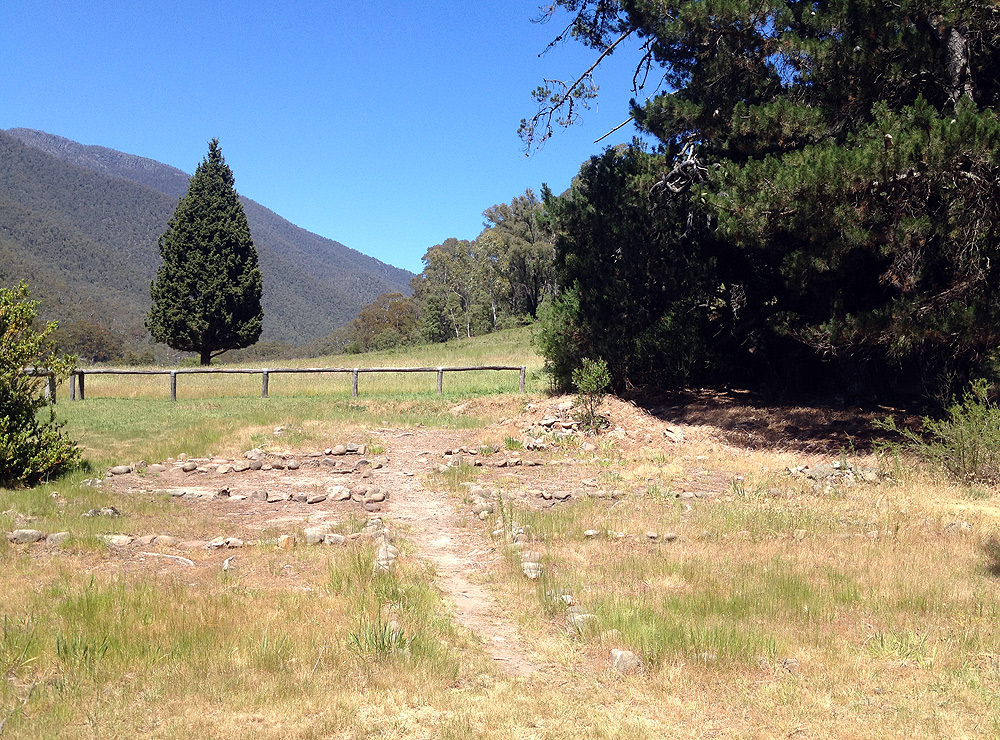 CONTENT WARNING: Includes references to violence.
SPOILER ALERT: This description of true events reveals some plot points from Wonnangatta the play.
In late February, 1918, the small, cattle-rearing community of Wonnangatta in rural Victoria was shaken by a series of brutal murders. The deaths of station manager James "Jim" Barclay, and his cook and station hand John Bamford, baffled police. To this day they remain the subject of local and national fascination, and the area itself has taken on a gothic mythology.
It is this mythology, and his documented interest with the underbelly of civil life, that drew the eye of celebrated playwright Angus Cerini. While Cerini's Wonnangatta, named for the fateful town, opened this month, the harrowing real events that inspired the play occurred over a hundred years ago, in the summer of 1917/18.
In 1916, Jim Barclay, then in his late 40s, was hired to manage the Wonnangatta cattle station. After losing his wife to Tuberculosis, and sending his infant son away to live with relatives, Barclay led a solitary life. His closest relationships were with his beloved dog, Baron, and the stepson of the station's original owners, Harry Smith, who lived in nearby Eaglevale.
The following year, Barclay brought on John Bamford, a cook in his 50s, to assist him on the station. Originally from England, Bamford had landed in Black Snake Creek, just under two hours out of Wonnangatta. Over the twenty years that he'd lived in Victoria, Bamford developed a reputation for violence and a quick temper. Accusations that he had strangled his wife followed him from town to town, though he was never charged.
On December 20, Barclay and Bamford travelled over 30km to Talbotville to vote in the 'Reinforcement Referendum', a country-wide plebiscite on the introduction of conscription during World War I. They began the trip back to Wonnangatta early the next morning. Neither of them were seen alive again.
A month later, Harry Smith travelled to Wonnangatta station to deliver mail. Seeing nothing besides a scrawled note from Barclay indicating that he'd be 'home tonight', Smith waited for Barclay and Bamford's return. After two days, Smith gave up and went back to Eaglevale, leaving the mail behind.
When he returned on February 14, he noticed the mail untouched and Baron hungry and neglected. The sight of Barclay's adored dog in such a state was enough for Smith to raise the alarm. Nine days later, the owners, Arthur Phillips and Geoffrey Ritchie, reached Wonnangatta from Mansfield. Together, they searched the area, and discovered the heavily decomposed body of Barclay, identifiable only by his belt and tobacco pouch. Though someone had attempted to bury him, the grave proved too shallow and scavengers had sniffed out the remains.
On their return to Mansfield, Phillips and Ritchie contacted police, who were dispatched from Melbourne. The remains were sent back to Mansfield for post-mortem. On their first night on Wonnangatta station, while preparing dinner, police discovered the pepper container in the kitchen was laced with strychnine, a pesticide used to kill small rodents. They also discovered a recently-fired shotgun, and the house in a state of disarray. On their journey back, police spied Bamford's horse, unsaddled and running free, its rider nowhere to be seen.
The post-mortem revealed that Barclay had died from a shotgun wound to the back of his head. Bamford, still missing, immediately became the prime suspect, and a large-scale search of the Mount Howitt region took place.
In November 1918, almost a year after Barclay's remains surfaced, police – alongside Harry Smith and other local bushmen – discovered a boot hidden amongst a pile of logs. Below, Bamford's body was found. The post-mortem would reveal he was killed in the same manner as Barclay.
Though theories abound as to the true killer of both Barclay and Bamford, none have ever been satisfactorily proven, and no arrests have ever been made. Police at the time believed that Bamford had killed Barclay, and that Bamford had been subsequently shot in revenge by a friend of Barclay's. Suspicion for a time fell on Harry Smith, but he was never charged. Many locals consider the two men to have fallen victim to stock thieves, but no cattle were missing from the station.
To this day, disappearances continue to happen around Wonnangatta. As recently as March this year, a pair of friends aged in their 70s went missing. Their campsite was found burnt. Whether it was deliberately lit or simply an out-of-control campfire remains unclear. Their last known contact was from Wonnangatta station.
Now, the mystery surrounding the tragic deaths of Barclay and Bamford will be immortalised in Wonnangatta, Angus Cerini's dark, gripping ode to a rural town and its century of secrets.
Sources
McAloon, Catherine 2010. 'Murder files: the Wonnangatta station killings' for ABC Gippsland, abc.net.au/local/audio/2010/05/31/2914117.htm
4WD Addition 2017. 'The Wonnangatta Murders – Do We Finally Know Who Did It?', 4wdaddiction.com.au/wonnangatta-murders/
For more information about Wonnangatta head to our online program note here.