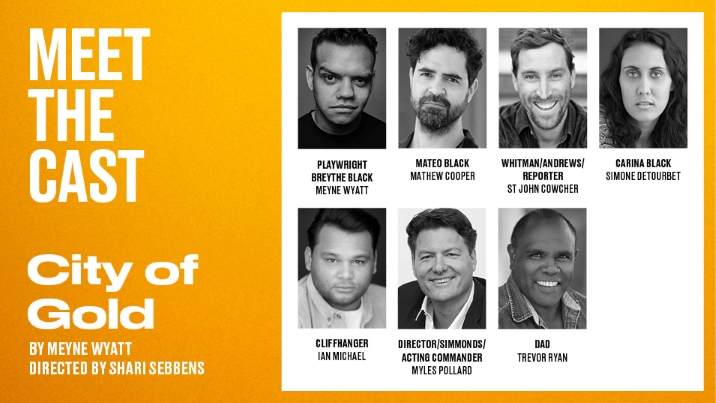 CITY OF GOLD
By Meyne Wyatt
Directed by Shari Sebbens
Writer and performer Meyne Wyatt is bringing his acclaimed play City of Gold to Sydney Theatre Company in a new production directed by our Resident Director, Shari Sebbens. Inspired in part by Wyatt's own experiences, City of Gold is a moving portrayal of one family desperately working to break cycles of discrimination and a gripping piece of First Nations drama. Meet the incredible cast bringing this "much-needed and significant play" (The West Australian) to life.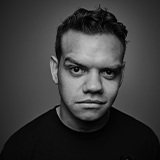 Meyne Wyatt - Writer/Breythe Black
Meyne Wyatt is an award-winning Wongutha-Yamatji performer, writer and director. Meyne's first short film, which he wrote and will direct, is being produced by Bunya Productions and supported by Screen Australia. Meyne wrote a one-hour episode for Season 1 of Netflix's reboot of Heartbreak High; and is currently working in many writing teams for television projects, from drama to comedy. In addition, Meyne is under commission by Sydney Theatre Company to write a new play. In 2020, Meyne was awarded the Packing Room Prize in the Archibald Prize, the most prestigious award for visual art in Australia, for his self-portrait. Meyne's debut play City of Gold (2019), which he also starred in, had a smash-hit world premiere at Queensland Theatre and transferred to Griffin Theatre Company where it sold out. City of Gold was shortlisted for the 2020 NSW Premier's Literary Award. At the 2019 Sydney Theatre Awards, City of Gold was nominated for Best New Australian Work and Wyatt won Best Male Actor in a Leading Role. He is currently developing City of Gold for television with Bunya Productions. After graduating from the National Institute of Dramatic Art as an actor, Meyne's performance in Lachlan Philpott's Silent Disco (Griffin Theatre Company) earned him an award for Best Newcomer at Sydney Theatre Awards. Other theatre performances have included King Lear, Bloodland (Sydney Theatre Company), Peter Pan, Buried City (Belvoir) and Gloria (Griffin Theatre Company). Meyne's television credits include the ABC's tele-movie The Broken Shore (2013), and Redfern Now (2013), for which he earned nominations for Most Outstanding Newcomer at the 2014 Logie Awards and Best Lead Actor in a Television Drama at the 3rd AACTA Awards. From 2014 to 2016 he also appeared in Neighbours, making history as the first Indigenous actor to join the main cast. Following this, Meyne appeared in Black Comedy (ABC, 2016), The Leftovers (HBO, 2017), the AACTA award winning series Mystery Road (SBS, 2018) and Les Norton (ABC, 2019). For film, Meyne has featured in The Sapphires (2012), The Turning (2013) and Strangerland (2015) opposite Nicole Kidman and Hugo Weaving.
---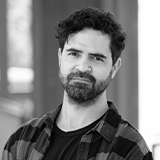 Mathew Cooper - Mateo Black
Mathew's stage appearances include Boy Swallows Universe for Queensland Theatre, City of Gold for Griffin Theatre, Cracked and The Sum of Us for Yirra Yaakin, The Season for Performing Lines, Stolen for National Theatre of Parramatta, Lucky for MTC/Neon, and the Belvoir Street Theatre/IlbijerriTheatre Company co-production, Coranderrk. Feature film appearances include The Marshes, a psychological horror film directed by Roger Scott. He has also appeared in numerous short films, including Last Drinks at Frida's for Magpie Pictures. Mathew played Damo in Blackfella Films' critically-acclaimed television series screened on ABC TV, Redfern Now, and, more recently, he appeared in series three of Janet King, also for ABC TV. He graduated from WAAPA acting 2012.
---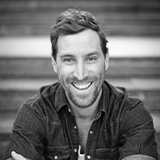 St John Cowcher - Whitman/Andrews/Reporter
St John is an actor, theatre-maker and puppeteer. He works with many excellent companies including Black Swan State Theatre Company, Barking Gecko Theatre, and The Last Great Hunt. He is an associate artist with Spare Parts Puppet Theatre, Weeping Spoon Productions, Variegated Productions and The Big Hoo-Haa, and a proud Equity Australia member since 2015. Recent credits include; Playthings (Black Swan and The Blue Room Theatre), Ragnarøkkr, Frankie's (MultiPAWA & Blue Room Award Winner), My Robot (PAWA Award Winner), Laika: A Staged Radio Play (PAWA & Blue Room Award Winner), Bambert's Book of Lost Stories (Helpmann Award Winner), and The Man and the Moon (Martin Sims Nominee).
---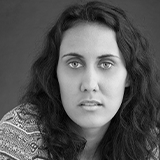 Simone Detourbet - Carina Black
Simone is a Perth-based emerging actor, writer and director from Darwin. She is a Malak Malak (NT) and Gooniyandi (WA) woman and attended the Western Australian Academy of Performing Arts in 2015-16, completing the Aboriginal Theatre Course and the Screen Performance Course. She has worked as an actor in Conversations With the Dead with Yirra Yaakin Theatre Company (2017), Less Light (2018), Grace (2019) and I Feel Fine (2019) and was the assistant director on Let Me Finish (2018/19). Simone has participated in several artist residencies, recently the 2020 Perth Festival Lab and PLWA CALD residency. Since 2016, Simone has been developing film and theatre projects with various artists and as part of a creative team with Nicholas Harle, more recently working on various documentary projects.
---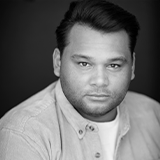 Ian Michael - Cliffhanger
A proud Noongar man, Ian has carved out a career as an actor, director and writer following his graduation from the Western Australian Academy of Performing Arts, working for leading arts companies across Australia. In 2022 he was appointed STC's latest Richard Wherrett Fellow, a year-long opportunity for emerging directors. Prior to this he was a Resident Artist at Black Swan State Theatre Company from 2018-2020 and their Artistic Associate in 2021. Ian worked with STC in 2020 as Assistant Director on Kip Williams' adaptation of The Picture of Dorian Gray and returned as Assistant Director for Shari Sebbens on The 7 Stages of Grieving in 2020. This year, Ian has again worked as Assistant Director on The Picture of Dorian Gray for the Sydney encore season and tour, as well as performing in City of Gold and working as Associate Director on Strange Case of Dr Jekyll and Mr Hyde.
---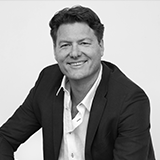 Myles Pollard - Director/Simmonds/Acting Commander
Myles is perhaps best known for playing the lead role of Nick Ryan in the long running Nine Network's series McLeod's Daughters - voted Australia's most popular television series of all time. He has appeared in many Australian television series including Wildside, Water Rats, All Saints, East West 101, Underbelly, Sea Patrol, Packed to the Rafters, Double Trouble, Home and Away, Mystery Road, The Heights, The War That Changed Us and Itch 2. Myles leading feature film credits include Drift opposite Sam Worthington, XMen Origins: Wolverine opposite Hugh Jackman, Looking for Grace opposite Richard Roxburgh and Odessa Young, Jasper Jones opposite Toni Collette and Hugo Weaving, The Gateway opposite Jacqueline McKenzie, Danger Close opposite Travis Femmel, How To Please A Woman opposite Sally Phillips and Erik Thompson, and the upcoming film Before Dawn opposite Levi Miller and Ed Oxenbould. Myles has worked as an actor with respected Australian theatre companies including Ensemble, Black Swan, Bell Shakespeare, Belvoir Street, Brisbane Powerhouse and Theatre 180 on shows including Sydney II Lost and Found (Theatre 180), Extinction, A Midsummer Night's Dream, Boy Gets Girl, The Glass Menagerie (Black Swan), The Winter's Tale, Romeo And Juliet (Bell Shakespeare), The True Story Of Butterfish (Brisbane Powerhouse), Mistero Buffo (Belvoir Street), and End Of The Rainbow (Ensemble).
---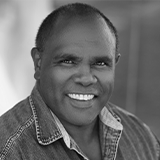 Trevor Ryan - Dad
Trevor is a Noongar/Yamatji actor based in Perth, Western Australia. He graduated from the National Institute of Dramatic Arts in 2006 with a Bachelor of Arts (Acting). Trevor has performed in countless theatre productions including: Sunday in the Park at the Seymour Theatre Company, Shakespeare in the Park - Comedy of Errors and The Tempest as 'Balthasar' and 'Caliban', Nyungar Sonnets at the Globe Theatre in London, Jandamarra for Bunaba Productions, Yirra Yaakin Theatre Company's FIFO as 'Jono'; and also Yirra Yaakin's Hecate, which was an adaption of Shakespeare's play Macbeth, translated into the traditional language of the Noongar people. Trevor is also a part of the Wadumbah Aboriginal Dance Group, who have performed in various countries throughout the world, including the Queen's visit to Perth for the CHOGM, as well as Good Day Australia Week in Los Angeles, France, China, Mauritius, and Seychelles. On screen Trevor plays 'Baz' in the ABC TV series The Heights (2020), 'Robert' in the ABC TV series The Circuit, 'Jack in a Box' in the TV mini-series Thalu (2020), and 'Black Elvis' in Neomads (2019). Trevor is currently studying a Masters of Arts (Performing Arts) at the Edith Cowan University. His performance exegesis is titled Revitalising Noongar Country through Performance.
---
City of Gold, 7 May – 11 Jun 2022, Wharf 1 Theatre