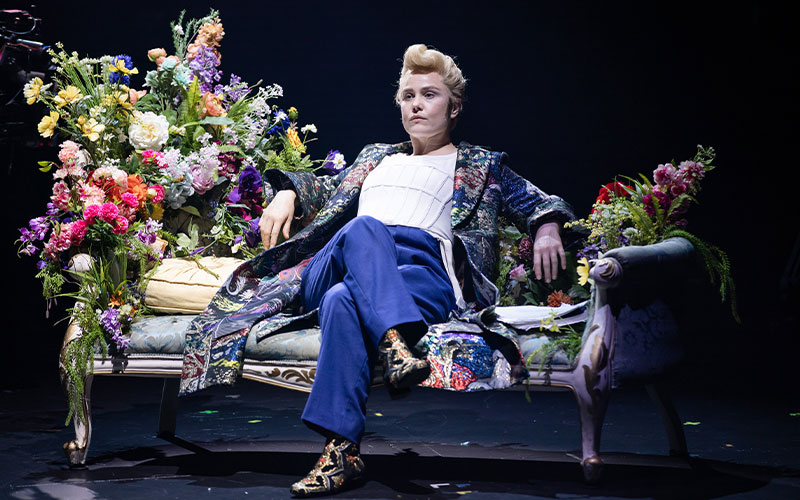 Sydney Theatre Company is incredibly proud to have won nine Sydney Theatre Awards across four productions – The Picture of Dorian Gray, Fun Home, Home, I'm Darling and No Pay? No Way!.The Company received 22 nominations in total and extends congratulations to all nominees for creating phenomenal theatre during what has been a very tough two years.
Artistic Director Kip Williams' adaptation of The Picture of Dorian Gray – which returns for an encore season this March – took out four awards including Best Mainstage Production, Best Direction of a Mainstage Production (Kip Williams), Best Performance in a Leading Role in a Mainstage Production (Eryn Jean Norvill) and Best Stage Design of a Mainstage Production (Marg Horwell and David Bergman).
Upon accepting his award, Williams thanked the Sydney Theatre Awards and its judging panel for "championing the work", which is going to be toured nationally and internationally through an historic first-look agreement with the Michael Cassel Group.
"It was a very personal work for a lot of reasons and your embrace of this work, the way you engaged with it on all levels, meant a great deal to us all who made it and it's also thanks to your championing of the show that it is going to have a future life as well," Kip said.
Eryn Jean Norvill said it was an honour to have her "very personal" performance acknowledged by the Sydney critics.
"This is a one-person show but the energy, authorship and ownership of this piece is so incredibly shared amongst a team of legends," Eryn said in her acceptance speech.
"It's very rare that I feel like I am one person standing on a stage as I have many, many hands on my back, and one of those hands is Kip Williams'. He's my longtime friend and collaborator and his brain, his risk and his invitation continues to invite me, and I am very proud and honored. This is a very personal story for me. I feel so empowered because the room, the process and the show is so brave, and it says a lot of the things that I want to say about the world and I think that's really important for me as an artist right now - to keep growing. The most exceptional thing about this piece is that we had a great time - such joy. That was the pursuit, such joy, and I'm really glad that that was the bedrock of something like this to be acknowledged."
Fun Home, a co-production with Melbourne Theatre Company took out three awards for Best Lighting (Matt Scott), Best Musical Direction (Carmel Dean) and Best Direction of a Musical (Dean Bryant).
In a speech read out by Kip who accepted on his behalf, Dean Bryant thanked the panel for "their continued support of Australian creatives".
"Thank you to the stellar cast, crew and creatives who brought their skill and compassion to Alison Bechdel's story, especially Clemence Williams, Isabel Hudson and Carmel Dean for sharing not only their skills, but their lived experience with the room," Dean said.
"We wouldn't have made it without the courage and tenacity of STC and MTC. As we head towards our Melbourne previews, and the obstacle course of attempting to keep a musical featuring 9 children playing during Omicron's endless farewell tour, it's a privilege to work in an industry that continues to rise up, time and again, to tell stories like Fun Home."
In a speech read out by STC's Casting Director Alex Souvlis who accepted on her behalf, Carmel Dean said "the stars had aligned" so that after 20 years overseas she could return home to Australia and music direct a show while many of the world's theatres had shut their doors.
"This show which, as a gay woman, resonated close to my heart; this show whose composer had been a mentor and was now a friend of mine in New York; and this show whose writers were the first female team to win a Tony Award for Best Original Score," Carmel said.
"I was the lucky one who got to bring this seminal score to life, here on my beloved home turf, at the highly esteemed Sydney Theatre Company. Blessed doesn't begin to cover it. May we all continue to be blessed by the stars aligning when we least expect them to, and maybe, if we're really lucky, they will even lead us home."
Actor Aaron Tsindos took home an award for Best Supporting Performance in No Pay, No Way! and Genevieve Blanchett won for Best Costume Design on Home, I'm Darling.
STC Sydney Theatre Award winners:
The Picture of Dorian Gray. Photo by Daniel Boud
BEST MAINSTAGE PRODUCTION
The Picture of Dorian Gray
BEST PERFORMANCE IN A LEADING ROLE IN A MAINSTAGE PRODUCTION
Eryn Jean Norvill (The Picture of Dorian Gray)
BEST DIRECTION OF A MAINSTAGE PRODUCTION
Kip Williams (The Picture of Dorian Gray)
BEST STAGE DESIGN OF A MAINSTAGE PRODUCTION
Marg Horwell and David Bergman (The Picture of Dorian Gray)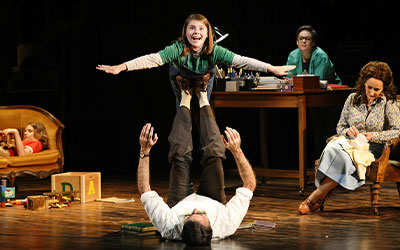 Fun Home. Photo by Prudence Upton
BEST LIGHTING DESIGN OF A MAINSTAGE PRODUCTION
Matt Scott (Fun Home)
BEST MUSICAL DIRECTION
Carmel Dean (Fun Home)
BEST DIRECTION OF A MUSICAL
Dean Bryant (Fun Home)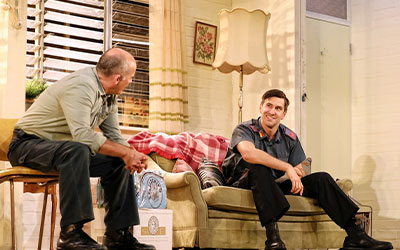 BEST PERFORMANCE IN A SUPPORTING ROLE IN A MAINSTAGE PRODUCTION
Aaron Tsindos (No Pay, No Way!)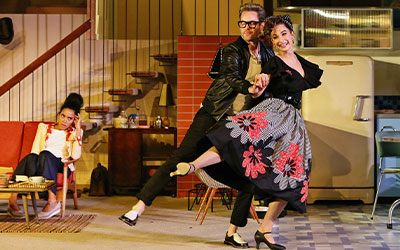 Home, I'm Darling. Photo by Prudence Upton
BEST COSTUME DESIGN OF A MAINSTAGE PRODUCTION
Genevieve Blanchett (Home, I'm Darling)

STC Sydney Theatre Award nominees:
STC creatives and productions were also nominated for a further 13 awards, including:
BEST PERFORMANCE IN A SUPPORTING ROLE IN A MAINSTAGE PRODUCTION
Lucy Bell (Appropriate)
Heather Mitchell (Playing Beatie Bow)
BEST STAGE DESIGN OF A MAINSTAGE PRODUCTION
Alicia Clements (Fun Home)
Elizabeth Gadsby (Appropriate)
BEST COSTUME DESIGN OF A MAINSTAGE PRODUCTION
Renée Mulder (Playing Beatie Bow)
BEST LIGHTING DESIGN OF A MAINSTAGE PRODUCTION
Nick Schlieper (The Picture of Dorian Gray)
Trent Suidgeest (Appropriate)
BEST SOUND DESIGN OF A MAINSTAGE PRODUCTION
David Bergman (Playing Beatie Bow)
Clemence Williams (The Picture of Dorian Gray)
BEST PRODUCTION OF A MUSICAL
Fun Home
JUDITH JOHNSON AWARD FOR BEST PERFORMANCE IN A LEADING ROLE IN A MUSICAL
Lucy Maunder (Fun Home)
BEST PERFORMANCE IN A SUPPORTING ROLE IN A MUSICAL
Maggie McKenna (Fun Home)
BEST PRODUCTION FOR YOUNG PEOPLE
Playing Beatie Bow (Sydney Theatre Company)