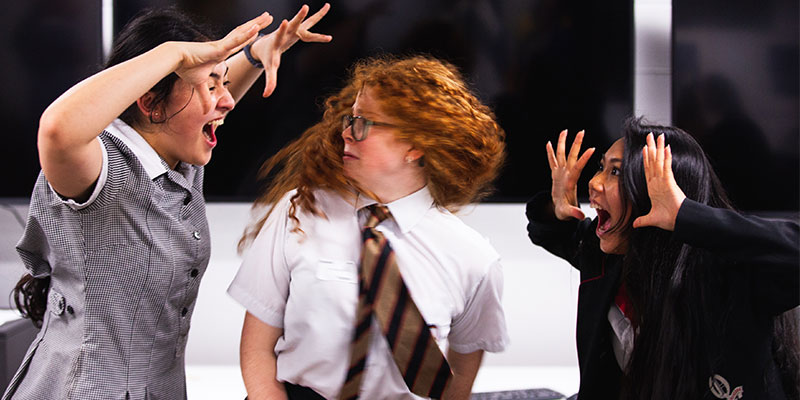 The Young Wharfies are heading online. Part free-learning program, part theatre social group, Young Wharfies is an integral part of Sydney Theatre Company's commitment to young audiences, and the future of Australian theatre.
In 2020, twenty theatre-loving Year 11 students were chosen from a pool of hundreds of applicants. The selected students are from a wide range of schools across Greater Sydney, Central Coast and Shoalhaven areas. Over the course of the conventional program, Young Wharfies attend seven shows and participate in five workshops with STC's Resident Artists, across all areas of theatre — from acting and directing, to design and theatre criticism. But, as you might expect, 2020 is a little different.
While the twenty Wharfies did manage to see the deeply moving drama The Deep Blue Sea, and the riotous comedy No Pay? No Way! at the beginning of the year, the arrival of social distancing regulations and changes to the 2020 season put a dent in the program. With many of the plays they had yet to see regretfully cancelled, and face-to-face workshops no longer possible, STC's Education team looked to new technologies and the online sphere to continue providing the Young Wharfies with food for thought.
One such event was a recent panel with actors (and STC favourites) Anita Hegh and Anthony Taufa, hosted on Zoom by members of our Education team. For Young Wharfie Tony Ray Ray, a student at Strathfield South High School, going online was a crucial way to stay connected to STC staff, artists and to fellow Young Wharfies.
"Although the experience was online, it didn't detract from the quality of the workshop… We Wharfies submitted questions beforehand and got to throw in some wildcard questions for the actors."
The Young Wharfies were asked to prepare questions for Anita and Anthony on the topic of 'Creating A Character'.
"We learnt a lot about the preparation behind developing a character, portraying a character and the application of various techniques or methods. Furthermore, we learnt the strengths and nature of particular techniques in addition to the specific situations where they would yield a realistic and understandable character."
Anita and Anthony's session was centred on technique, but it also gave the actors the opportunity to share some invaluable advice about what it's really like working in the theatre. This is what sets the Young Wharfies program apart: it's a combination of practical workshops, tailored career advice from creatives, and a behind-the-scenes glimpse at the country's largest theatre company.
"To explore the individual contributions that each production element provided to the overall piece, the limitations, strengths and weaknesses of each element, to inform my own decisions in self-devising for performance… To learn in-depth about theatre, especially from the experiences of seasoned professionals whose knowledge and expertise is awe-inspiring to any aspiring creative."
While the aim is to settle the Young Wharfies into a more familiar schedule toward the end of the year, for now the virtual program continues to help these young theatre-makers and enthusiasts hone their creativity and develop new connections.
"Young Wharfies has been a great source of connection in this current season of disconnection, and I wanted to thank the efforts of [STC Education] for their efforts to continue delivering programs that foster a greater awareness and appreciation of theatre, and its ability to change our perspectives and assumptions."
As for Tony, he's just eager to get back to the art form he loves.
"I'm really excited about the production of Wonnangatta… I'm also looking forward to The Picture of Dorian Gray and its themes of beauty and morality. I await the day where we will be able to congregate in theatres and discuss theatre with all its limitless possibilities."
Find out more about STC's Education programs and resources here.